Mushroom & Goat's Cheese Salad Recipe
There are days when you feel like getting into the kitchen and doing different things and others when you feel lazy and if it weren't for the fact that you have to eat, you wouldn't do anything. Today is one of those days. Sundays are almost always lazier, but once you get started, things start to come out by themselves. I hope you like the idea as a starter. Mushrooms and thyme work in perfect harmony. Simple as this dish is, it is bursting with flavour. It makes a great starter dish or side salad.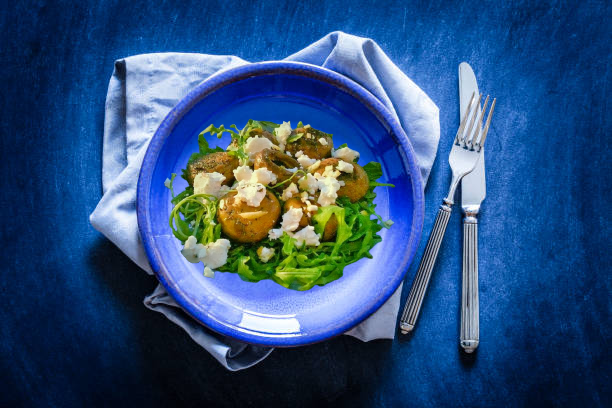 Prep Time: 15 minutes
Cook Time: 25 minutes
Serves: 4
For the dressing:
2 tbsp lemon juice
3 tbsp olive oil
1 tsp grated lemon zest
For the salad:
8 large-cap mushrooms, stems removed
1 tbsp chopped fresh thyme
4 garlic cloves, finely chopped
2 tbsp olive oil
50g rocket leaves
100g goats' cheese
2 tbsp flat-leaf parsley, chopped
Instructions:
Preheat the oven to 200ºC. For the dressing, combine the juice, oil and zest in a small bowl.

Place the mushrooms on a large baking tray, sprinkle with thyme and garlic then drizzle with olive oil. Cover with tin foil and roast for 20 minutes.

Remove the mushrooms from the oven and toss to combine the flavors.

Re-cover and roast for a further 10 minutes or until cooked. Remove the mushrooms from the oven and cut in half.

Place the rocket leaves on a serving platter and top with the mushrooms and crumble the goats' cheese over the top.

Whisk the dressing and drizzle over the salad. Serve sprinkled with parsley.