Fettuccine with Smoked Salmon, Asparagus & Sun-Dried Tomatoes Recipe
I adore smoked salmon. This recipe is so amazingly adaptable, heavenly, and delicious as well. Also, the salmon adds a touch of class to any dish in which it shows up. Who could request more?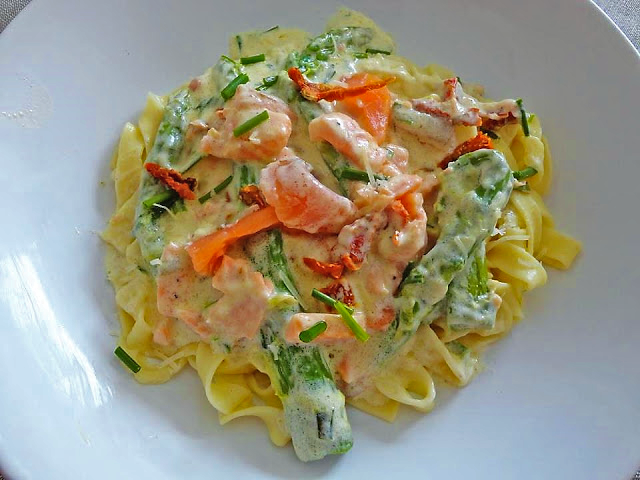 One of our most loved weeknight suppers at home is this basic smoked salmon and fettuccine recipe. In case you're using ready-made fettuccine, the whole recipe can be thrown together in the time it takes to boil the water and cook the pasta. Basic as it seems to be, this dish is exquisite to eat on its own or as a starter dish of a three-course meal.
Serves: 4
Ingredients
50g sun-dried tomatoes
340g fettuccine
2 egg yolks
1 bunch asparagus
500 ml heavy cream
30 g butter
110g smoked salmon
salt and pepper
Instructions
Soak the sun-dried tomatoes in boiling water for 30 minutes. Drain, slice and set aside.

Cook the fettuccine

Beat the egg yolks and add to the cream.

In a large pan, melt the butter, add the pasta, the egg yolk and cream mixture, the Parmesan and the sun-dried tomatoes.

Mix everything together being careful that the sauce doesn't thicken

Remove from heat and add the slices of smoked salmon. Garnish with chopped chives, if desired, and serve immediately.