Chicken & Rocket Salad with Raspberries Recipe
Experimenting in the kitchen with ingredients is such a thrill. I discovered about food pairing which is a method so inspiring that there will be no ends to menu creation. Food pairing relies on what flavours go well together and while it can raise an eyebrow at first glance - beetroot and chocolate or beer in a sweet cake for example can, after a little bit of playing around can be very, very surprising and satisfying at the same time.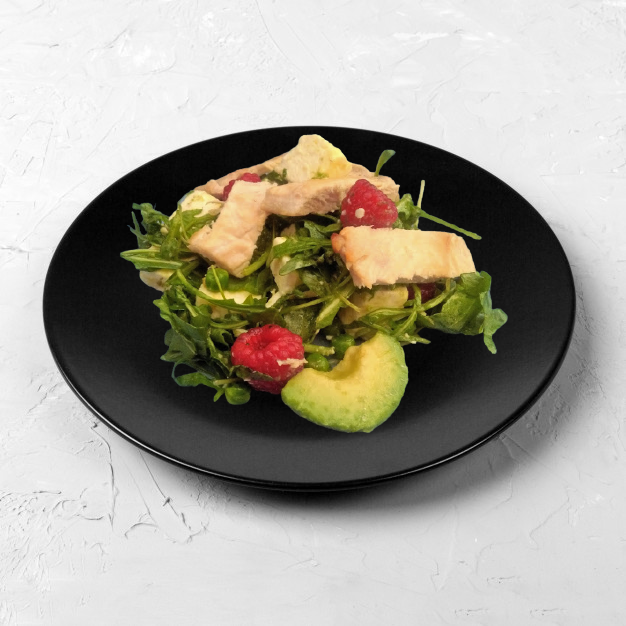 It may not be very straightforward; it is based on smell as well which is one of the senses that attracts one to food. Taste and sight are of course important to a plate of food, but overall it is the end result that can make a gastronomic mission such a delight to savour.
This summery dish (ok, it´s November but we can make exceptions when cooking, right?) works extremely well because of the sweetness of raspberries and citrus of lime. Basil or tomato is a good match too so it just takes a bit of experimenting - it´s all just a matter of taste.
Don't be disheartened by the number of ingredients here; the food can be prepared and served very quickly indeed.
Prep Time: 15 mins
Total Time: 20 mins
Serves: 4
Ingredients:
50ml extra virgin olive oil
1tsp lime zest
3 tbsp lime juice
11⁄2 tbsp honey
Pinch of salt
Freshly ground black pepper
120g rocket leaves
3 chicken fillets, sliced
125g raspberries
110g Parmesan
150g peas
1 avocado, diced
1⁄2 red onion, sliced
Instructions:
Whisk together the olive oil, lime zest, lime juice and honey. Season with salt and pepper and set aside.

Place the rocket leaves in a large bowl and top with the chicken, raspberries, mozzarella, peas, avocado and red onion. Season with salt and pepper and then drizzle over the dressing. Toss the ingredients together and serve.