Spiced Pumpkin Cookies
Spiced Pumpkin Cookies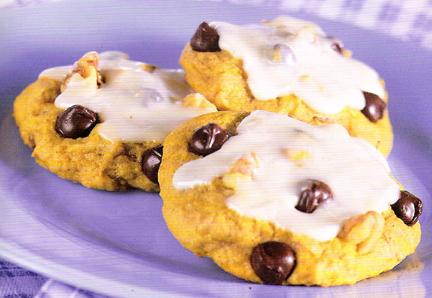 Image source
Ingredients
1 egg;
100 g pumpkin puree;
70 g butter;
110 g cane sugar;
180 grams of wheat flour;
½ tsp baking powder;
¼ teaspoon of soda;
1 g of vanilla;
pinch of ground cloves;
1 teaspoon ground cinnamon.


Cooking


Mash softened butter with sugar and vanilla. Then add the egg, pumpkin puree (boil the peeled pieces to readiness and grind in a blender) and mix all the ingredients thoroughly.
In the first part of the obtained product, pour the flour, cinnamon, ground cloves sifted with baking powder and soda and mix everything well again. Spread the dough on the baking sheet covered with baking paper with a tablespoon so that future cookies are at an average distance from each other. Bake for 20 minutes in a preheated 180 ° C oven.
Enjoy your meal!
---
Thanks for following. Hope you like the article.