Rajasthani Laal Maas Recipe...
Rajasthani Laal Maas is a traditional mutton dish from Rajasthan.
It gets its name from the color this dish has due to the use of red chilies
Ingredients of Rajasthani Laal Maas
2 small onions, finely chopped
2 green chillies, finely chopped
18-20 red chillies
2 tsp coriander seeds, whole
1 tsp jeera or cumin seeds
1 cup mustard oil
10 cloves garlic, finely chopped.
A small piece of ginger, finely chopped
1/2 kg lamb, cut into pieces with bones
1 tsp salt or to taste
1 small cup kachri powder (kachri is a dried vegetable, a variety of cucumbers found in Rajasthan and ground into a powder)
3-4 pods cardamom
1/2 tsp black pepper
1 cinnamon stick
A little bit of mace
1 pod black cardamom
Water
A handful of coriander leaves, chopped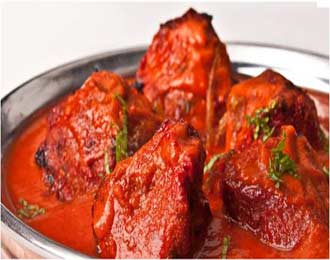 How to Make Rajasthani Laal Maas
Dry roast the red chillies to give it a nice distinctive aroma which adds great flavor to the dish.
Add to that the coriander seeds and cumin seeds.
Once done, grind it into a nice fine powder.
Heat some mustard oil in a pan. Add to this the garlic and ginger.
Once the garlic turns slightly brown add the lamb pieces.
Give it a good mix. This is also a good time to add salt.
Now add the kachri powder. Not only does this powder tenderize the meat, its also adds a nice tangy flavor to it.
Now add the chopped onions and mix all well.
Once the onions have roasted well add the whole spices, cardamom, black pepper, cinnamon, mace, black cardamom. Give all a good stir.
Now add the red chilly powder and let it roast for about a minute.
Now add enough water to cook the lamb. Cover it and let it simmer for a couple of minutes till the meat is cooked.
Once the meat is cooked, take out all the pieces on a platter and strain the gravy.
Straining the gravy gets rid of all the whole spices and keeps the essence and flavors intact.
Now add the lamb pieces you had taken out to the refined gravy and put it back on fire but on low heat.
Add about 1/2 cup water and some coriander leaves.
Let it simmer for a while and when you reach a good consistency of gravy, turn off the heat.
Serve hot.