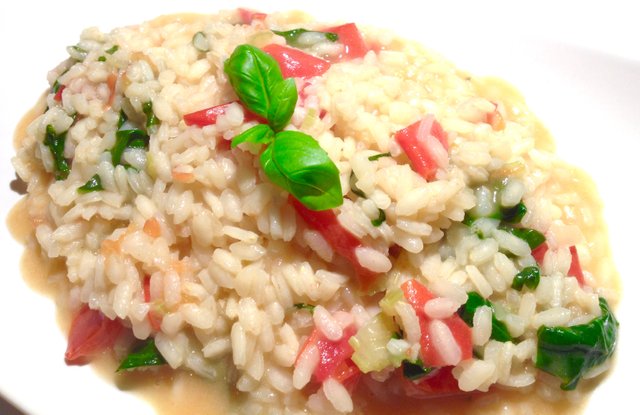 One of my favorite types of Italian food. It can be varied endlessly with the main ingredients, types of stock and wine. This one is simple and fresh and can be prepared in 30 mins with ingredients that are already present in a basic Italian kitchen
25 gram Butter (unsalted)
Olive oil
1 medium onion. I prefer chalottes, but ordinary white onions are ok
½ selleri stalk
175 gram Arborio Risotto rice
2 dl white wine
---
750 ml chicken stock (other types can be used)
---
2 large fresh tomatoes
1 small handful of fresh spinach. (remove the stalk rests)
5 fresh basil leaves, chopped
---
2 table spoon of parmesan reggiano, freshly grind
25 gram butter (unsalted)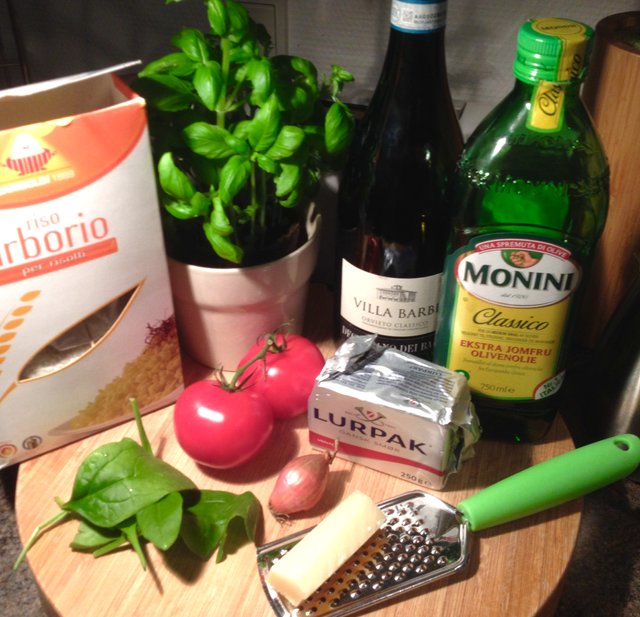 (I forgot the stock and the selleri in the picture)
Chop the onion and the selleri finely. Add butter and a sprinkle of olive oil into a fairly large pan with large sides and a thick bottom. Heat around 7/10. Add the onion and let them sweat while stirring slightly but continuously, NO browning. Add selleri and and keep stirring a bit. Then add the rice and stir it slowly for ca 1 minute, to "sparkle" the rice, but not brown it. Then add the white wine. It is important that the alcohol is cooked off, and the wine is well reduced before adding broth.
Add the broth in small portions so that the rice does not swim around in huge amounts of stock, but they absorb it in small portions. Around 5-6 portions would suffice. The heat level is important, it should bubble decently, but not boil. You can keep adding broth again and again, and the rice will absorb until they are completely swollen. The key is to find the right amount of stock, so that the risotto becomes al dente. My amount of stock has been adjusted to fit a fairly good amount of al dente since that is the way i like it. But add more and cook longer for less al dente.
While the risotto is cooking, prepare the tomatoes. Remove the watery insides and chop the rest in smaller pieces. Chop the basil leaves and remove the stalks of the fresh spinach (if any).
After the last portion of stock has been added, reduce until almost finished. Add chopped tomatoes, basil and spinach quickly and turn until spinach is reduced in size. Add parmesan and butter and stir well until emulgated.
Let it rest for 2 minutes. Then serve and you can add some olive oil and grind parmesan for looks.
BUON APPETITO :-)