Hey steemians, today I will be explaining to you how to make Vegan Eggplant Parmesan. If you are interested keep scrolling down!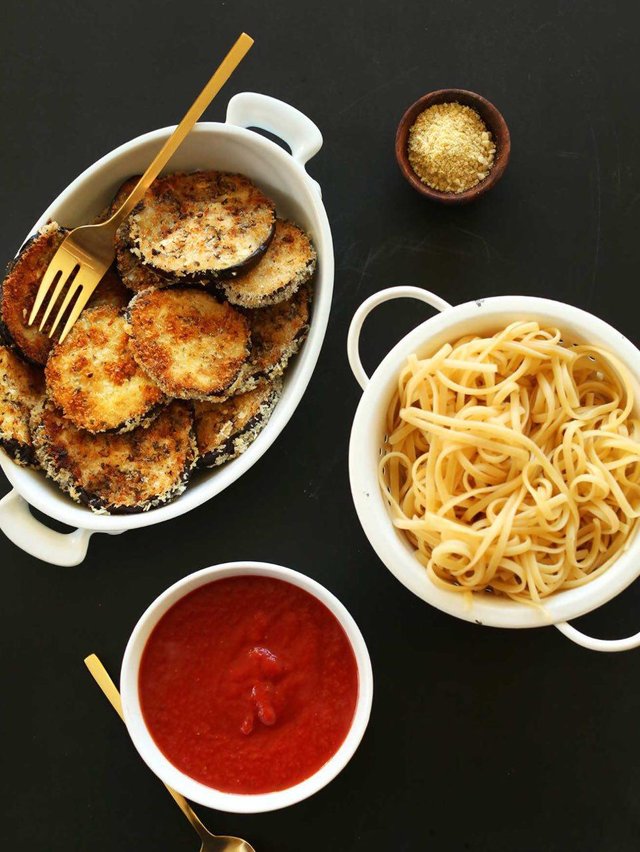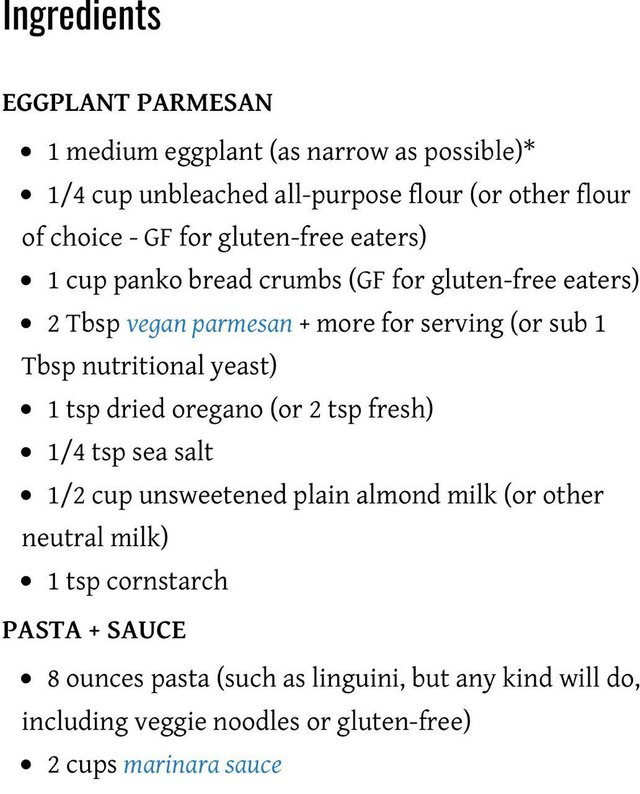 Slice eggplant into thin rounds slightly less than 1/2 inch thick, and sprinkle each side liberally with sea salt. Arrange in a circular pattern in a colander and place in the sink to draw out the bitter taste of the eggplant.


2.Let rest for 15 minutes, then rinse and arrange on a clean absorbent kitchen towel. Top with another clean dish towel and lay a baking sheet on top. Place something heavy on top, such as a cast iron skillet, to thoroughly dry for at least 10 minutes.

3.In the meantime, preheat oven to 400 degrees F (204 C) and line a baking sheet with foil and spritz with nonstick spray. Also, if making pasta, bring water to a boil in a large saucepan.
4.Prepare your dipping stations by placing almond milk + cornstarch in one bowl; flour in another bowl ( if you would like you can season it); and bread crumbs + sea salt + oregano + vegan parmesan (or nutritional yeast) in another bowl.



5.Once thoroughly dry, dip eggplant slices in flour, then almond milk mixture, then breadcrumbs. Arrange on the baking sheet and pop in oven to bake for a total of 20-30 minutes.
6.IMPORTANT STEP: While the eggplant is in the oven, bring a large skillet to medium heat. Once hot, add 2 Tbsp olive oil (or sub canola or grape seed) and pull 3-4 eggplant rounds out of the oven at a time and sauté to give them extra crisp and texture. Cook for ~2 minutes on each side (or browned) and then return to oven to continue crisping. Do this in batches until all rounds are browned.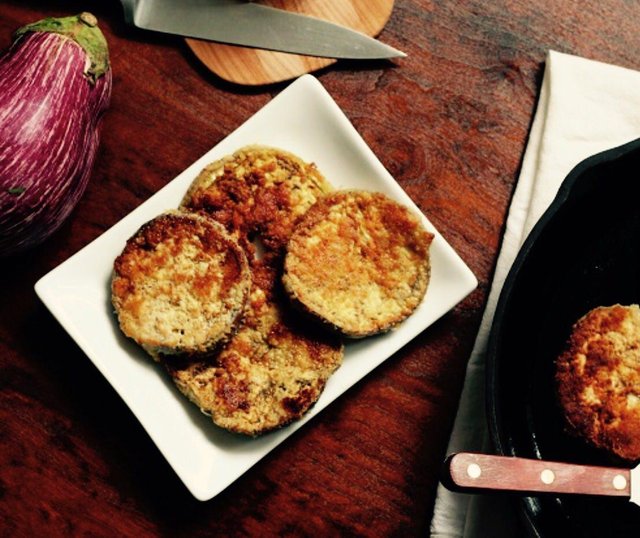 7.While eggplant is browning in the oven, prepare marinara. I prefer adding my tomato sauce and spices to a serving bowl and microwaving to warm, but you could also heat it on the stove. Set aside.
8.Once done cooking, drain pasta and cover with a towel to keep warm. Set aside.
9.To serve: Plate pasta and eggplant slices and marinara in a dish as a dipping sauce. Additional vegan parmesan cheese makes an excellent topper.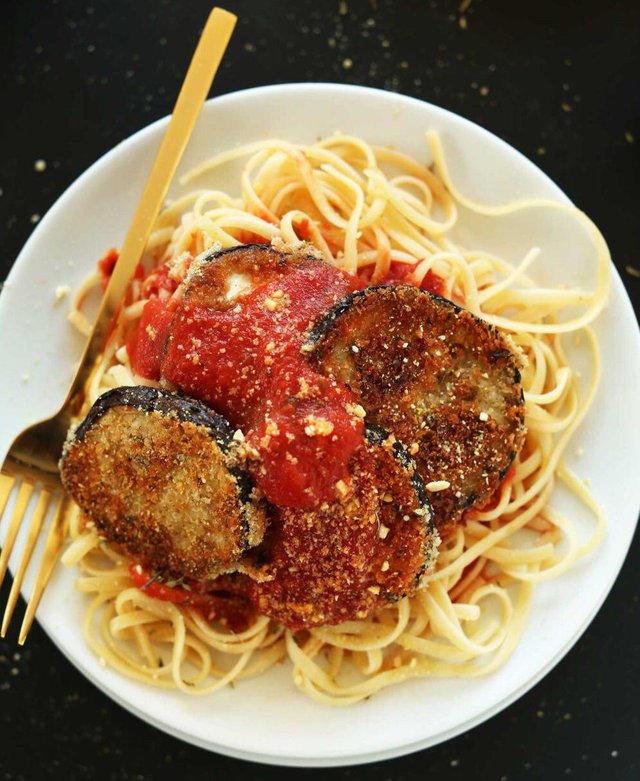 Tips
Buy a narrow eggplant - the really big wide ones don't get as crisp!
Don't skip the salt / drain step - it really helps draw out the bitterness.
Once coated, make sure you get the eggplant in the oven as quickly as possible so it doesn't sit there absorbing any excess moisture.
Really press down on the eggplant after rinsing to ensure you get all of the water out you can.
Although it's an extra step, browning the eggplant in the skillet in addition to baking yields the crispiest result!
Enjoy steemians !
Sources
https://minimalistbaker.com/vegan-eggplant-parmesan/
Please follow and upvote me!