Delicious eggs.
具体步骤
第一步
第一步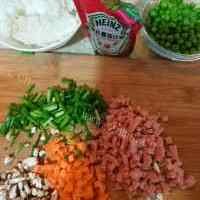 Prepare ingredients: rice, lunch meat, green beans, carrots, mushrooms, shallots, tomato sauce. Luncheon meat, mushrooms, carrots, etc., chopped spring Onions;
第二步
第二步
2. First fry the omelet, the thinner the better;
第三步
第三步
3. Stir fry the lunch meat and stir fry the carrot.
第四步
第四步
4. Add the mushroom green beans and fry them together;
第五步
第五步
Add rice and saute.
第六步
第六步
6. Add the soy sauce to add color and stir well;
第七步
第七步
7. Finish loading.