Truffle cake with white chocolate mousse
220 g of bitter chocolate
220 g of butter
200 g of sugar
6 eggs
1/2 cup cocoa powder
1/3 cup warm water
1 tbsp. instant coffee
1 tsp vanillin
1 tsp salt
for mousse:
400 ml of creamy cream
165 g white chocolate
4 yolks
3 tablespoons butter
3 tablespoons baking powder
2 tablespoons Sahara
1 tsp vanillin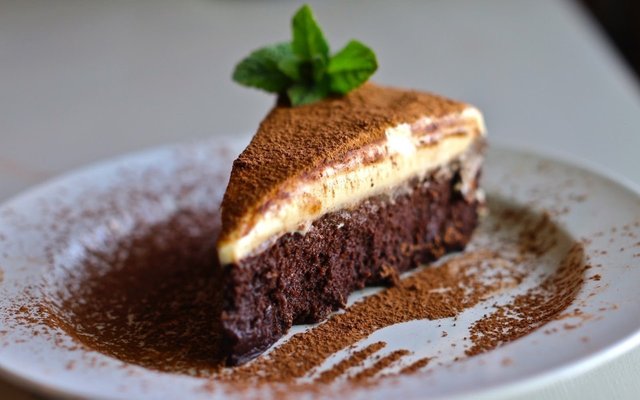 1 Dissolve the butter, chop the chocolate pieces, stirring to bring to a uniform consistency, brew in warm water instant coffee with vanilla and salt, mix with the butter-chocolate mixture, turn on the preheating to 175 degrees oven.
2 Beat up the sugar and eggs until the volume is doubled (about 5 minutes), pour in the cocoa, mix until smooth, mix with the coffee-chocolate mass.
3 Pour the dough obtained into the mold into a mold, send it to the oven, bake for about 50 minutes.
4 Prepare the mousse for pouring the cake, mixing the butter with the baking powder and pieces of white chocolate, melt the mixture in the microwave for 30 seconds (mix several times).
5 Whip the sugar with yolks, put the dishes on the water bath for about 5 minutes until the contents thicken, remove from heat, add vanillin and add butter mixture with white chocolate, pour in 2 tbsp. cream, mix well, cool.
6 Whip cream in a thick cream (1.5 cups), add a third to the chocolate mixture, mix, add the rest and mix again.
7 Pour the cooled base of the cake with mousse and put it on the cold for an hour. Get a truffle cake with white chocolate mousse from the refrigerator and decorate with powder from cocoa powder.