Another dish comes from childhood, which has not lost its relevance in our century. In the preparation of dessert, a young generation of home cooks will be happy to participate.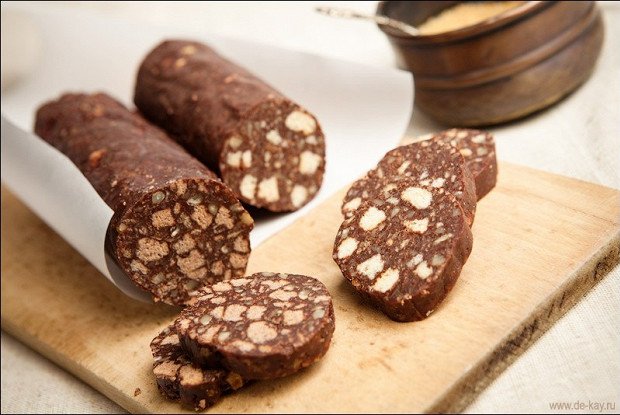 biscuits (in packs) 1 pack
Butter 100 g
sugar 5 tbsp.
nuts (any or mix) 3 tbsp.
3 tablespoons raisins
dried cherry (cranberry) 3 tbsp.
cocoa powder 2 tbsp.
2 tablespoons sugar powder
milk 2 tbsp.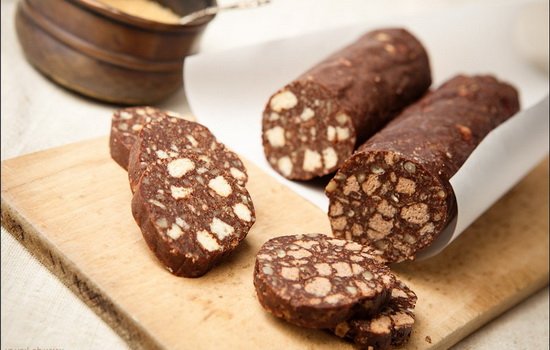 Cookies from packs, for example, "Jubilee", put in a plastic bag. Tie and beat from above with a hammer to beat the meat or rolling pin. Small crumb is not needed, should remain pieces of medium size.
Peeled walnuts and cashews browned in a frying pan without oil. Raisins, dried cherries or cranberries rinse.
Put the sugar, cocoa powder, butter and some milk in the saucepan.
Warm the mixture on a quiet fire until smooth. Glaze to cool a little.
Pour the breadcrumb from the cookies.
Add dried fruits and nuts.
Put the mass on the food film, roll up, compact, and fix the edges. Place the sausage in the freezer for 45 minutes, then it can be transferred to the refrigerator.
Before serving, the product should be rolled in sugar powder, cut.