French fries 🍟
French fries
Oh fries, how to be Belgian and do not want to talk about french fries!
This is a must in Belgium and any good Belgian who respects himself eats at least once a week minimum!
Alone or as an accompaniment to a dish such as mussels fries, steak fries, fried dumplings or flying with fries, we marry them with a little bit of everything, it's like the color black or the jeans, it go with everything; o)
My son even had the pleasure of eating at the restaurant during our last holiday in Spain spaghetti bolognese with fries, not very dietary I agree with you but what has it ate; o)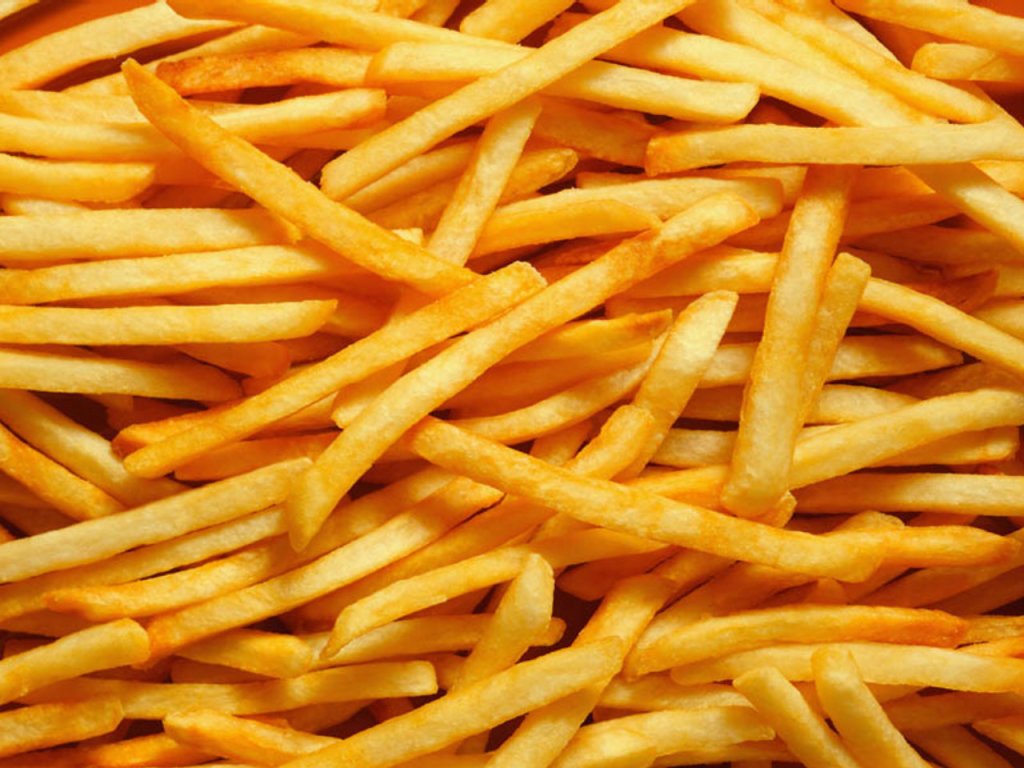 Not to mention a good sauce that accompanies them, mayonnaise, ketchup, mustard, samurai, ... All we want as long as it's good; o)
We find fresh, pre-cooked, frozen, ready-made to be tasted in our famous chip shops or barraque (caravan that serves fries, like a foodtruck).
The fries is a potato stick cooked in animal fat or vegetable oil.
Previously they were cooked in a pan or in a pot but from the twentieth century began to use a deep fryer.
Personally, I do not have a fryer because it's too much maintenance and it's fat, j'ope, when I'm not going to get them at the chip shop because that's where they are better, unless they are made from scratch for frozen French fries. It's more practical and less fat.
We distinguish different names of fries according to their cut:
• "logs": square section of 2 cm;
• the "pont-neuf": square section of 1 cm;
• "matches": 0.5 cm section, often used in fast food restaurants;
• "straws": 0.25 cm section;
• "golden hair" (cut even more finely);
• "nest" fries (straw apples standing in a basket)
Since the end of the twentieth century, the largest amount of fries is used by fast food, which receives them pre-cooked and frozen.
Cornet or container the dilemma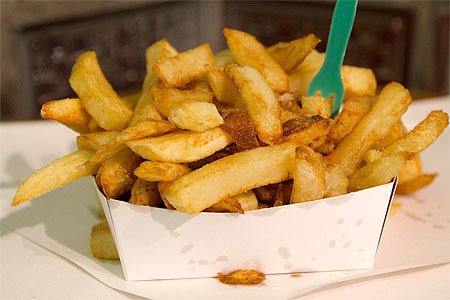 Until the 1980s, fries were most often served in a cone-shaped rolled paper, the cornet. The chips were then served in plastic or cardboard trays, the tray. Personally, french fries seem better when they are in a cone rather than a ravier, it's like drinking wine in a beer glass.
In Belgium, in the chip shops, it is often left to the customers, a cornet or a tray. The cornet is often preferred by amateurs; it contains more fries and the fries stay hot longer as you eat them as they are buried under hot fries.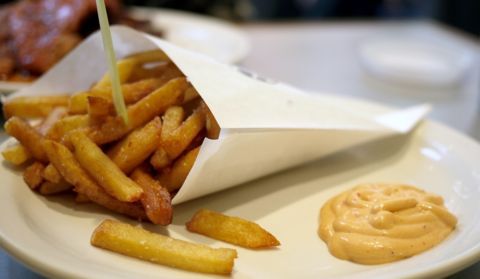 Preparation
The choice of the potato
To prepare good homemade fries, the first step is to choose your potato which is the raw material. My grandmother repeated it enough
; o)
There are two types of potatoes : farms and meats.
To make french fries, it is better to favor mealy potatoes because their high starch content makes them crispier and lighter.
To make fries, the potato champion is Bintje. If, however, you choose a firm flesh variety, it is better to take the Charlotte. It gives fries to the firm and melting texture.
The cut
We cut the potatoes in sticks of a size that we like, big thick or fine style match.
There are also mechanical devices for cutting fries that are good and save time.
Rinsing
In order for French fries to not stick together during cooking, it is advisable to wash them well to remove starch. Although some prefer to leave the starch because they say that it is precisely the starch that brings the crisp to the fries. To you to see, test both and you will see ...
Anyway, they must be wiped before cooking to prevent the water from turning into steam once in the deep fryer and dissociate the cooking oil and lower the temperature of the fryer oil.
Fat
The ideal way to make good tasty French fries is to use animal fat. In Belgium, beef fat is most often used.
On the other hand, vegetable oils like peanut oil for example, are not bad either because they are less expensive and less rich in bad cholesterol.
The vegetable oil can be reused about fifteen times while the animal oil allows less cooking, a dozen times maximum.
The cooking
It must be done in two stages, in fact, the fries requires two firings, a first at 160 ° C, the time it becomes a little soft under the fingers and a second at 180 ° C to finish cooking.
After the first baking, drain on paper towels and let cool for about ten to twenty minutes.
Then, it is necessary to increase the temperature of the fryer to 180 ° C (attention from 180 ° C it becomes bad for the health and from 190 ° C it becomes carcinogenic) and put back to cook two three minutes, the they turn golden and crisp.
Be careful not to overfill the fryer otherwise the chips are too tight cook less well and may stick together. It is better to cook several batches than one too much.
Little trick, if you want to save time, you can proceed to the first stage of cooking, let them cool on paper towels and then freeze them in packages. That way, the day you want to do it, you just have to take them out of the freezer and proceed to the second cooking.
Bonus : homemade mayonnaise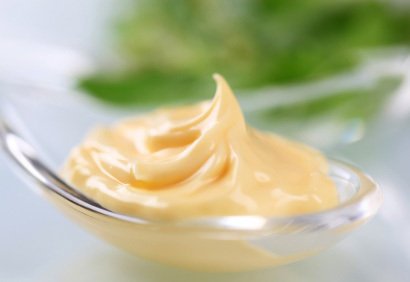 The ideal with these fries and to make a good homemade mayonnaise, to do this nothing more simple, I learned recently to make homemade mayonnaise and it's super easy and a hundred times better than the industrial mayonnaise, nothing comparable!
You take an egg yolk (of chicken raised in the air of course), a teaspoon of mustard and then with an electric mixer you start to mix while letting flow neutral oil, peanut or sunflower for example, you will see it's magic, the mayonnaise is gradually formed. Then you stop when it seems enough, the more oil you put, the more mayonnaise, no need to add egg yolk or extra mustard.
Try it super easy and delicious !! It takes two minutes top time.
Enjoy!