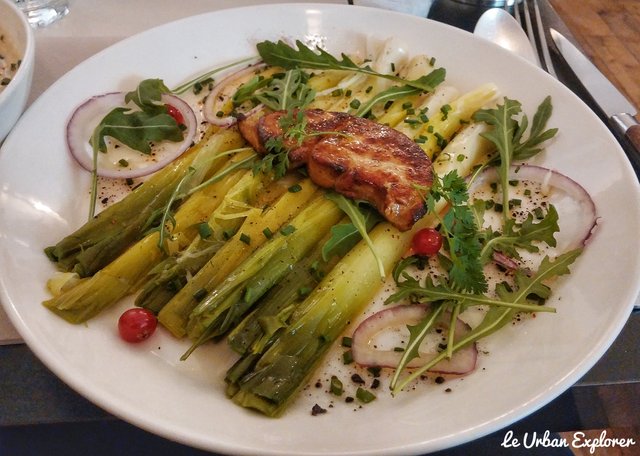 Some dishes, although they are a little expensive, are almost too good to be true. This was one of them.
I ate this beauty in Café Trama, sometime last year, with a friend who also happens to be a food tour guide - always a good thing to have when you're in my physical area and line of work.
That meal was a little over my normal budget (I think the first and main course together cost about 25 Euros), but it was sooo worth it. As I recall, this is a grilled foie gras on top of sauteed young leeks and additional herbs, and some redcurrant for decoration and extra flavor.
To my great dismay, this place is not close enough to my home to allow me to go there more often, but I'm definitely going back.
---
If you liked this post, please upvote and resteem, and maybe follow me on Steemit, too!
To take a look at my photos (mainly Paris related), visit my Instagram account.
For planning your dream vacation in Paris or France, come visit my website.
Or, if you just want to see more pretty things, go to my Etsy shop and see what I have there for you :-)
And in the meantime – don't forget to have a wonderful day.