You Will Never Go Back To Plain Instant Ramen After This
Ramen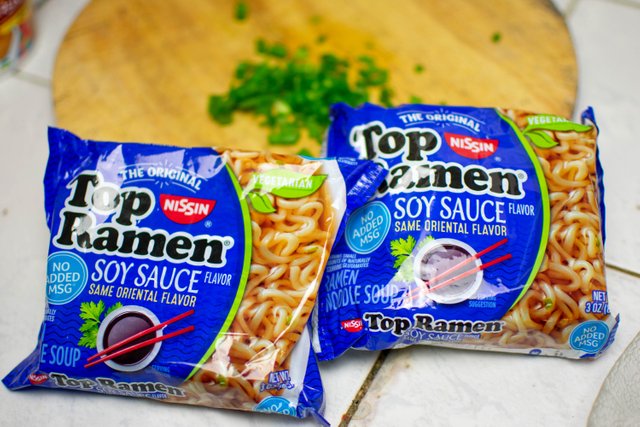 I love my ramen! I've come a long way with how I prepare it, moving from just plain, all the way to making it taste and feel just as good as those you might get in a restaurant! I will show you how to up your ramen game with just a few additions and alterations as well as simple yet highly effective techniques to achieve the best possible taste and texture with all of the components. I can't think of a better time to share this with you guys since most of you are home and income is scarce for some, this will be a nice cheap dish that could be prepared in about 10 minutes! We shall be making chicken ramen with soft boiled eggs and a soy-oyster sauce broth. You can easily substitute whatever flavour ramen you have and the taste will be just as good with the same steps.
The Pieces of The Puzzle
My favorite thing in most East Asian dishes is green onion or chive, easily. It brings that light, fresh and crisp flavour to the umami broth and is a heavenly addition to the instant ramen! What I do is cut as many as I would like and some will be used during the broth making and some will be saved raw for the garnish which is really tasty!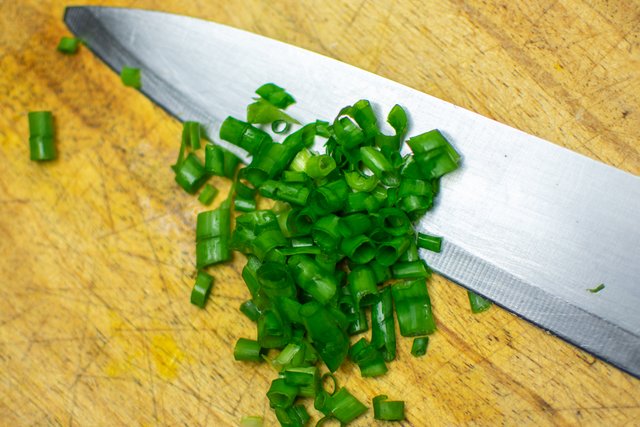 While I am prepping the chives, I usually have my eggs being boiled by the time. The thing about ramen is that it is best served, in my opinion, with a soft boiled egg. How do you reliably get a soft boiled egg you ask? Simple! Always start by first bringing the water to a roaring boil first, then add the eggs and start the timer. Next boil the eggs for strictly eight minutes for large eggs fully submerged in water. Once the timer is up, quickly remove the eggs from the heat and place in cold water to cool off by the time. This immediately stops the cooking and so you have full control of your egg and how it comes out. You can adjust the times if you prefer softer or harder boiled eggs.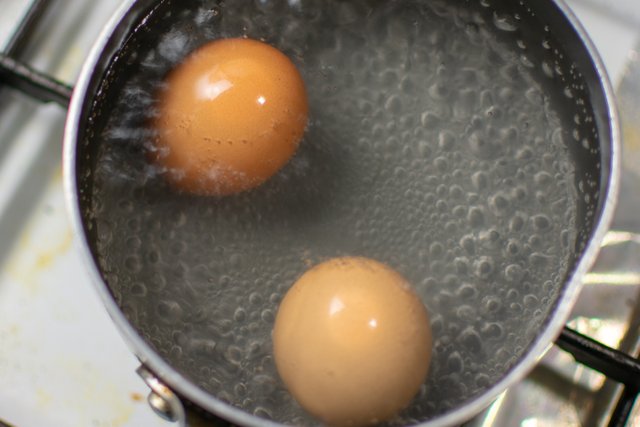 When the eggs have been put to boil and the chives have been chopped, I usually now prepare my chicken breast by the time. The breast is seasoned on both sides with a nice mixture of all purpose seasoning (has salt already), black pepper, basil and parsley. You can use whatever you want/ have on it though. But for me this mix of seasonings pairs really nicely with the umami broth of the ramen.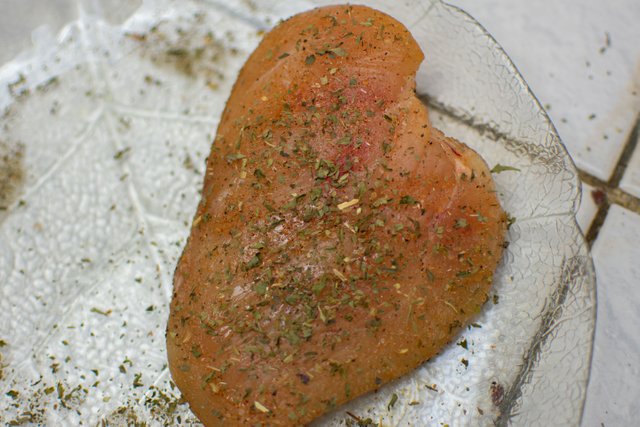 In a nice skillet put some oil in on medium heat and please, I cannot stress this enough, wait until the oil and pan is heated adequately. Follow these instructions to avoid hard, dry and stringy chicken breasts. There are a few signs that tell you that the pan is hot enough. The oil will look like its rippling a little and just starting to smoke a little. This is when you put in your breast. Once in the pan do not play or prod with it, just leave it on one side for NO MORE than 90 seconds and the same on the other side. This works well for small to medium sized chicken breasts, if larger, you can butterfly them and they will cook just as beautifully.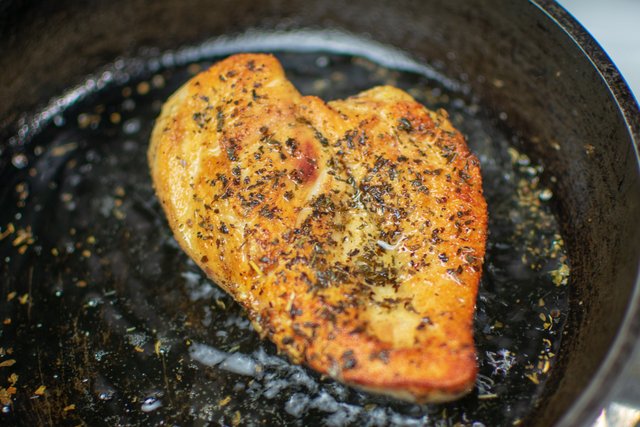 Once the chicken cooked on both sides, remove from pan and let it rest for 5-10 minutes before cutting. This step is very important for re absorption of those, for lack of better terms, juices. Once nicely rested you can cut the breast into strips that can be conveniently eaten with chopsticks. And voila, you have nice tender, juicy chicken breast!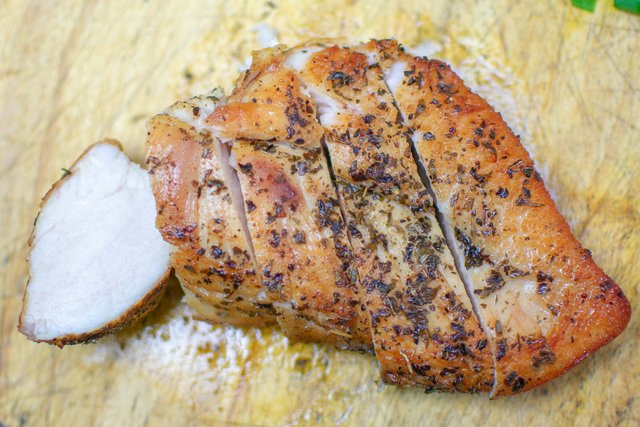 Look at that beautiful colour and juiciness!
Once you have shelled, cut and seasoned your eggs (and placed it aside), in a saucepan, two cups of water should be heated up with a few teaspoons of oyster sauce, a tablespoon of sesame oil, a teaspoon of soy sauce and the green onions. At this point go ahead and dump in the packet of seasoning that came with the ramen as well! Don't worry, no matter the flavour of the instant ramen, it always comes together nicely.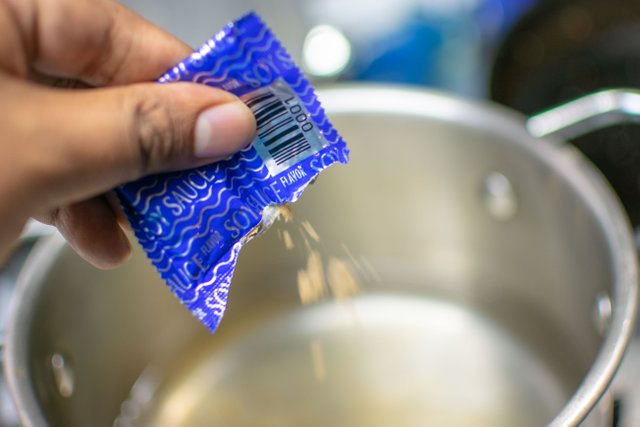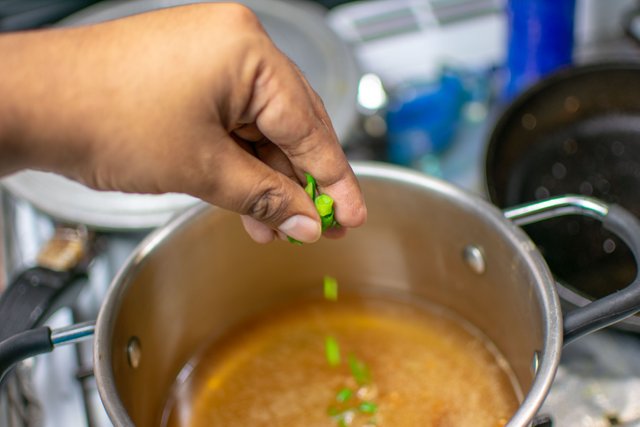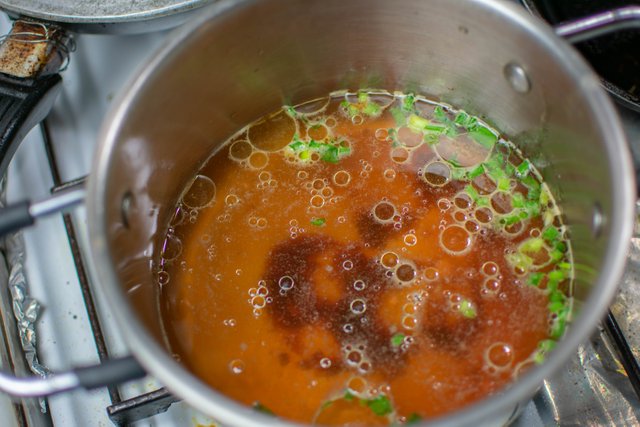 Mix this mixture vigourously until combined and bring to boil. Another pot should be brought to a vigorous boil for the noodles. I have found that to get that fresh bouncy noodle texture that you may get with fresh ramen, you have to first bring the water to a roaring boil and then add the noodles. Cook until al dente then remove from the water, drain and add to your bowl one time to avoid over cooking and soggy noodles. Trust me, the difference is literally night and day!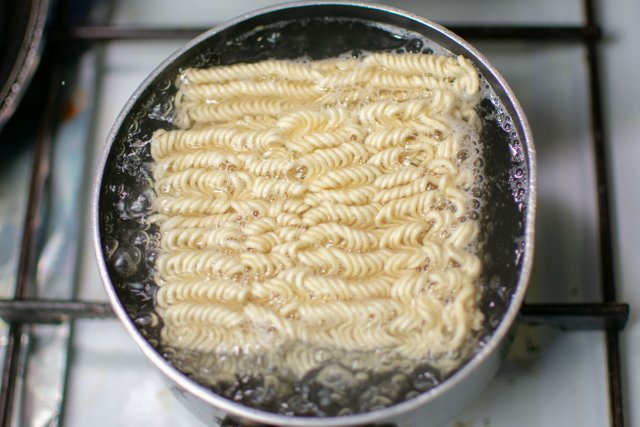 The camera did not pick it up but it is boiling furiously!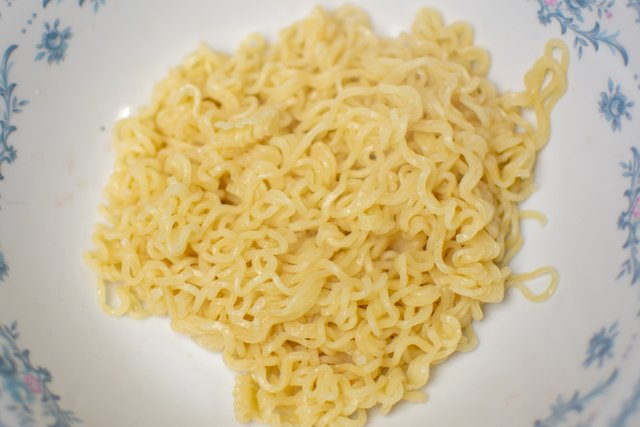 Now you can go ahead and remove the broth from the stove and pour it over your noodles, add your egg (make sure it isn't submerged) and your sliced chicken breast. Use the remaining green onions to garnish the dish and you are done! Your upgraded ramen is ready to devour. Enjoy that rich hearty broth, those bouncy noodles and that succulent and tender chicken breast. You have now taken your ramen game to another level! Congratulations, you will never ever go back to just plain ramen, trust me!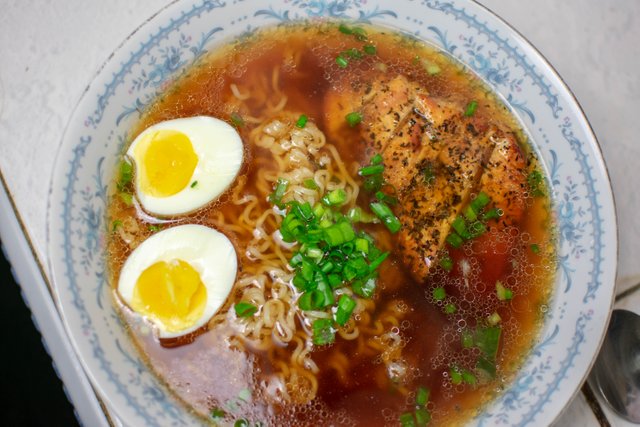 Let me know how it goes if you tried it out and if you decided to add any modifications or toppings to the dish. The sky is your limit here, ramen is very versatile. Thanks for reading, Cheers!