Breakfast in Tobago!
Bollicine Cafe
Breakfast turns from a hectic chaotic blur in the morning before work to a looked forward to leisurely activity when you're on vacation. You no longer have to rush to start the day and can sit, enjoy the meal and start the day with a contented feeling in the heart. It's even better if you don't have to make it yourself. We decided to try out a random street cafe on Tobago's main road just to be spontaneous and experience something new.
Breakfast
The cafe had some interesting menu items including fresh juices made with local fruits and in-house-made plantain bread. I've never in my life heard of plantain bread! Already we realised that this was not so much of a bad decision. After taking a look at the menu, we decided to order. I got the fruit punch and my girlfriend got the orange juice for the drinks. For the eats, I ordered a smoked salmon and cheese omelette that came with fried plantains, cheese-stuffed sausages and roasted tomatoes while my girlfriend got a mushroom and cheese omelette with a side of the in-house-made bread.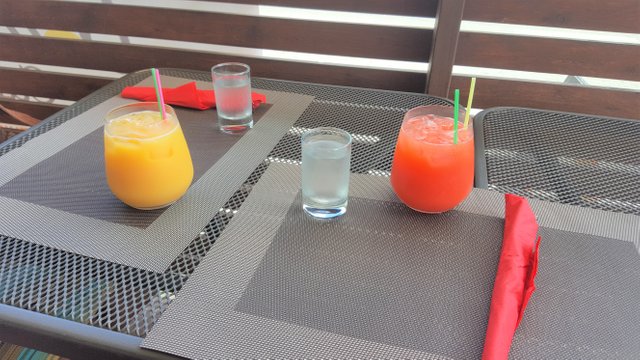 The drinks arrived first and we were surprised to receive complimentary shots of coconut water. A nice touch to the experience and not a bad way to start the day with a cool glass of coconut water! When our food arrived, we sampled each of the food items for taste. My omelette was well made and the fillings went well with each other. The roasted tomato and plantains did well to complement the taste of the smoked salmon! My friend's omelette was just as good but the bread, I must say, was the most amazing thing!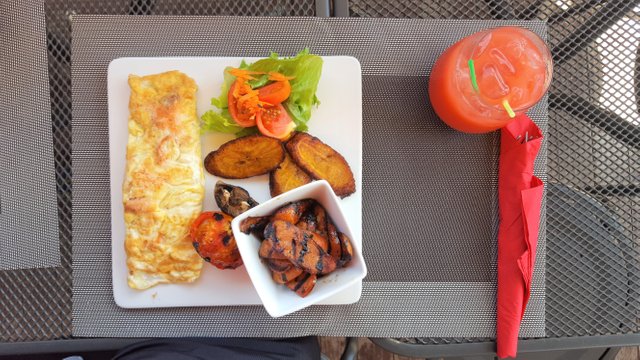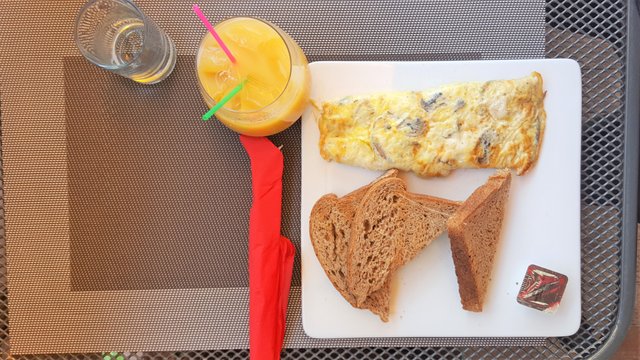 The Bread
The bread certainly was the most unique thing during breakfast to me. I had never tasted plantain bread and expected it to be much like banana bread. I dislike banana bread and so that is why I had not ordered any but when I had tasted it, we actually ordered a separate portion extra! It was so amazingly good and there was no banana-like taste. It went well with the butter provided and was moist yet sturdy enough. The bread was served fresh, untoasted and it actually felt like toasting it would reduce its value and brilliant taste as well as texture. If only they were selling by the loaf, we would have definitely liked to carry some back home.
Good Find
This was such a good find, the omelettes were not overcooked and the flavours complimented each other very well within each dish. The fruit juices were excellent and along with the complimentary coconut water, felt like an awesome way to start the day. My only gripe was that there was no way of getting a loaf of that bread! Maybe I can find a recipe for it somewhere online. I hope you enjoyed the quasi review, thanks a lot for reading, Cheers!