Hey steemies!
Well it's still pretty cold here in Alberta and I haven't been out of the house much to do some landscape or animal photography but maybe soon, it seems to want to warm up very slowly, soon I will be able to reclaim my throne as the ice queen at the Edmonton Ice castle. Winter can't last forever after all. In the meantime, it has given me the chance to slow down while cooking and actually take the time to measure things to write recipes instead of my usual throw it all in the pot and taste until I get perfection.
In Canada, we often hear about chicken and waffles and the thought of it probably makes most Canadians cringe...Like how can that even go together!?! 😖😲 It really is a foreign concept here but the foodie in me likes to try things before labeling them as weird or gross. Since I recently bought a waffle iron and found a source of soy free chicken, I thought it was time to be a brave little ladybug and give it a try. Worse case scenario, I still like fried chicken and waffles are cheap to make so if I didn't like it, I wouldn't have felt bad for ditching the waffle and just eat the chicken. Turns out OMG not weird, not gross at all, quite the contrary! It was the most AMAZING combination of mis-matched food I ever had! Who ever thought of it originally is a freaking genius.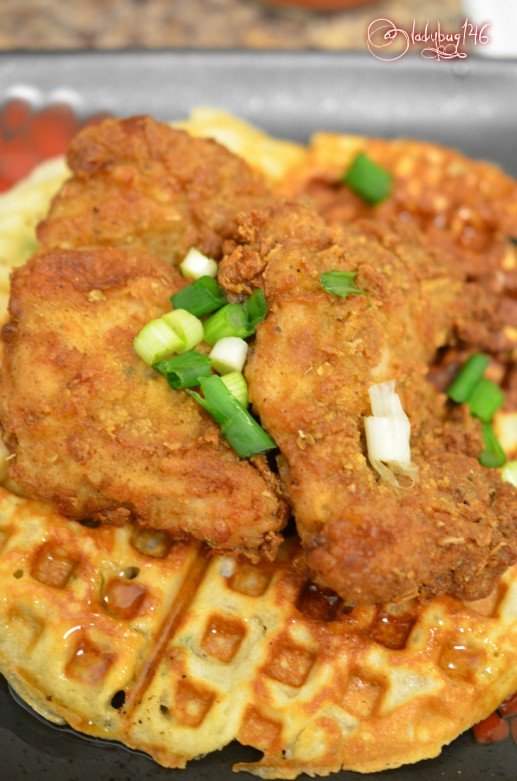 For this, I wrote my own recipe because it's not anything complex to make and pretty strait forward. This recipe makes about 3 waffles because there is only 2 of us here so if you are feeding a gang , well double up on the batter. I used chicken thighs and this batter can be used on skinless chicken if you are trying to be a healthier adult (by no means healthy, just not as bad!) The picture in the post was made with skinless chicken so you can judge for yourself. Just a note, the baking powder isn't mandatory if you don't have it on hand but that is the secret to getting that KFC type fluffy coating instead of a thin layer of the crunchy goodness. Make as many pieces of chicken as you would like, with this I made 5 pieces and had a bit of leftover coating. If you have extra, no need to waste it, break up the chunks or sift it and place it in a freezer bag and freeze it to use it next time.
CHICKEN
1 egg, beaten
Buttermilk
Frank's red hot sauce or tabasco
FLOUR MIXTURE
1/2 Cup Flour
3 tsp Baking powder
1 tsp of each:
celery salt
ground sage
paprika
chili powder
garlic powder
onion Powder
salt
ground cumin
2 tsp dried Oregano
GREEN ONION WAFFLE
1 cup all-purpose flour
1/2 teaspoon salt
2 teaspoons baking powder
1 tablespoons white sugar
1 tsp onion powder
1 egg (beaten)
3/4 cup warm milk
4 tbs butter, melted
2 green onion
In a bowl, combine egg, butter milk and 1 tsp hot sauce. Add raw chicken to the mixture and cover with liquid. Cover and let it rest in the refrigerator overnight. (If in more a hurry, half hour on the counter is ok too)
Set up a cooling rack over a baking sheet to catch drips. One at a time, remove chicken from the buttermilk bath and cover completely in the flour mixture and coat well. Shake excess flour and place on the rack. Allow to sit until the flour is soaked up by the liquid and coating appear wet.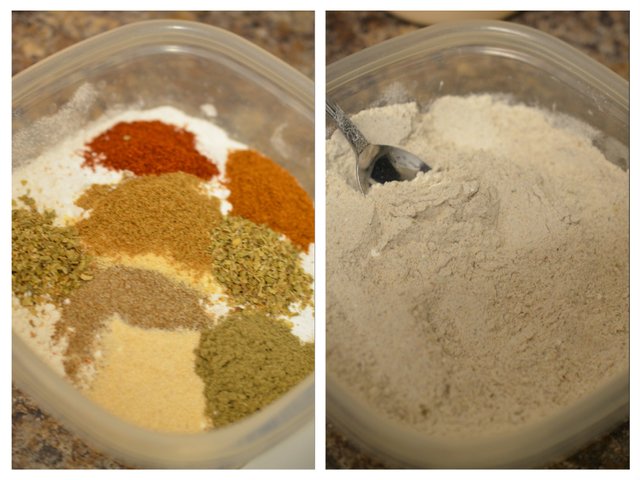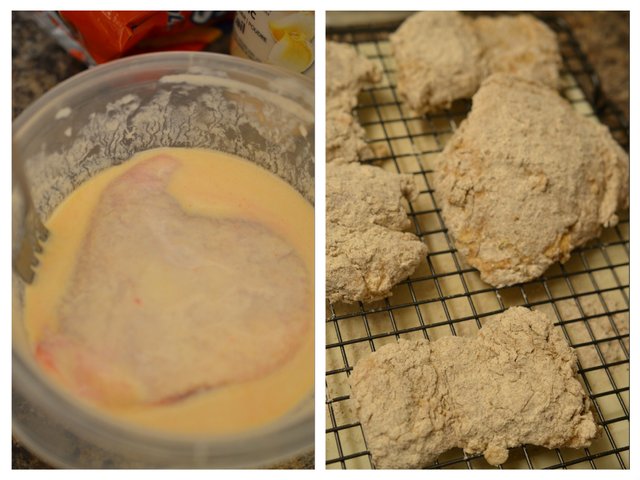 Pre-set oven to 350 and set up baking dish. Get deep fryer or oil hot enough and begin to fry chicken (make sure the oil is hot enough before adding chicken) Do not over crowd while frying you will have to fry the chicken in separate batches. Once the skin is golden on the bottom, flip and cook until all sides are even color. Depending on the size of the chicken, chances are, the skin will be golden brown but the inside will not be cooked. Transfer into baking dish and finish cooking in the oven until cooked thoroughly. Putting it on a cooking rack on a baking sheet will also help drain extra grease in the skin from the deep frying.
While the chicken finishes baking, get the waffle batter ready. Mix dry ingredients in a bowl, in a seperate bowl combine wet ingredients. Pour wet mixture over dry mix and whisk together until uniform and add the chopped green onions. If the batter is too thick, add a bit more warm milk but it will result in a fluffier and more airy waffle(egg sizes can be unpredictable, extra large egg works best)
Once the chicken is cooked, turn off the oven but keep the chicken in so it stays warm until the waffles are ready. Heat up waffle iron and add the batter and cook until golden on both sides.
To serve, drizzle maple syrup on waffle add fried chicken and more green onions on top. Some people like to add an over easy fried egg on top as well but it's optional.
Image taken with Nikon D7000 and Nikor 40 mm macro lens.
Bon apetit! X🐞X