I think that spinach in this form will taste everyone - shells stuffed with cheese and spinach are perfect for a couple for a candlelight dinner.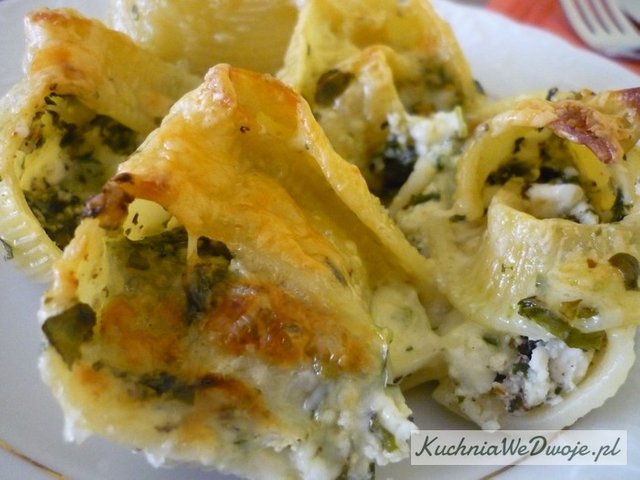 Time of execution: 1 h
Servings: 2-3
Components:
18 shell-shaped pasta
150 g feta cheese
40 g of yellow cheese
40 g mozzarella cheese ball
250 g frozen spinach
5 cloves of garlic
½ of onions
1 teaspoon of butter
2 tablespoons of oil or olive oil with basil
Herbes de Provence
pepper
nutmeg
Recipe step by step for stuffed shells with cheese and spinach
Cook pasta al dente and pour cold water.


Fry the onion, garlic in butter. Add spinach (it can be thawed beforehand, but it is not required). Cook for about 10 minutes.


Season the spinach with pepper and nutmeg.


Add cut into smaller pieces of feta cheese and mix with the rest of the ingredients.


Fill the shells and place in an oiled, heatproof dish.


Sprinkle the shells with grated cheese, Herbes de Provence and sprinkle with a little oil.


Bake until the cheese is lightly browned (about 15 minutes at 200 Celsius degrees).

Enjoy your meal,
Sylwia and Krzychu
Blog: http://kuchniawedwoje.pl/
Facebook: https://www.facebook.com/KuchniaWeDwoje
Instagram: https://www.instagram.com/kuchniawedwoje.pl/
Pinterest: https://www.pinterest.nz/KuchniaWeDwoje/boards/
If you are interested in RECIPIES IN STEP BY STEP FORM, we encourage you to follow our Steemit channel.