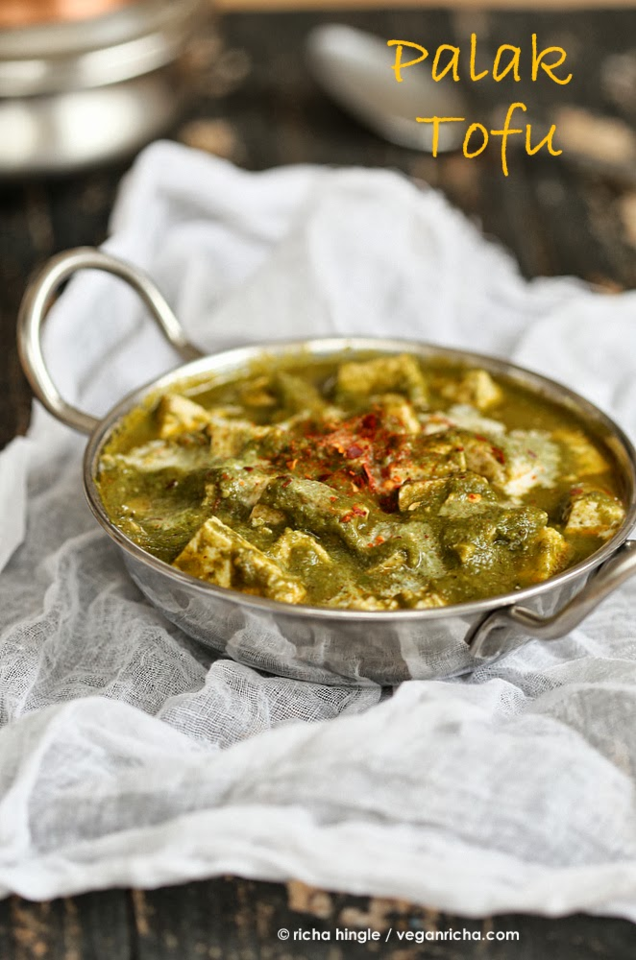 Vegan Richa's Palak Tofu
I have a love/hate thing with tofu. I love that it adds that perfect extra component to a vegetable based meal to make it feel more substantial. I hate that to do it well often requires advance preparation. I love that it is a versatile ingredient that will take on whatever flavours you throw at it. I hate that without substantial flavour thrown at it, it can be bland and...well...a bit limp.
The plastic rectangles of tofu available in our grocery stores are not inspiring, and I commiserate with @zekepickleman's post Plastic makes me feel dirty. I wish we had more options for fresh, local tofu. I have considered making my own, but I get lost down the rabbit hole of techniques and equipment.
My complicated relationship with tofu likely explains why I have bookmarked so many recipes for how to prepare it. I'll start with my absolute hands down favourite.
But first, here is the one tip I can give you about cooking with tofu: If you freeze it and then let it thaw before using, the texture becomes more chewy and it will absorb more flavour.
On to the bookmarks:
Vegan Richa's Palak Tofu
This recipe is so good. We have used it over and over again. This is a vegan version of Palak Paneer, using tofu in place of the paneer cheese. The spicing is warm and delicious. A perfect Sunday night treat.
Veggie Belly's Chinese Salt and Pepper Tofu Restaurant Style
They had me at this instruction: Once you fry the tofu, toss it in sauteed leeks, celery, ginger, garlic and green pepper. Need I say more?
Holy Cow!'s Tofu Tikka Masala
Holy Cow! is an amazing name for her website and the recipes always produce delicious results. Here the tofu is marinaded and baked before mingling with a fragrant curry. There's even a recipe to make your own Tikka Masala curry paste.
Vegetarian Times' Sushi Rice Bowls with Tofu Teriyaki
If curry spicing isn't your thing, here's one for you. This is a simple, light treatment with a perfect deconstructed sushi bowl to go with it.
Vegan Richa's Chilli Tofu – Indian Chilli "Paneer" Recipe
Richa knocks it out of the park again with this softer, more stew-like recipe. Make this as hot or mild as you like by changing up the peppers.
Vegetarian Times' Thai Lemongrass Tofu Skewers
Here's one for the BBQ chefs out there. Fresh and healthy, these are quick to prepare with a half hour marinade before grilling.
Well, I think I know what we're having for dinner. I hope there's a recipe here that scratches an itch for you as well.
Got any tofu tips to help out a newbie? What's your favourite tofu recipe?
Please share and Happy Sunday!