My lovely cake - Timpan from Purple Sweet Potato (Typical food of Aceh, Indonesia)
Hallo steemian..
Timpan cake is a snack food that is usually made with starchy and wrapped in young banana leaves. In the process of making the dough timpan in stir with all the ingredients so that it becomes supple. Timpan is one of the typical food that comes from the most western region of Indonesia that is Aceh. Timpan cake is a favorite cake of the people of Aceh during the big days of Islam. However, at this time timpan is also easy to find in the pastry shop around Aceh.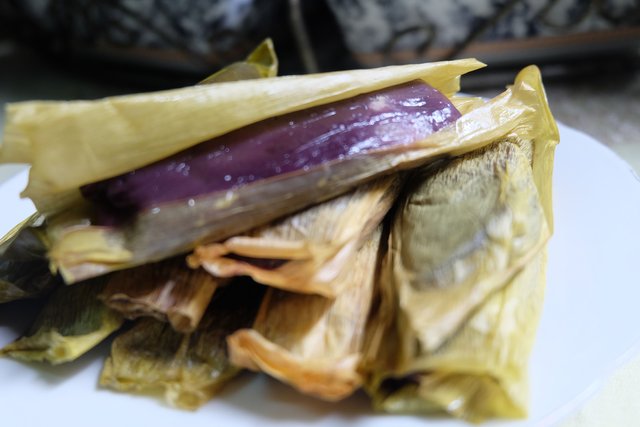 The taste of this cake is very delicious so that in love by parents and children. Variations of cake timpan lots so much that can be made according to taste. If you want to enjoy timpan cake, you do not have to bother to Aceh. Because you can make yourself at home.
Ingradients to make the purple timpan dough:
1 kg white sticky rice flour
purple sweet potato
500 gr coconut milk
Edible oil. Feeding oil is needed to grease the banana leaf so as not to stick when eating.
Banana leaves are cut square, to wrap the timpan.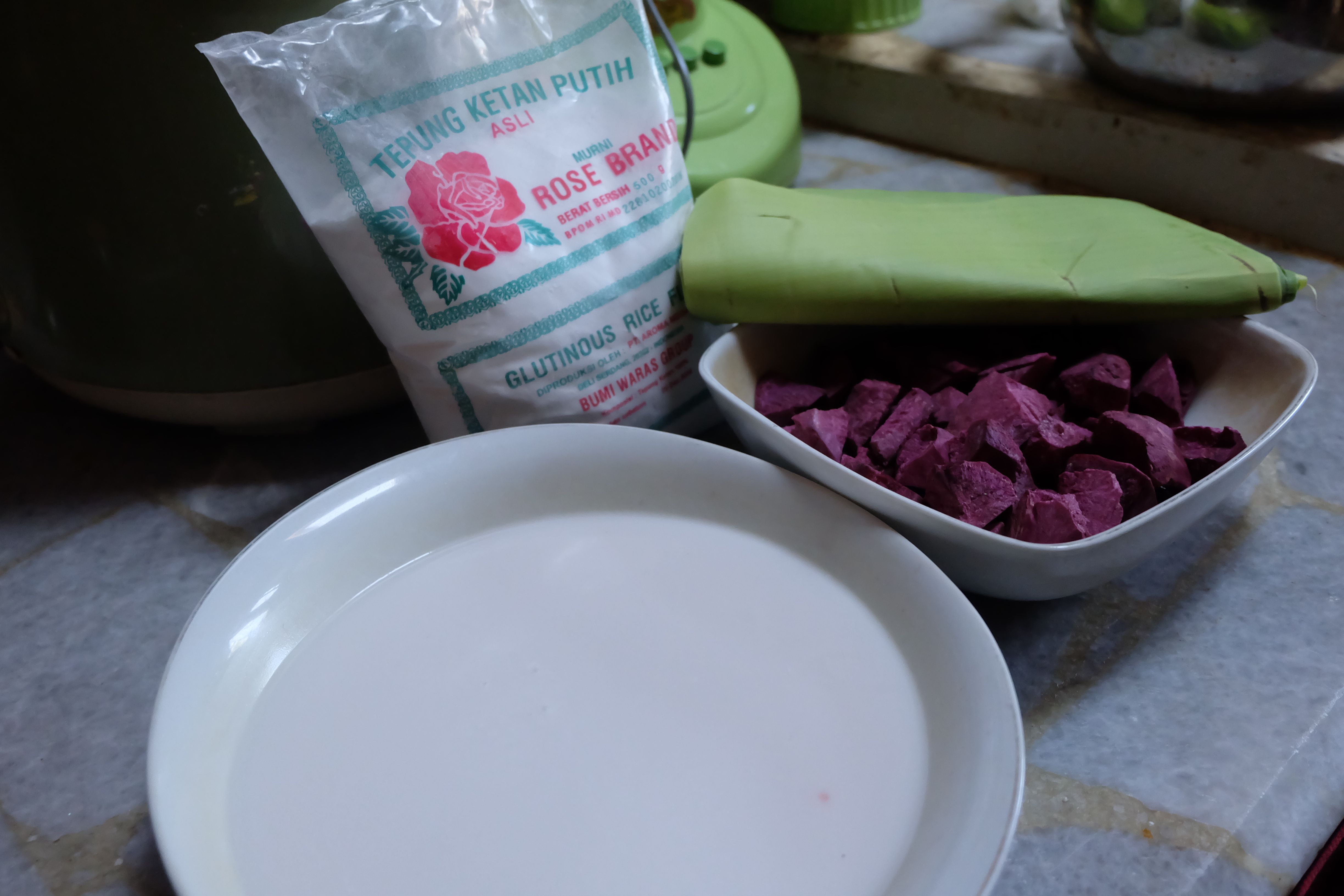 How to make purple timpan:
Rabed purple sweet potatoes that have been peeled and cleaned with coconut milk until the purple sweet potato is destroyed and can be puree.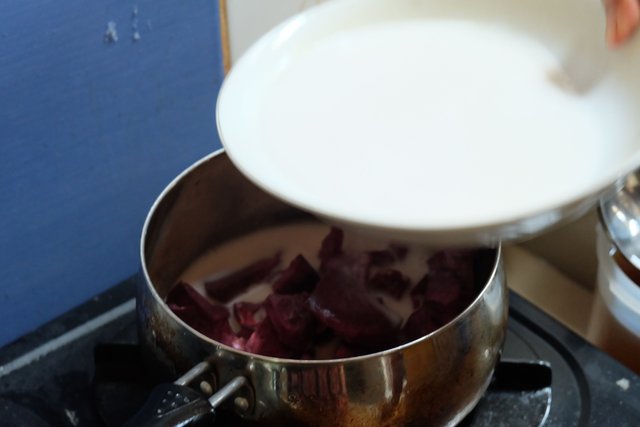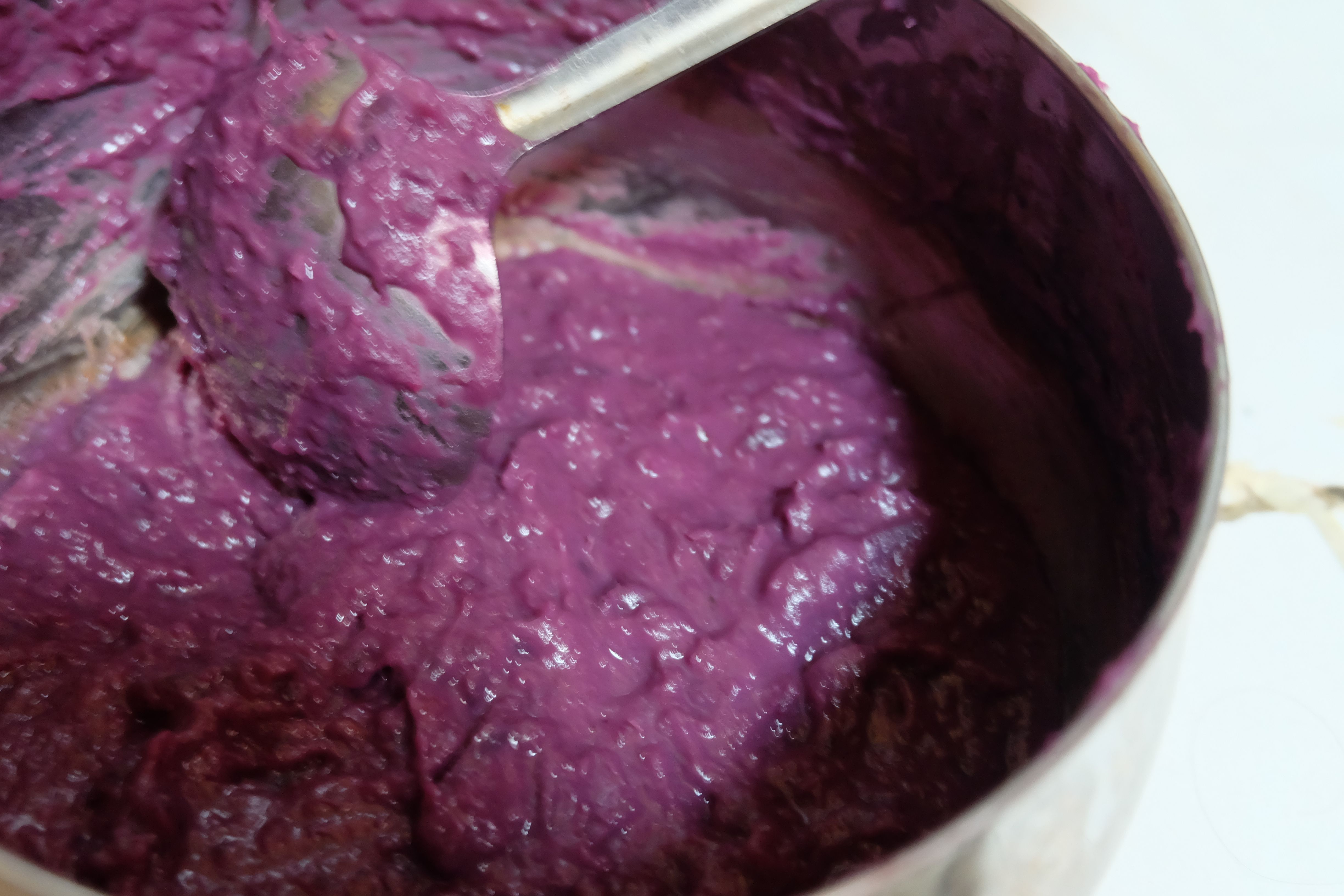 Pour white sticky rice onto a large container to avoid spilling. Put in purple sweet potatoes that have been pureed in small pieces and stir until blended with flour.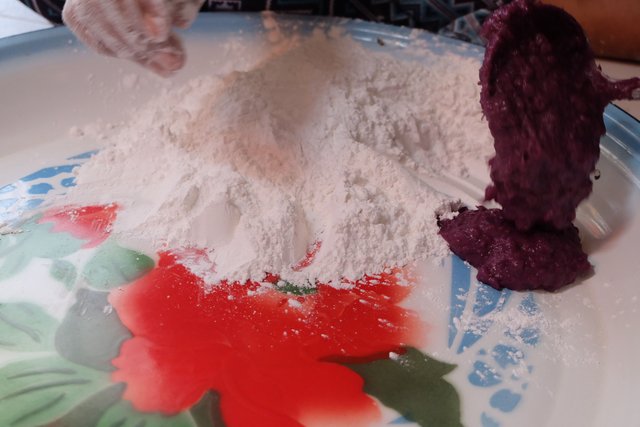 After all the dough is well blended, the shape of the dough is a small sphere to make it easier to wrap with banana leaf.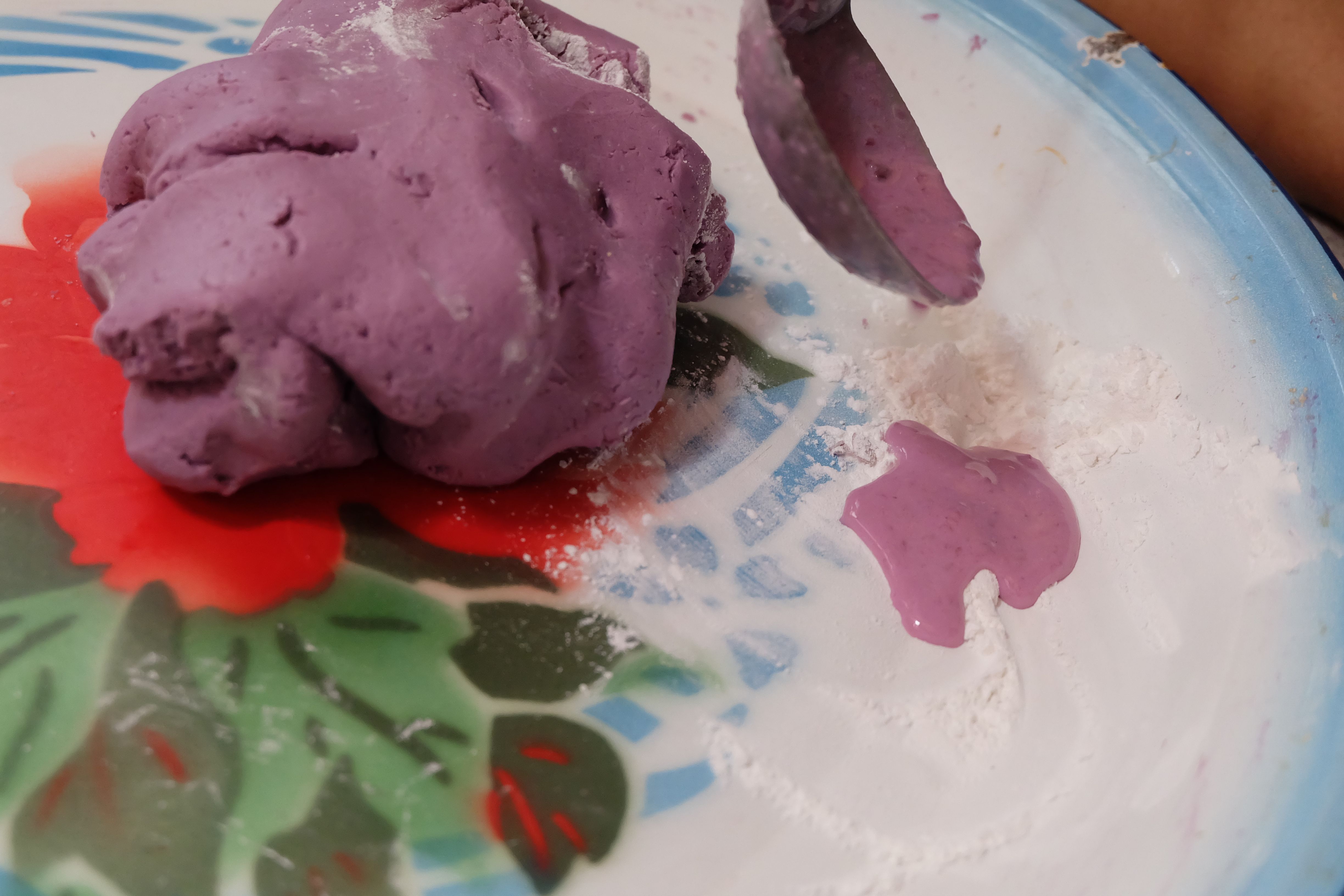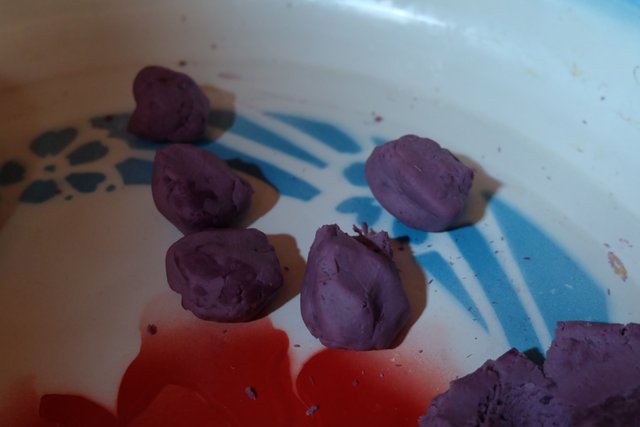 ---
Ingradients for purple timpan stuffing:
Grated coconut
100 gr Sugar
Salt to taste
1 sheet of pandan leaves
Enough water
How to make a stuffing :
Put the grated coconut, sugar, salt and pandan leaves up the pan.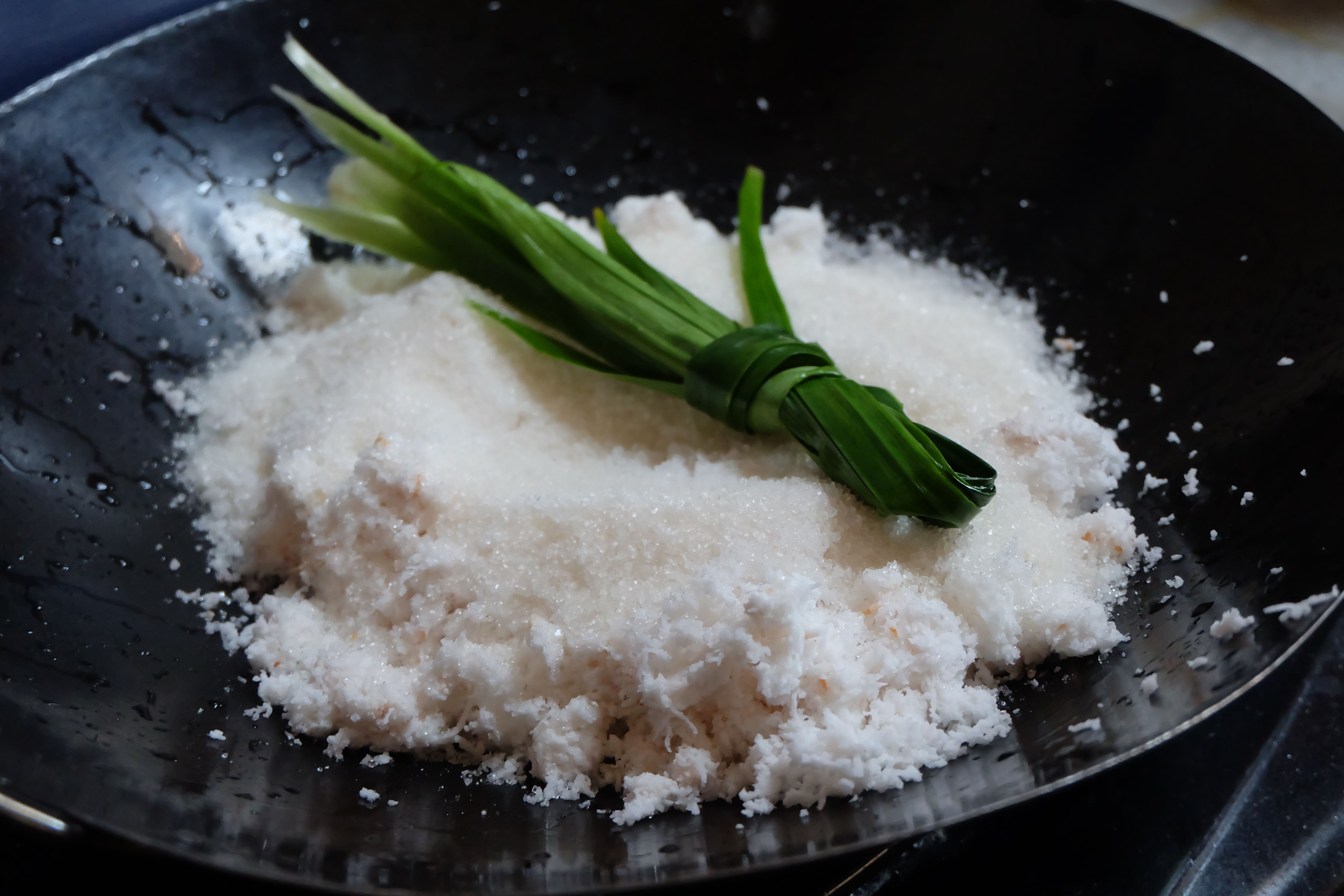 Add enough water to keep the coconut from drying out. And mix well.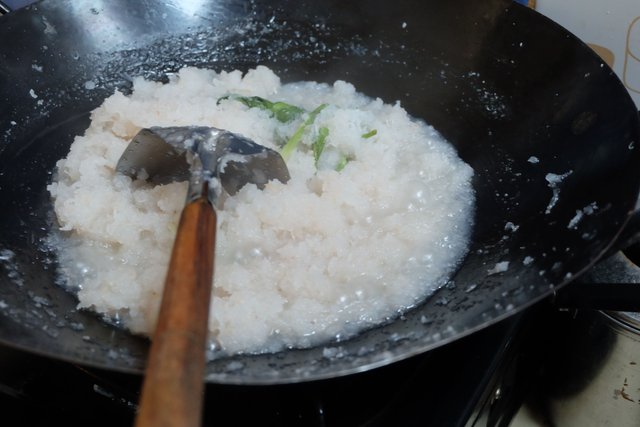 When the coconut is boiling and the sugar has dissolved. Allow the coconut a few minutes.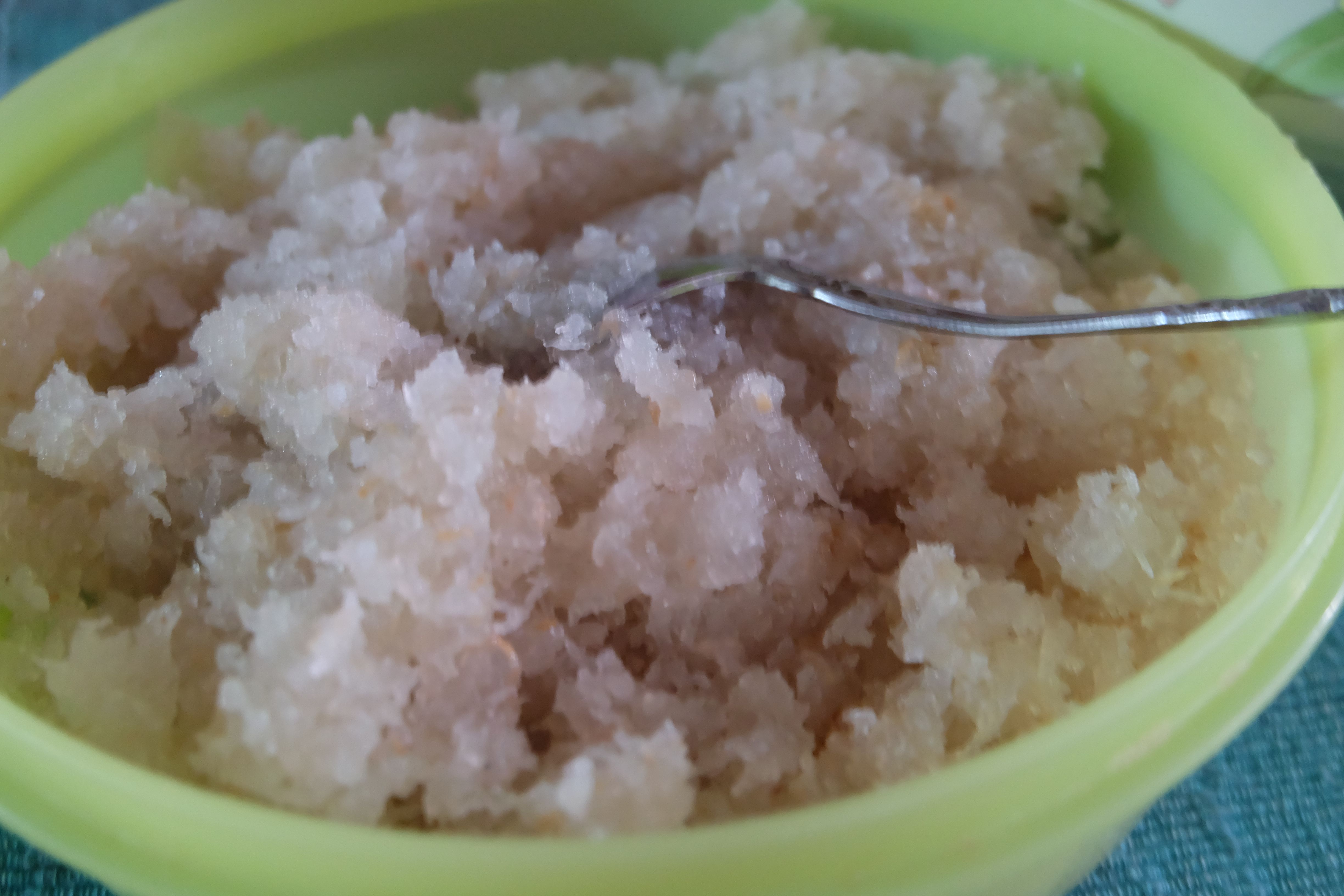 Making the tarpanic stuff should have a sweet taste. But this can be adjusted to the taste of each.
---
How to wrap purple timpan:
Take a young banana leaf and apply it with oil to eat. Take the dough that has been in the form of a small sphere and flatten flat. Add one coconut spoon that has been made.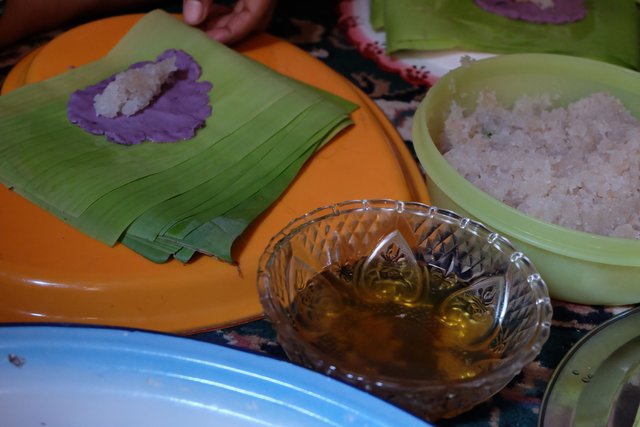 Roll the banana leaf forward and solidify the dough, folding left and right side of the timpan down. Repeat this until all the dough runs out.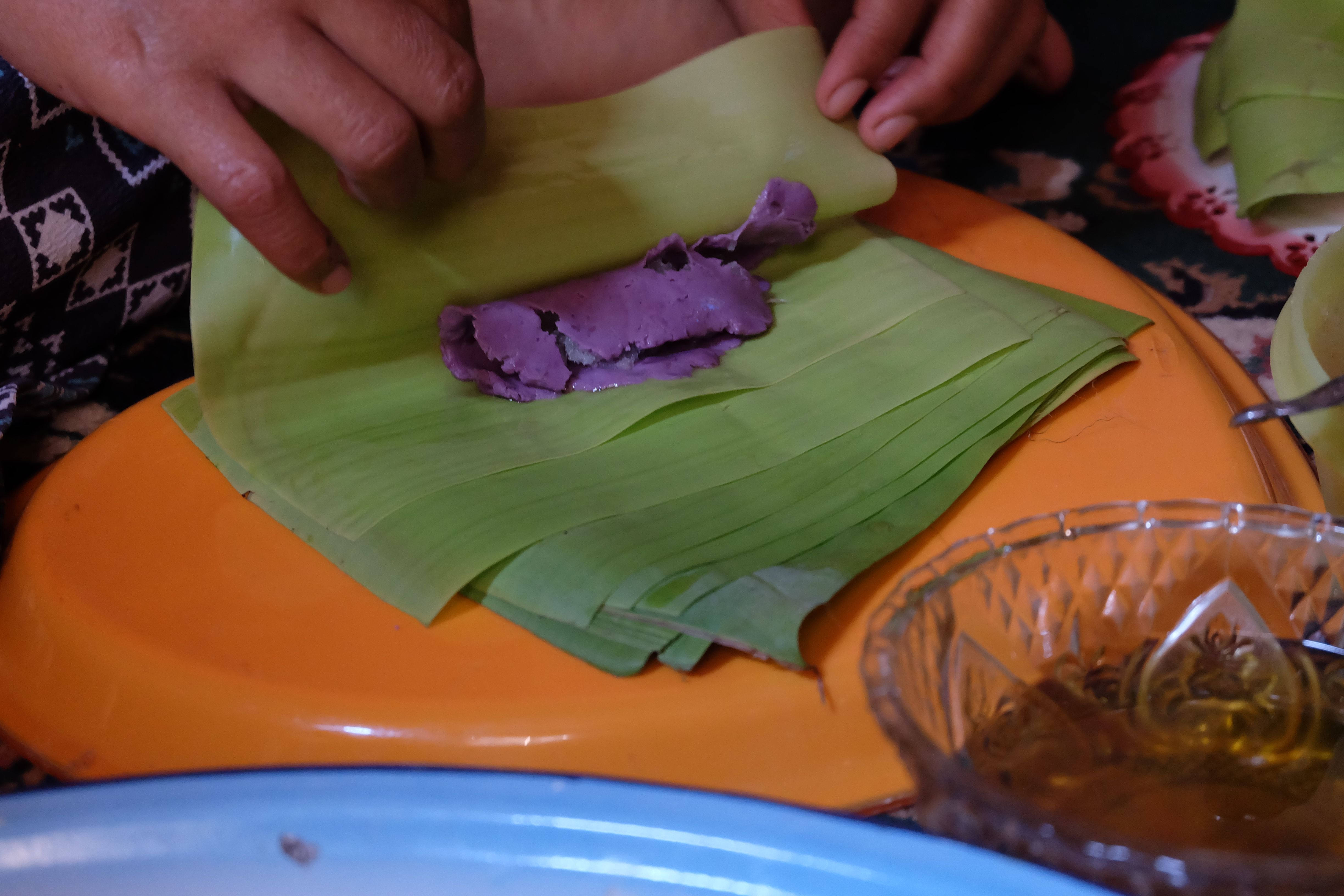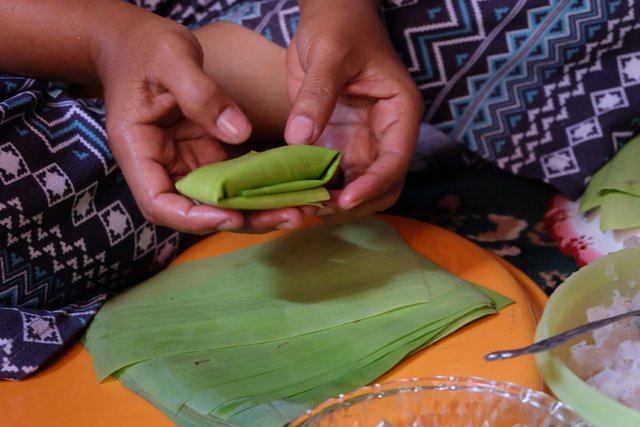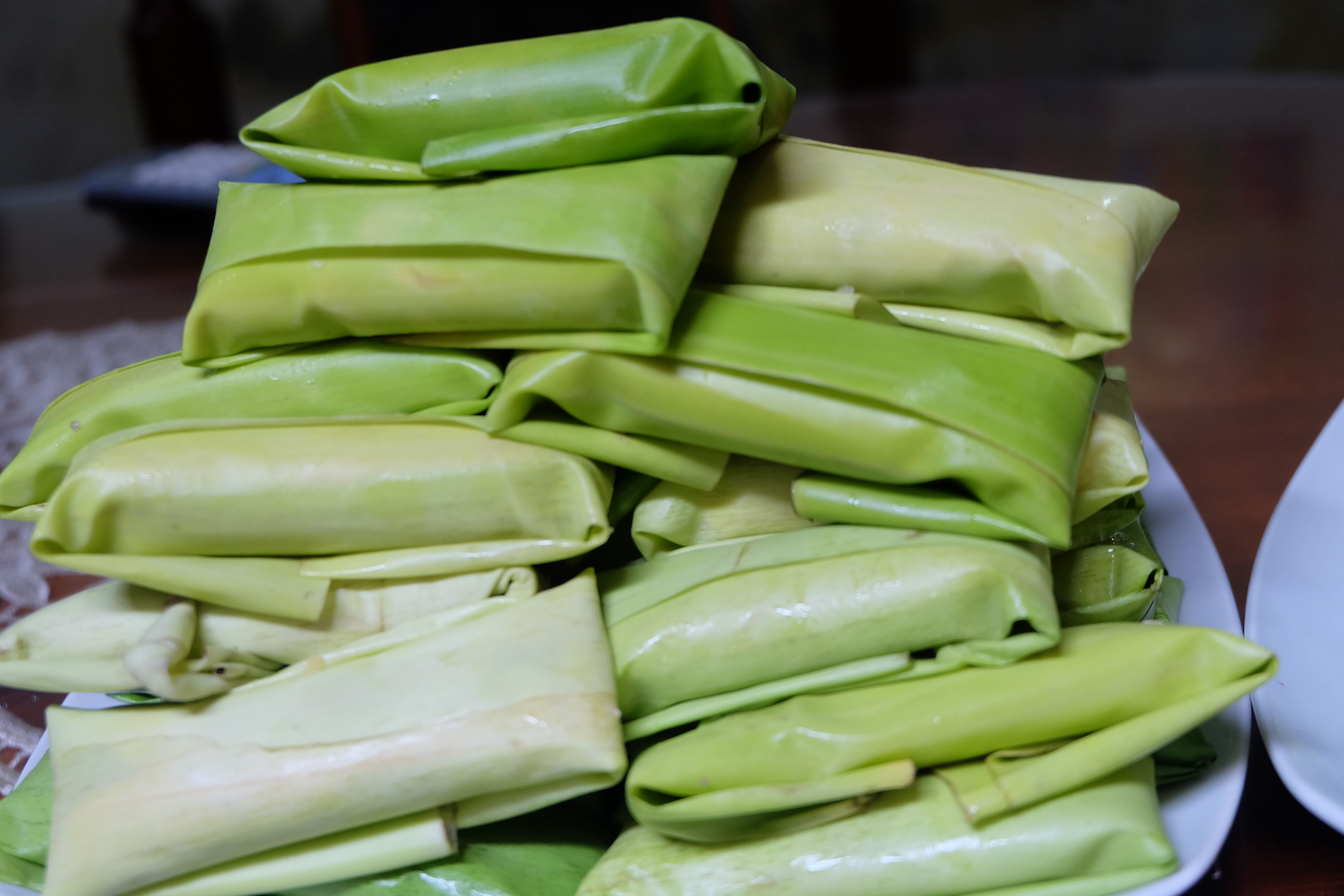 Steamed dough that has been wrapped in banana leaves for about 40 minutes, or until the dough is cooked and the tomato wrap turns brown.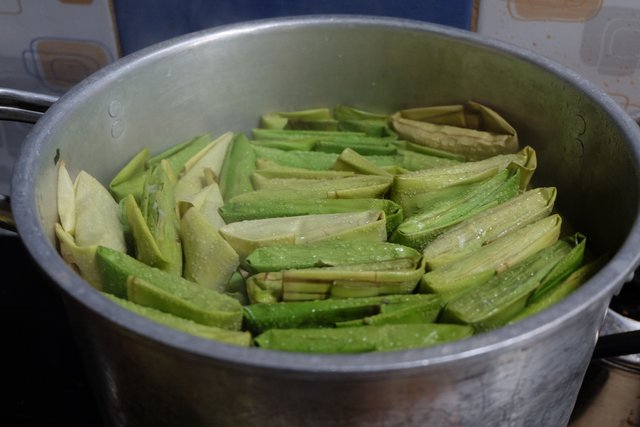 Raise and Save purple ready to serve.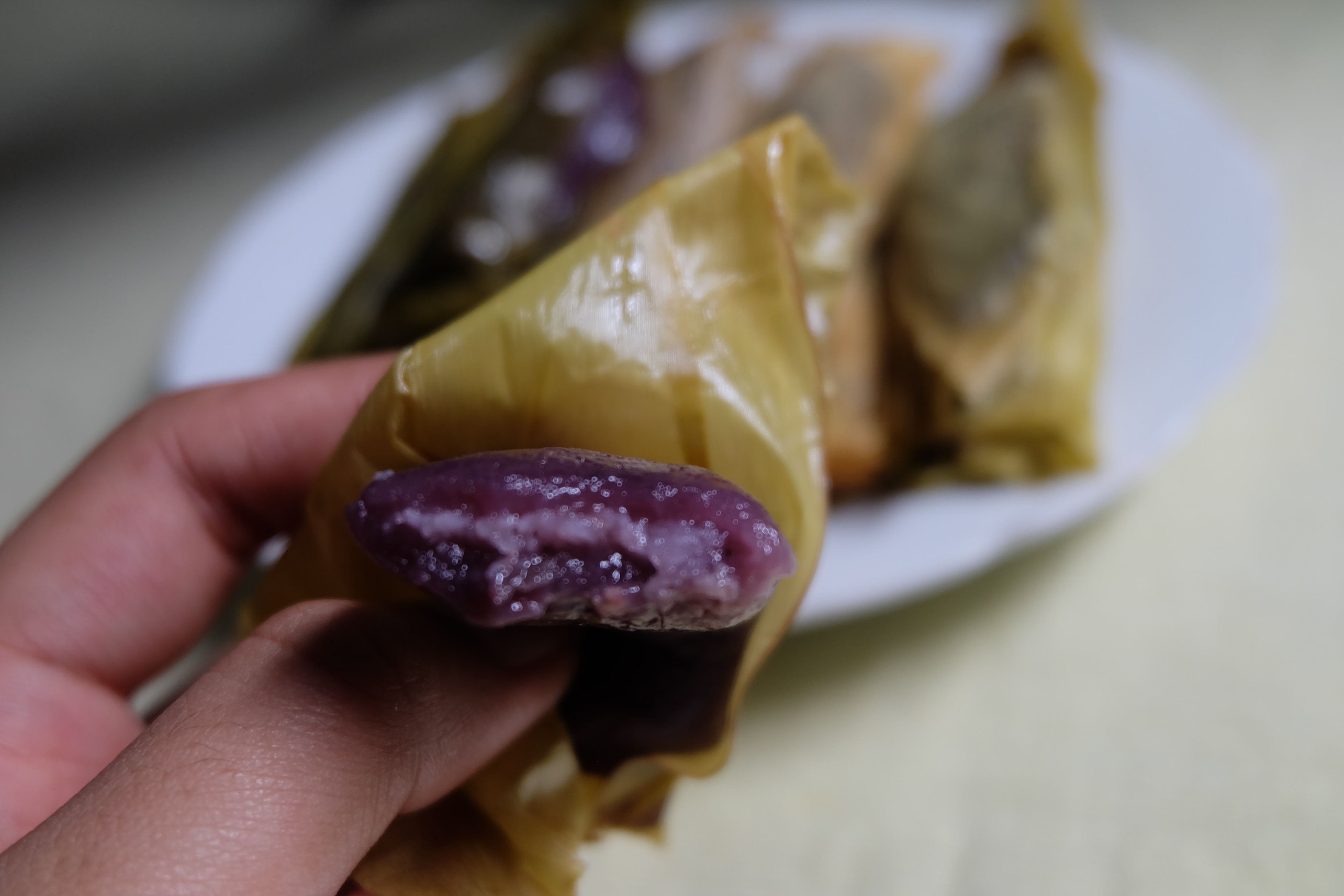 The timpan cake has a lot of variety, some make it from banana crew, yellow pumpkin and also purple sweet potato that I make this. Timpan stuffing material is also not lost, many people are varying the stuffing material with srikaya, jackfruit, durian and coconut.
Timpan is one of the cakes that still survive until now and has become a hereditary heritage. By the time we bite this cake will taste soft in the mouth and the sweet taste of the coconut in cooking with sugar.
Well are you guys interested to try this cake?
If you have any questions please ask and I will reply.
Do not forget follow and up-vote guys ..