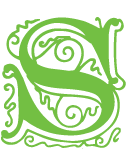 Southeast Asia is home to an incredibly rich food history. From French colonial-inspired bánh mì to Singapore's iconic chicken rice to creamy Thai tom yam kung soup, this is one cuisine that embraces enough flavors to satisfy any palate. Phở or pho is a Vietnamese soup consisting of broth, rice noodles called bánh phở, a few herbs, and meat, primarily made with either beef or chicken. Pho is a popular street food in Vietnam and the specialty of a number of restaurant chains around the world.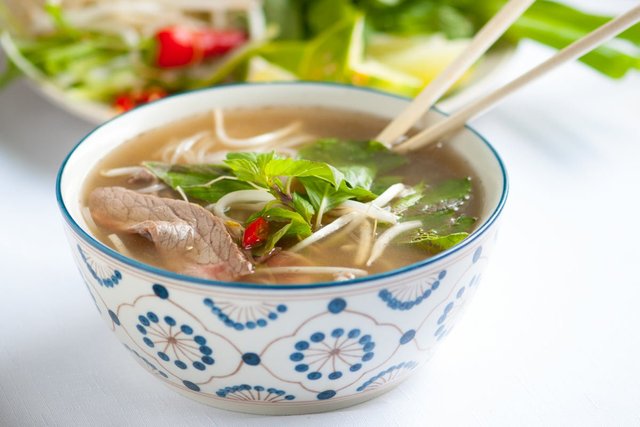 Image Credit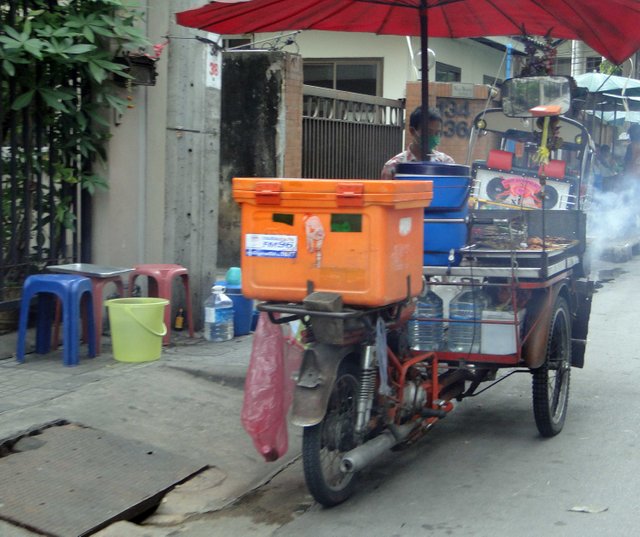 It never ceased to fascinate me watching the street cooks. They would arrive with their heavily-laden, motorcycle-driven food kitchens and go about preparing a variety of dishes. Businessmen would support them and sit down on the small table and chairs and tuck in to their afternoon
pho
(pronounced "fur")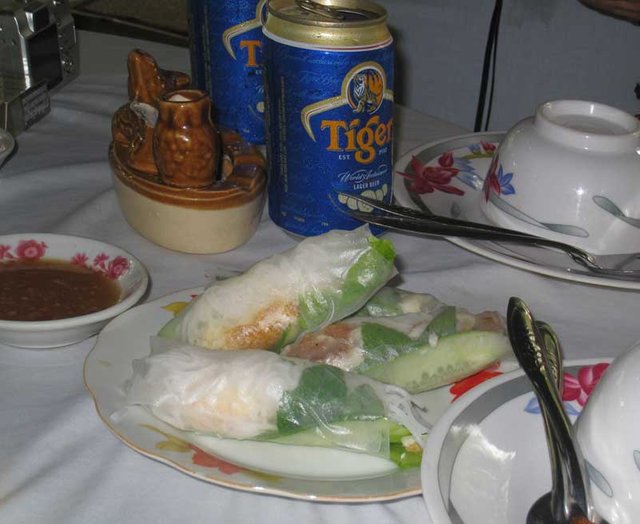 One of my most memorable experiences was a trip down the Mekong River to the My Tho / Dragon Island in the Delta. The community there are dependant on the tourist visitors that eagerly sample their food and buy objets d'art made from coconut trees.
These delicious fresh salad "wraps" were wrapped in a paper-thin rice flour sheet. The following sequernce shows how it is made: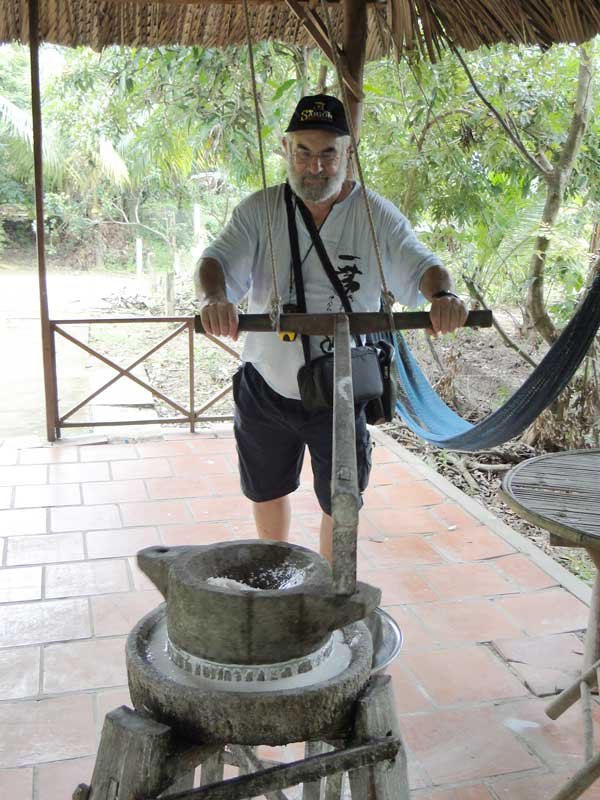 My friend was allowed to operate the stone mill that grinds the pre-cooked flour and the paste is steamed until it can be handled as a sheet.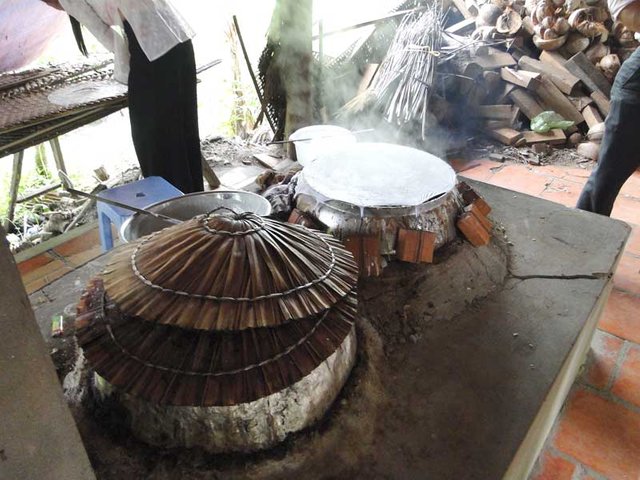 Steaming the rice flour sheets.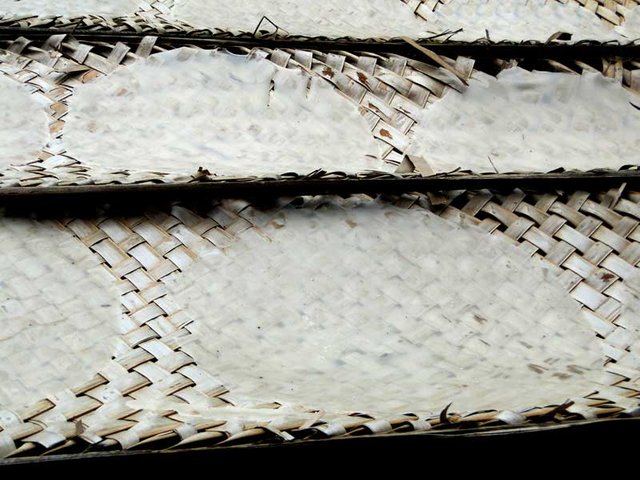 The sheets are dried in the sun and then used in a variety of ways.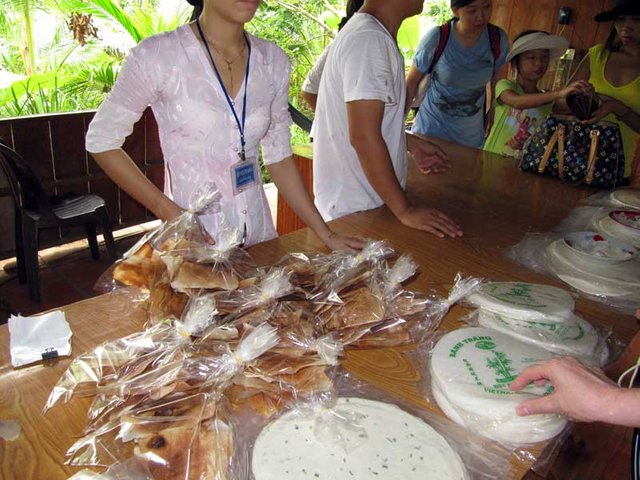 Baked sweetened rice paper sheets are sold too.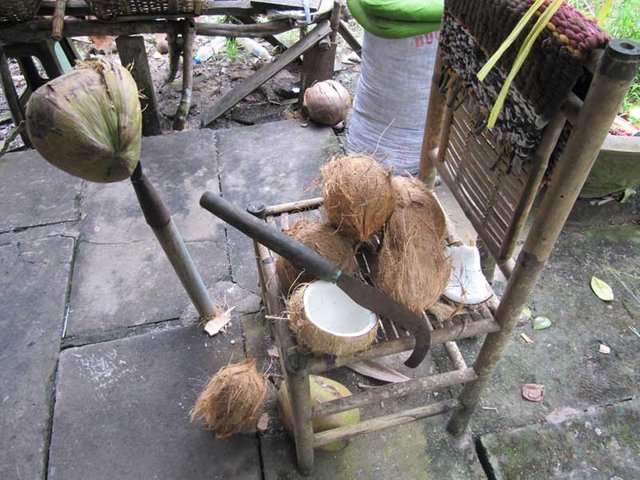 Coconuts are stripped with lightning speed.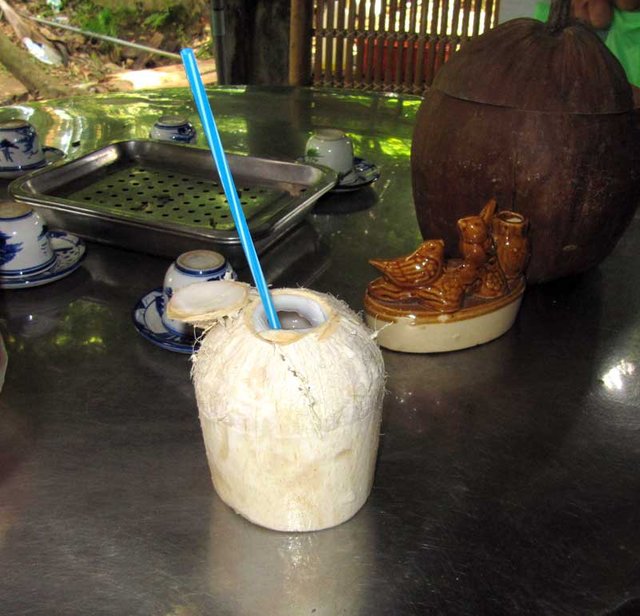 Delicious ice-cold cups of coconut milk are a welcome refreshment in the sweltering tropical heat.
Nature's Mean Trick
This is the Durian fruit. Delicious if you keep your nostrils firmly pinced closed. It smells like rotting meat!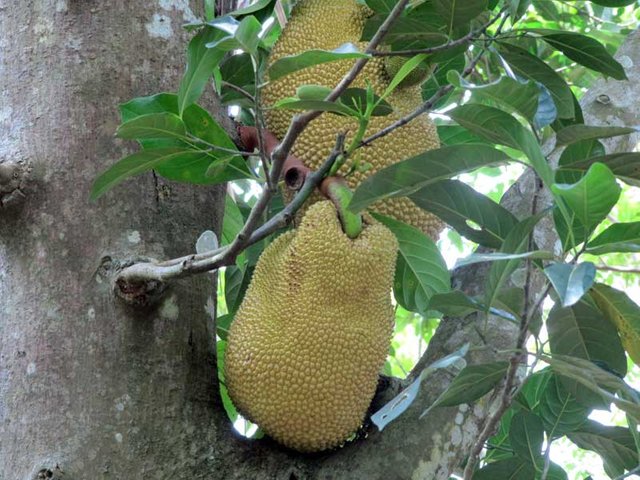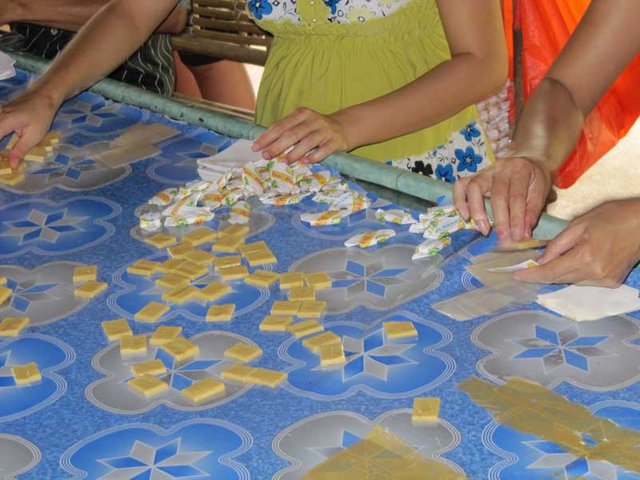 The folk on the Delta make a candy from Durian fruit. Again, delicious if you don't smell it!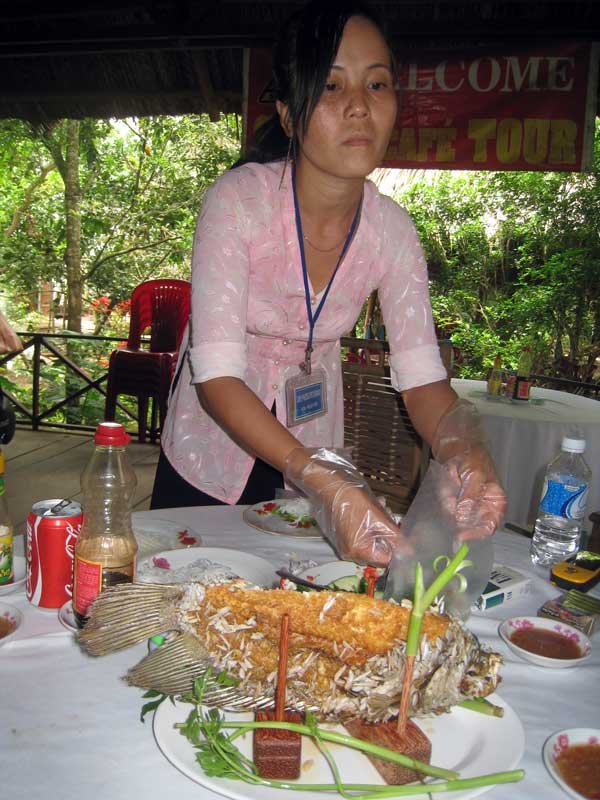 The ugliest fish I have seen but very tasty. This was served for lunch at the Delta restaurant.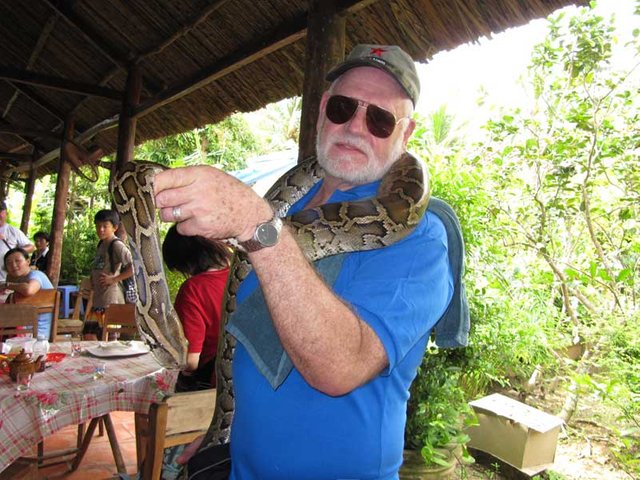 A wonderful day ended with an intruduction to my friend the boa....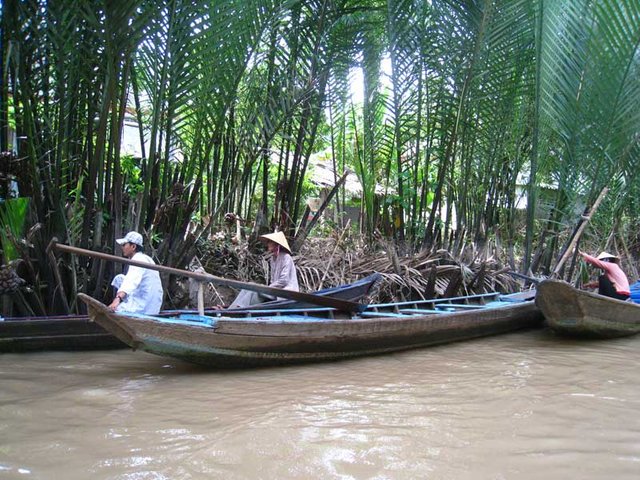 ....and a quiet trip through the Delta by boat.
More bizarre foods in Cambodia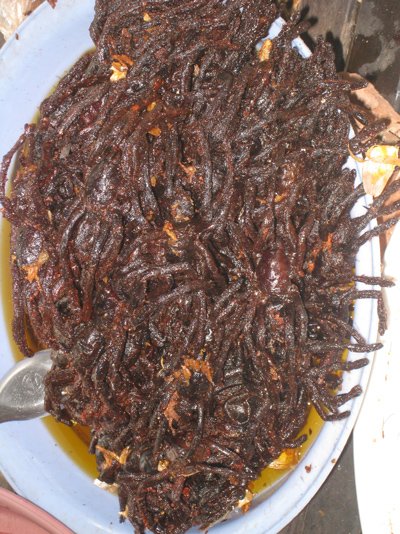 The Cambodians regards deep-fried tarantulas as a sought-after delicacy. All over the country at night, torch-wielding folk can be seen hunting for them.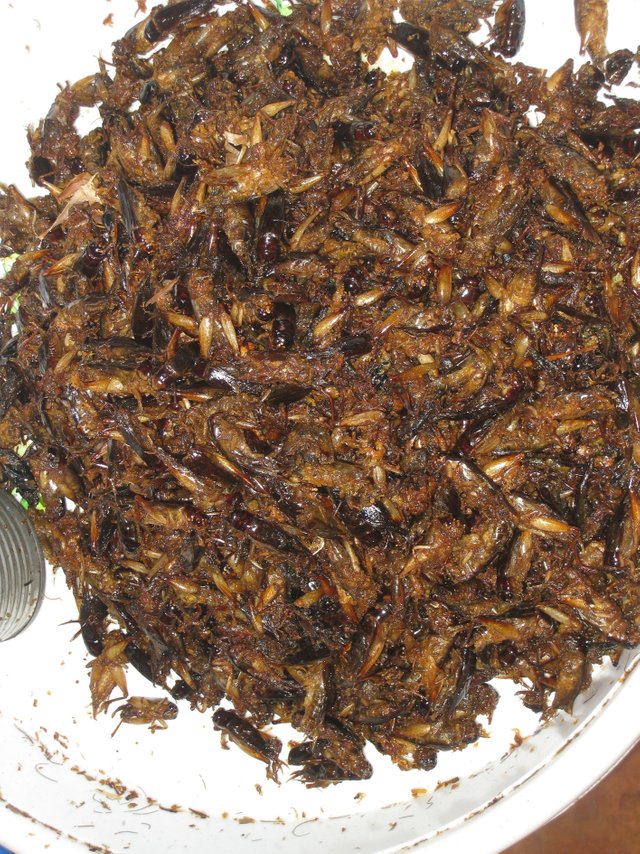 Crickets are also regarded as s mouth-watering snack and are sold everywhere. I was not brave enough to try!
Thanks for visiting!
Junior