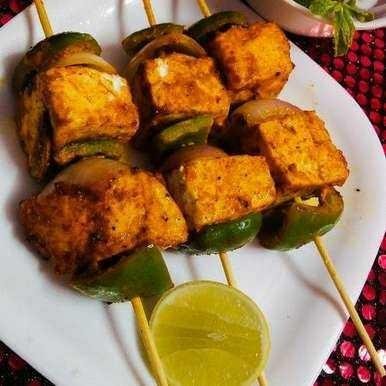 About Tawa Paneer Tikka Recipe
It is a good idea about the griddle paneer tikka recipes that serve a starter like the griddle paneer tikka, which you can easily grill on a frying pan, no need for this oven or tandoor. What makes this griddle paneer tikka recipe really special is that it is cooked on a frying pan. It is extremely relevant in an Indian context because the entry of grilles, microwaves and Owens is still under 5% of the population. On the other hand, the pan is found in almost all Indian families. Paneer recipes are very popular among vegetarians and paneer tikka paneer recipes. The paneer tikka recipe can be used as a starter and even enjoyed as a main dish. Other popular paneer recipes include cheese do pyaaza, paneer butter masala, palak paneer, cheese
veg momoz. Betterbutter This griddle cheese tikka recipe gives a big thumbs up!
Ingredients to make Tawa Paneer Tikka
400 gms- Paneer (Cottage Cheese )
1 1/2 cup- Curd
Salt to taste
1/2 teaspoon- Red Chilly powder
1/2 teaspoon- garam Masala powder
1 tablespoon- chat Masala
1/4 teaspoon- Cumin powder
1/2 teaspoon- tandoori Masala
2 tablespoon- Lemon juice
5 tablespoon- oil or Butter
1 pinch red food colour
2 green Capsicums cut it into 2 inches cubes
1 large Onion cut from the side in 2 inches cubes
10 skewer sticks
How to make Tawa Paneer Tikka
Cut paneer (cottage cheese) into 2 inch cubes, mix the paneer (cottage cheese) into a bowl with curds and limes (salt, add red chilli powder, garam masala, chaat masala, tandoori masala, cumin powder, red food color) and marinate for a few hours . Add the bell pepper and mix gently. Add the onion pieces and mix well. Now keep it in the refrigerator for an hour. Kataria take capsicum, onion, cheese, onion and capsicum cubes in that order. In each skewer you have to add two marinated cheese cubes. Heat the frying pan on the gas. Pour on 1 tbsp oil or frying butter. Keep your pickled cheese tikka sticks on the griddle and cover with a lid. Cook on low flame. In the middle you have to cook your cheese tikka sticks and well. Apply a little oil with the help of a brush. Take out on a plate. My suggestion: You can also use the Ajwain powder while marinating the mixture. This will give more flavor n a good aroma when cooked.