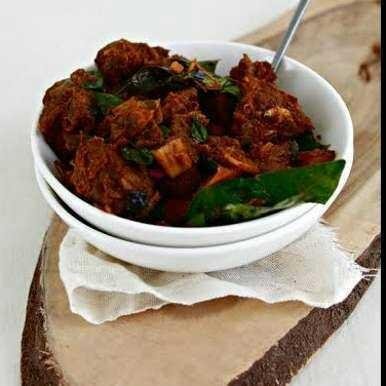 About Kerala Beef Fry Recipe
This Syrian an Christian specialty is found on every at very use full street corner of Kerala. The bits of coconut and lots of and losst curry leaves are what it gives that intense flavour food esteem by Entertainment Zone.
Ingredients to make Kerala Beef Fry
For the marination: 1 tsp Ginger garlic paste
500 grams of meat of your choice
Juice of 1 Lemon
2 tbsp chopped Onions
1tsp Coriander powder
1 tsp Red Chilli powder
1 tblsp Fennel Seeds, lightly roasted and pounded)
½ tsp Turmeric powder
1 inch piece Cinnamon
4 Cloves
2 stalks Curry Leaves
1 Star Anise
Salt to taste
For the tempering: ½ cup of fresh Coconut sliced into bite size piece
3 tblsp Coconut oil
How to make Kerala Beef Fry
Add all ingredients to marinate with the meat of your choice in a large bowl and set it apart for half an hour.
In a pressure cooker, tip the marinated meat and cook gently for about 20 minutes of pressure or until the meat is softened. As you do not need to add water, meat will release its juice in any case.
Once the meat has been cooled, get ready to fry it. 4. Heat a sauce pan with oil and add onions, chilies and curry leaves to it. Once the onions turn to gold, add all the meat and turn down the heat. Add the coconut slices and cook it until the meat starts to change the color and stick to the pan.
Serve hot with Malabar Datta or Appam.
My suggestion:
coconut oil! It gives it that deep dark taste
1 Onion sliced
2 Green Chillies split lenghtwise