China Food Menu #4: Burger King - Unique Value Menu Burgers
Update
Before we get into this post, let me update everyone on my life! It has been 22 days since I last posted. Life has been busy, my schedule at work changed and my hours increased so I'v found it hard keeping up with the blog. When I do have free time, I'm usually pretty tired and just want to sit at my desk and play some games or watch some movies. My contract is ending in June though and my work load should start dwindling down soon so hopefully I'll have more time to make some content. I'll probably have about a month vacation between this job and my next so I'll make lots of posts coming soon!
Burger King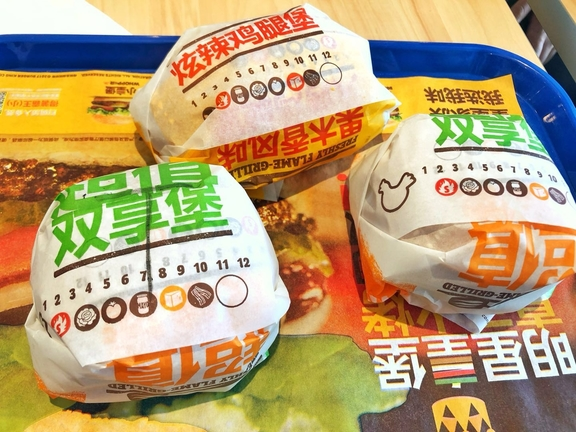 The other day I was feeling the need for some Western food and stopped by my local burger king. Yup, we have burger king, mcdonalds, pizza hut, kfc and even taco bell in china! Unlike America and most other western countries, these fast food chains here are a premium luxury. There is no such thing as a drive through here and they're all nice sit down restaurants with waiters/waitresses who will bring you food and clean your table. The price is pretty high compared to what you can get outside in a street restaurant although some items are cheaper than their western equivalents (big macs are 3$). Burger King however is pretty high, with some sandwiches costing 7-8$ by itself.
The best thing about these fast foods though is that they all have delivery service and the majority of them have specials to get 3-5$ off when you spend 10$. Unfortunately, not all their menu is available on the delivery app but the lazy people like me, it's great. This time though, I made a trip to the restaurant instead of using the app because I was passing one by and it just happened to be lunch time.
The Value Menu
They had a selection of new value items I'd never seen before and they really intrigued me. This periods value burgers were double decker burgers using either fried chicken patties or pork patties. You could either get a plain original flavored burger or have them add their special numbing peppercorn sauce. The sauce is made from a special type of numbing peppercorn that is green and much more numbing than the normal brown kind. Despite it being made from a green peppercorn, it was a red/orange sauce and had a strong stimulating taste. I love Sichuan/Chongqing's numbing peppercorns and it was a very enjoyable burger. There's something fun when your lips start to buzz and the numbing sensation starts taking over.
Overall, it was a pretty simple burger with just 2 chicken patties, a tiny bit of lettuce and the sauce. Despite it's lack of ingredients, the strong flavor of the sauce made it a good burger and for only 9 rmb (1.40$) it was a very good deal!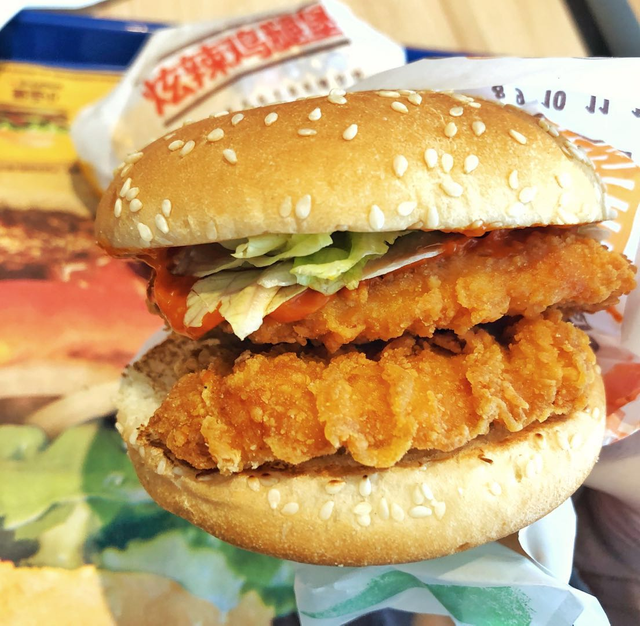 Our second burger is the pickled pepper burger. Like the first burger, it could come with either pork or chicken and also cost 9 rmb. It was put together the exact same way as the first burger as well just with a different sauce. This sauce was a nice creamy white sauce that had a strong spicy pickled flavor. I really loved this burger. In general I'm a big fan of pickled peppers and this sauce was really well done. It almost reminded me of a ceasar salad dressing mixed with a spicy pickled pepper juice. The white creamy sauce was refreshing and yet salty and spicy at the same time. It was a perfect mix of flavors and I would love to buy the sauce by the gallon haha!
Unfortunately, this particular burger seems to be a secret menu burger only available at a couple special burger kings. After this trip to Burger king, I went to 2 other burger kings the next couple days to buy this burger again but it apparently doesn't exist and they've never heard of it. I plan to go back to the original burger king first and see if they still have it because I really want to have it at least one last time!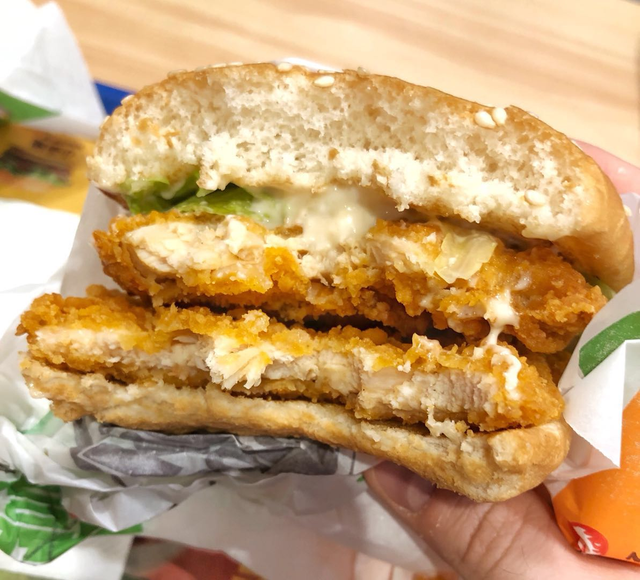 The last burger is the super spicy chicken roll. Despite it's fancy name, it's not any spicier than any of your normal "spicy" burgers. Not a challenge by any means but it might cause the faint of heart to sweat. Unlike the other burgers, it is on a mini whole wheat subroll. It has some lettuce and mayo so no special sauce like the other burger but the actual chicken itself seems to have been marinated in some kind of spicy sauce and then breaded and deep fried. When you bite into it, there's a red sauce covering the chicken. The taste is good but the bread to meat ratio felt a little off. The chicken patty was a little to thin and since the bun was whole wheat, it wasn't as soft as a normal bun making it feel more bready.
It was still good but for 10 rmb, it's just slightly more expensive than the other burgers and in my opinion not quite as filling or tasty. I'll probably still get it again in the future just to have variety but the pickled pepper burger was still my favorite.