Beijing: Unique Egg Wraps and Beef Sandwiches
Beijing for 2 days
Just a couple days ago I had to make a hectic trip to Beijing for a mere 48 hours to handle some business. I arrived around 7:30 in the night and took a taxi to my hotel. It was a long taxi ride and cost almost 100 CNY but it beat taking an hour and a half trip via subway when I was tired and looking to explore the Beijing streets a little before sleeping.
I arrived during probably the worst couple days of pollution I'v ever witnessed. The air carried a heavy grey/yellow fog and the pollution was so dense that you could taste it in your mouth. After arriving at my hotel, I went out to find some street food but within the first 20 minutes of walking around, I started to get a sore throat from everything in the air. I walked around for about an hour but unfortunately there wasn't that much to eat around me. I did find one little place though that made the most amazing wraps!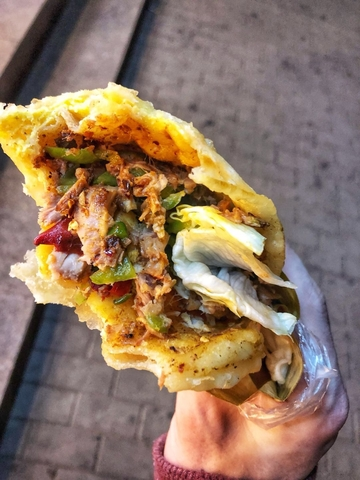 The hole in the wall
After walking for about an hour without finding much of anything that interested me, I decided to give up and head back to a McDonalds near my hotel. It was on the way to the Mcdonalds that I found a little hole in the wall restaurant selling various different wraps. It was literally a hole in the wall with just a sign hanging down displaying the menu.
This picture was taken the next day because it was too dark to get a good photo at night when I went.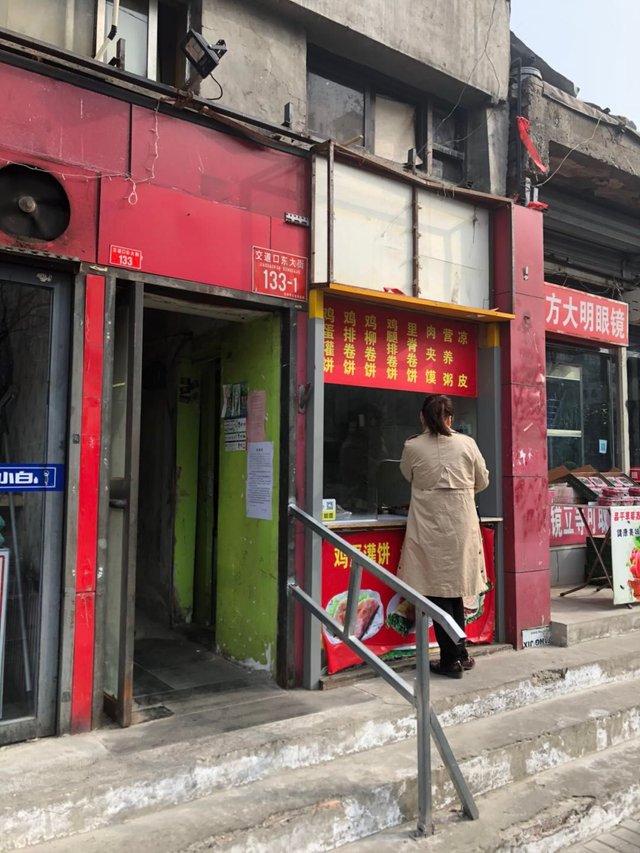 The egg filled wrap
I'v had most the things on the menu before but there was one thing I had never seen! It was called a 鸡蛋灌饼 which translates to a egg stuff wrap. You're probably looking at the picture now and thinking "Where's the egg?" but that's what makes this wrap so special in my opinion. The egg is literally in the tortilla. The tortilla is a big hollow inside and has an entire omlette like egg. When you take a bite, you can see the layers seperating and even see the egg poking out.
I was trying to show the egg embedded inside the tortilla here.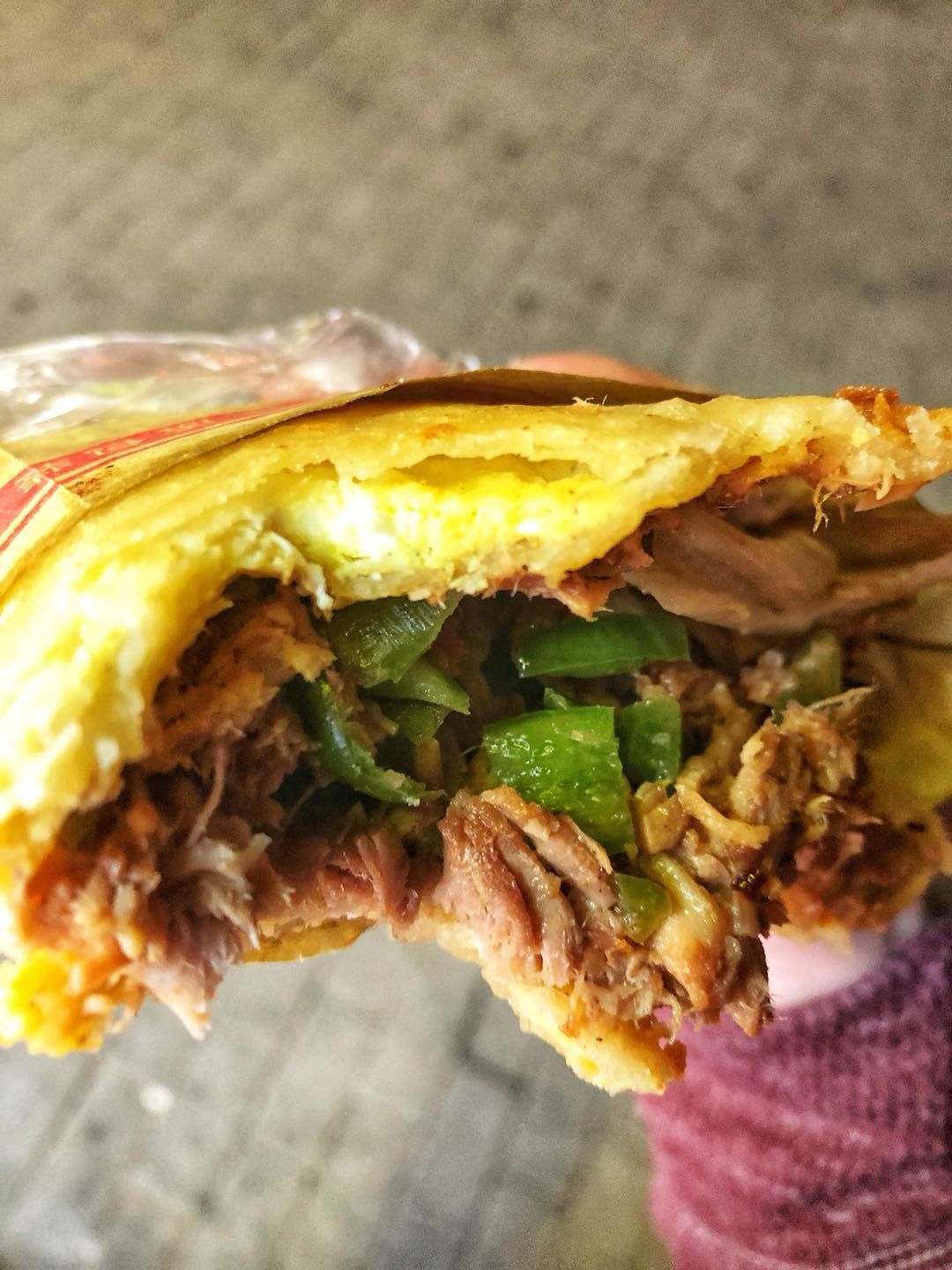 For the filling, you had several choices, they had chicken tenders, hotdogs, flavored chicken legs, seasoned potato strips and a braised meat that they minced with green peppers. It was late at night and the stuff was just sitting out in the open air so I was a bit worried about the hygene but I decided to go for it anyway. I ordered the braised meat option and waited for my order to be made.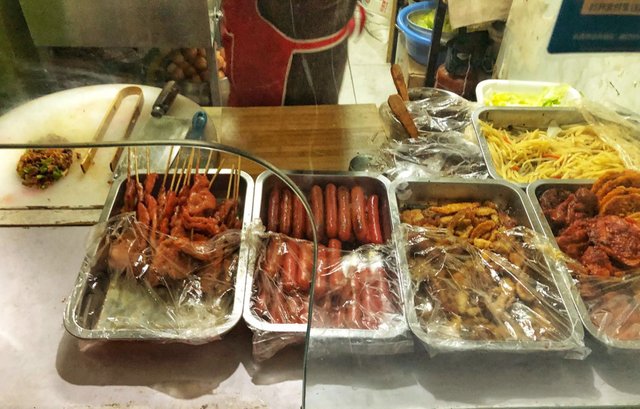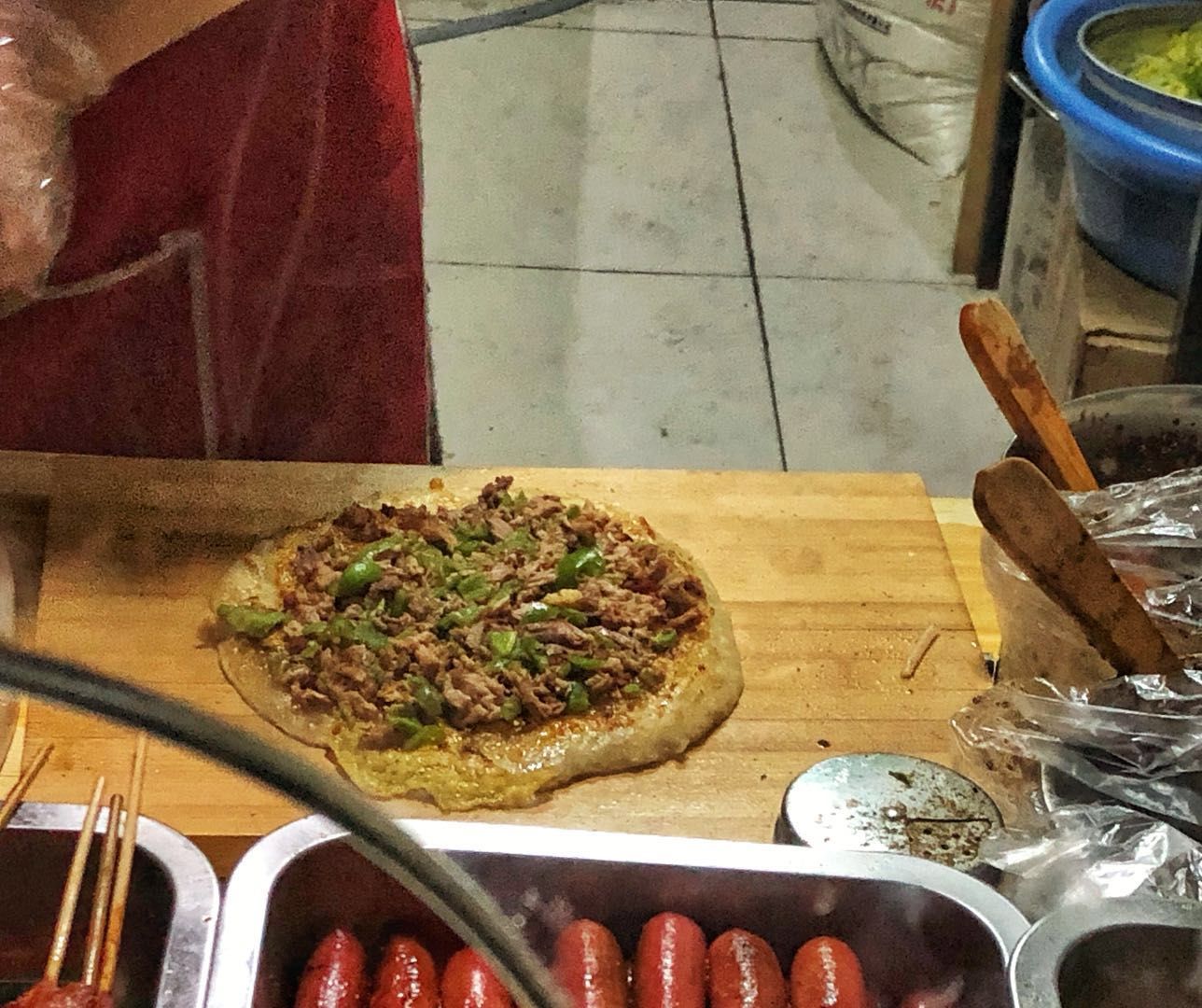 She had a batch of premade tortillas that she heated up on an iron plate grill, then she ladled out a couple big chunks of slow braised meat from a pot and minced it together with a green pepper. She swiped the tortilla with a couple different seasonings and sauces and wrapped it up for me to eat. It had an amazing flavor, the meat was juicy and a tad bit spicy. The meat was super soft and almost melted in your mouth with every bite. It was an amazing combination of flavors and one of the best wraps I'v ever had. If I lived in Beijing I could probably eat one of these every day.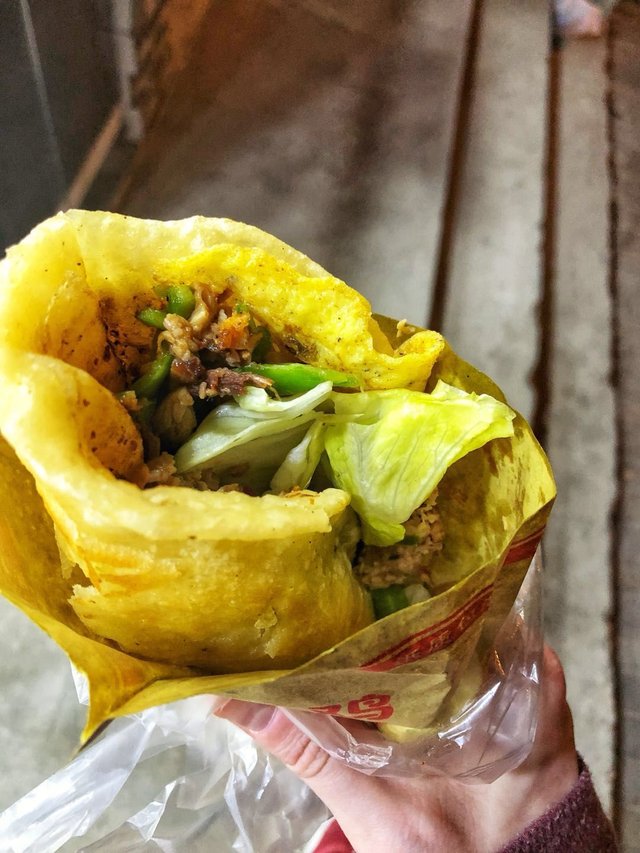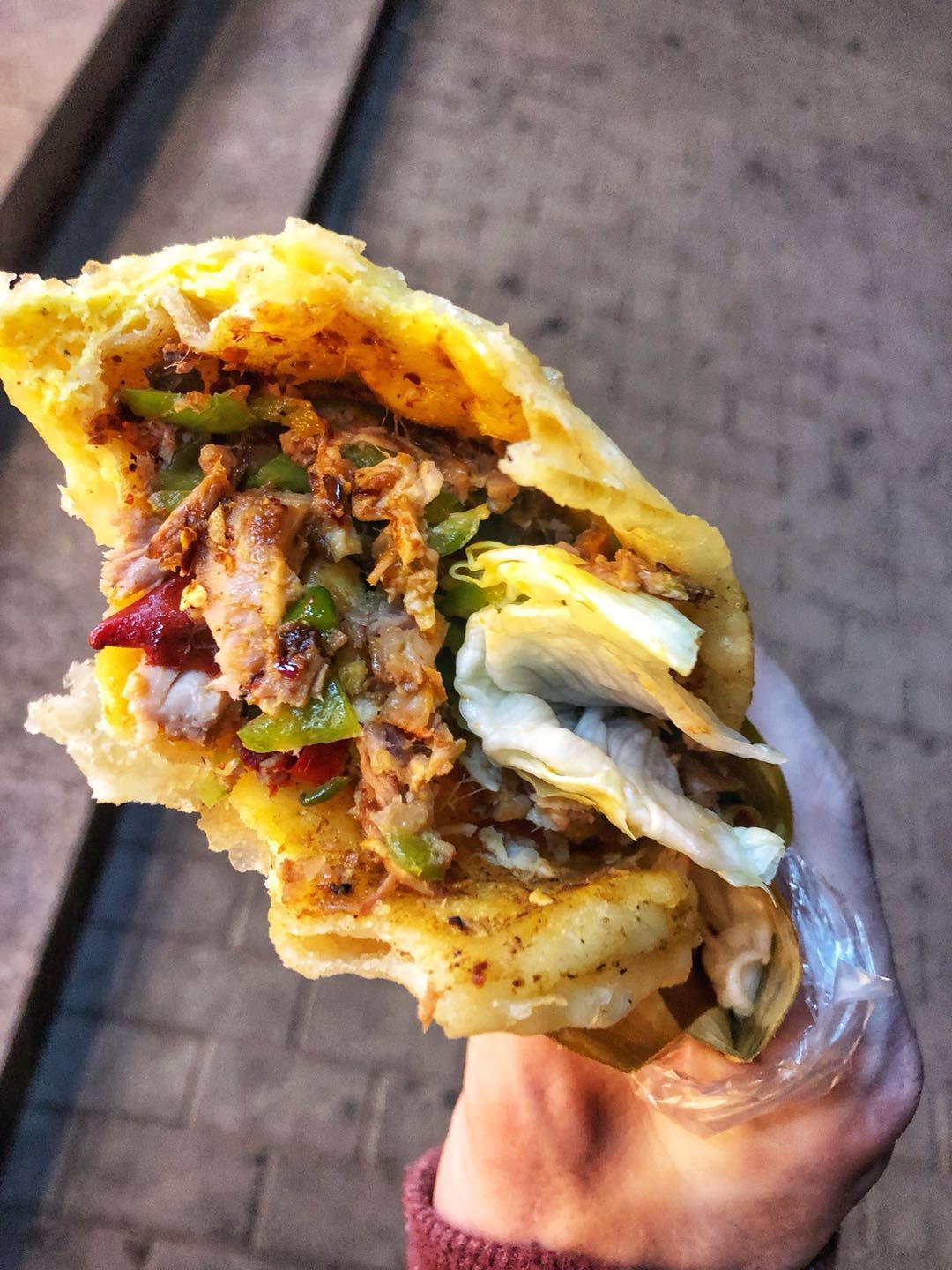 ---
---
---
---
Beijing Day 2
The second day I set out early to find some Beijing Breakfast. Unfortunately, my hotel wasn't in the best of spots and there wasn't a lot around. I was really really temped to get another one of those egg filled wraps again for breakfast but I controlled myself and forced myself to keep looking for something new. I'm happy I kept going though because I did find something really great!
The Morning Street Stand
On the side of the street I came across a small street stand with some steemers and a variety of little morning snacks! They had steamed buns filled with a variety of different meat and/or vegetable fillings. They had some twisty fried dough sticks 油条 which is basically an unsweetened fried donut/churro. There were little pyramid shaped lotus leaf wrpas filled with flavored sitcky rice and chicken. They had several sweet red bean filled pastries and several meaty sandwiches as well.
I decided to go with one of the beef sandwiches in a sesami bun but while I was ordering the lady didn't hear me at all and kept preparing diffrent items. There was an older Beijing man standing next to me though who kept echo'ing everything I said to the lady at the shop. I thought he was a shop assistant at first but he turned out to just be a really nice guy helping me get my order. I thanked him for the help, got my food and was on my way.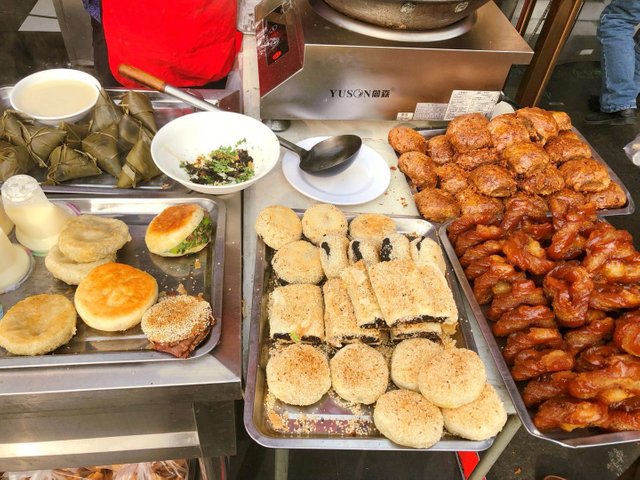 The roastbeef sandwich on a whole wheat sesame bun
This was such an amazing sandwich. I wasn't sure what to think about it at first, the meat looked a little dry and it was a cold cut sandwich but it blew away my expectations. The meat was a bit dry, kind of like a roastbeef sandwich but it had some chunks of fat that really rehydrated the meat and kept the sandwich from being too dry.
It was really the bun though that had me at first bite. I'm not completely sure it was whole wheat but it tasted a lot like it. The most amazing thing though was that the bun was chewy and layered! When you took a bite, it was extremely textureful and had many layers of bread. I can't really explain it because I'v never had anything like it but I loved it. The sesame seeds on top really brought together the flavor and I wish I would have bought 2.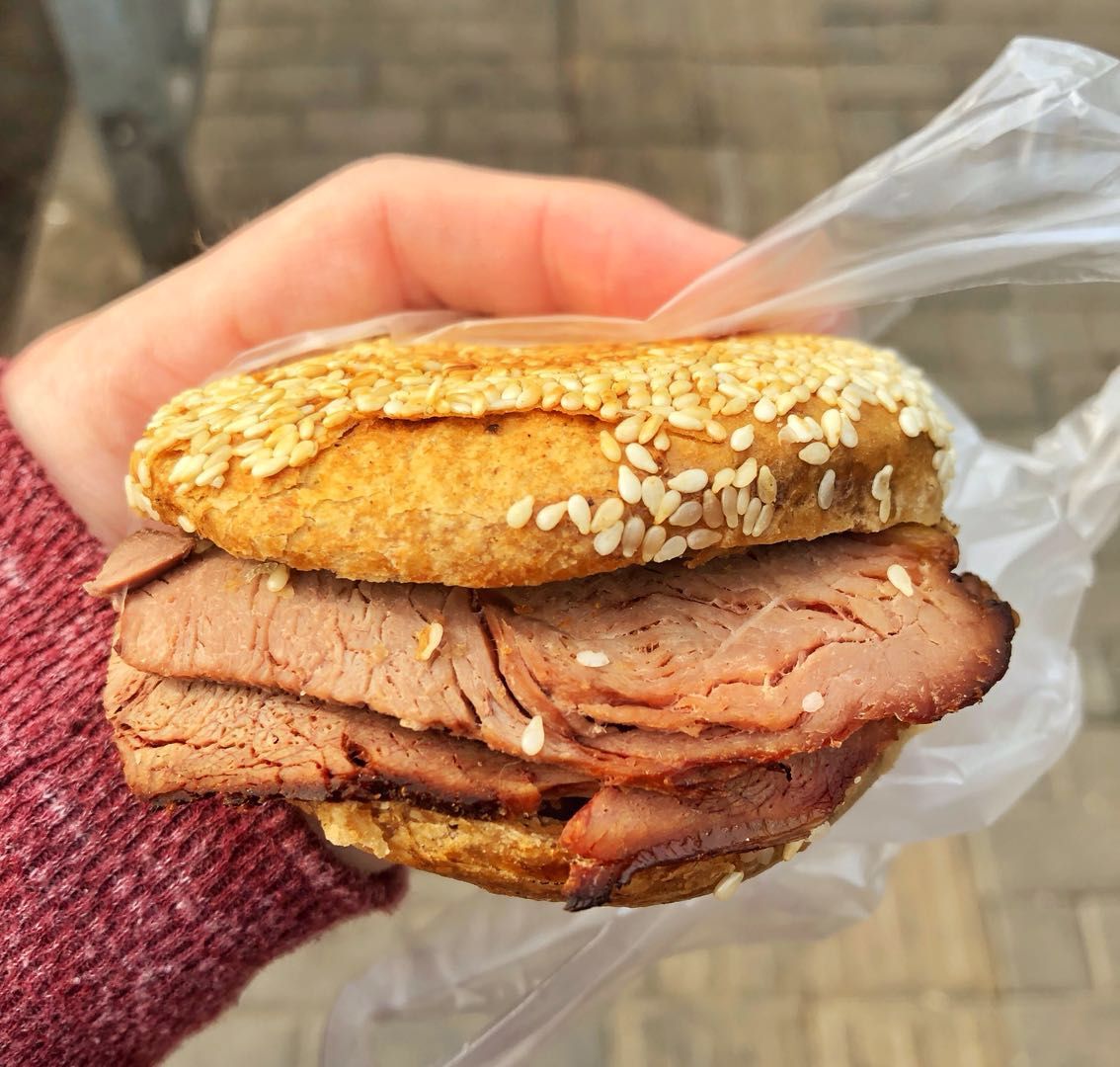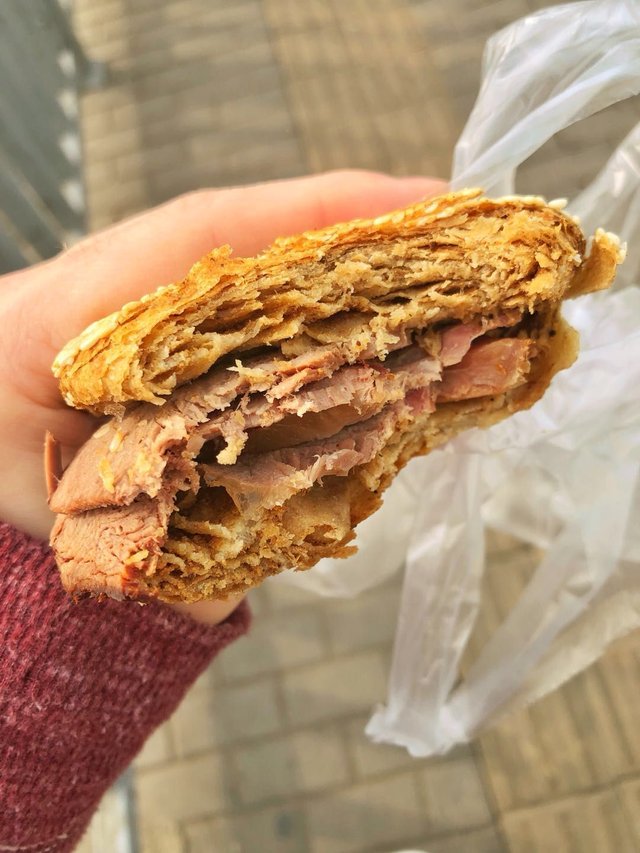 Tried to get a close up here to show everyone the layered texture of the bun.