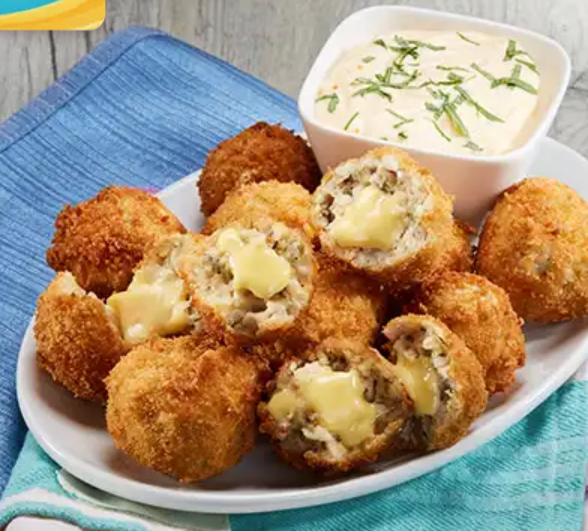 Anyeong steemians! Welcome back myself! Haha. Anyway, today, I just wanna share something yummy recipes that might good for your taste and stomach.
Now, let me introduce to you my "Spicy Chicken Cheesy Balls!" And let's go to your kitchen and ready your...
Ingredients:
Chicken breast, minced -300g
Red chilli powder - 1/4 tsp
White pepper powder - 1/4 tsp
Dried basil - 1/4 tsp
Dried pasley -1/4 tsp
Dried rosemary -1/4 tsp
Corn flour -3 tbsp
Ginger, chopped -1tsp
Garlic, chopped -1tsp
Mint leaves, chopped -1tsp
Green chilli, chopped - 1tsp
Cheese, cube - 200g
Egg white - 2 pcs
Breadcrumbs -1/2 cup
Oil - 400ml
You must use many oil to make the balls deep fry, so it is more chrunchy and well cook.
Tools:
Knife
Chopping board
Mixing bowl
Whisks
Wooden Ladle
Frying ladle, and
Frying pan
Procedure:
In a bowl, combine the chicken, the red chili powder, white pepper powder, dried basil, dried parsley, dried rosemary, corn flour, ginger, garlic, mint leaves and green chili, and mix well.
Form 2-inch balls from the chicken mixture and place them on a lined baking pan.
Flatten each ball, place a cheese cube and roll them back into a ball, and repeat the process.
Dip each ball in the egg white and coat them evenly with breadcrumbs.
Fill a pot with oil and put on high heat and when the oil is hot, deep fry the balls until golden brown. Then drain and serve.
That's it! So simply to do in your home, and you will also enjoy eating it while you are with your family and friends.
I hope that you like my recipe, and for more knowledge in cooking, just follow me. Thank you. 😁👨‍🍳