How to Make Delicious Granola at Home 👩‍🍳
Have you ever been in a grocery store and taken a look at the nutrition label of a granola packet? If not, you should know that those granolas, advertised as a healthy breakfast, often are the exact opposite. They can contain up to 30 % of sugar, which isn't something you want to be eating first thing in the morning. So, if you're a friend of granola, why not make it at home? It doesn't take forever to make and tastes delicious. 😋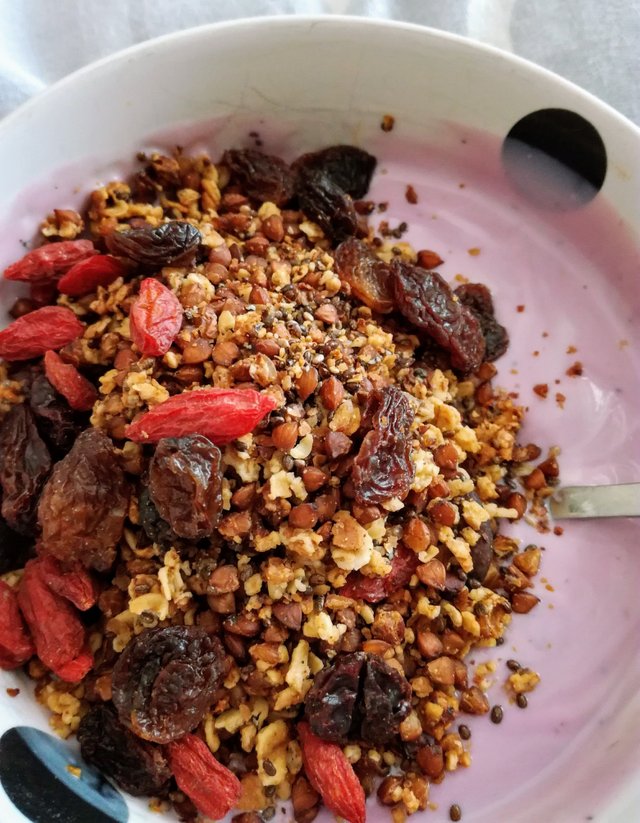 Homemade Granola
INGREDIENTS:
1 cup (2.5 dl) buckwheat groats
1 cup (2.5 dl) rolled oats
0.5 cups (1.25 dl) nuts and seeds
2 tsp cardamom
3 tsp cinnamon
0.5 cups dried fruit
3 tbsp peanut butter
0.25 cups (~0.5 dl) maple syrup (or any other syrup)
0.25 cups (~0.5 dl) coconut oil
INSTRUCTIONS:
Soak the buckwheat groats in water for an hour before starting. After the buckwheat groats have soaked, rinse them well and drain them. Mix the buckwheat, rolled oats, nuts and seeds in a bowl.
Melt the coconut oil if needed. In a separated little bowl, combine the coconut oil, syrup and peanut butter. Pour the liquid mix onto the dry ingredients and mix well. Season with cardamom and cinnamon. Spread the mixture evenly onto a baking tray and bake at 180 °C (~355 °F) for 20 minutes, stir, and bake for another 15-30 minutes, until golden brown and crunchy.
Let the granola cool down completely, stir in the dried fruit and store the ready granola in an airtight container.
Granola is great with yogurt, smoothie bowls or baked apples. Enjoy! 😊
-Jasmin ❤