VEGAN POTATO-PEA CURRY (ALOO MATAR)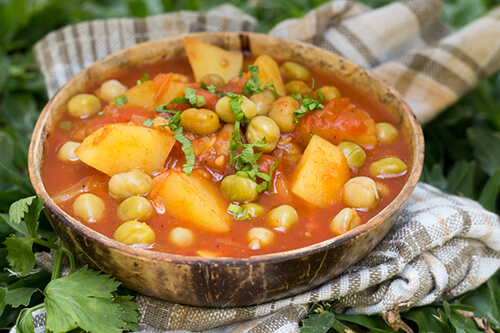 Hey you guys, how is everyone doing today?
 
My friend @amy-goodrich shared so many amazing vegan recipes for Indian food lately and inspired me to cook some Indian dishes as well. Today I'm sharing one of the easiest Indian dishes I know - Aloo Matar. Aloo stands for potatoes and matar for peas. This potato-pea curry can be cooked with coconut milk or tomato sauce. I love both versions but here I'm sharing the tomato one with you guys. I hope you love it as much as I do! 💚
[You can find a link to the German version of this recipe at the end of this post.]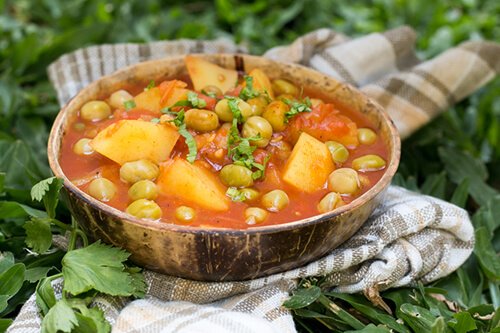 Ingredients
1 large onion
4 cloves of garlic
little piece of ginger
little piece of turmeric
about 1 tsp of Garam Masala spice
(alternatively mix some cumin, paprika powder, pepper and cardamom)
½ tsp salt
4-5 large potatoes
250 g peas (fresh, frozen or can)
8 medium-size tomatoes
3 tbsp tomato paste
optionally 1 bay leaf
handful of fresh cilantro
Instructions:
Peel the potatoes and cut them into cubes. Wash and dice the tomatoes.
Peel the onion, garlic, ginger and turmeric and chop them very small. Heat up some water in a pot and sautée for around 2-3 minutes.
Add the potato cubes and roast for some more minutes.
Then add the diced tomatoes, tomato paste, spices and bay leaf and add water until ingredients are almost covered.
Cook at medium heat for around 15 minutes or until potatoes are tender. Add the frozen peas in the last 5 minutes.
In the end, take out the bay leaf and sprinkle with chopped cilantro.
You can find the German version of this recipe >>here<<

If you like this recipe I'd appreciate your upvote, follow and resteem! 💚
I hope you'll give this yummy recipe a try and I can't wait to hear how you liked it!
Have a great day everyone!
Yours, Sofia