RAW VEGAN ZUCCHINI NOODLES WITH AVOCADO SAUCE 😋💚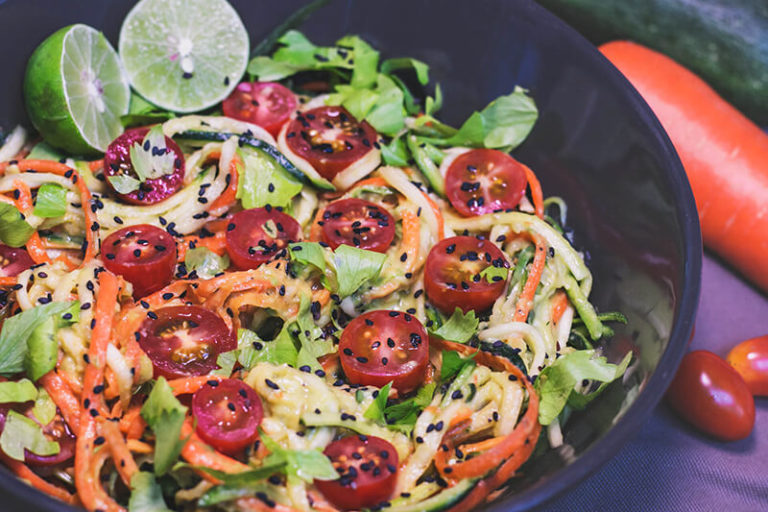 Hello from Mui Ne lovely Steemians! We escaped the city chaos in Ho Chi Minh City to spend some quiet and relaxed days in Mui Ne - a little fishing village at the South coast of Vietnam. The last couple of days in HCMC we lived in a tiny hostel room where working was impossible and I'm sorry I haven't posted a recipe for a while.
Today I like to share an amazing healthy vegan recipe from my vegan recipe book which is part of my (German) vegan beginners program.
This recipe is raw vegan, super creamy and delicious, healthy and nutritious. And the best: It needs only few ingredients and a couple of minutes to make!
RAW VEGAN ZUCCHINI NOODLES WITH AVOCADO SAUCE 💚
 
Prep time: 20 min
Portions: 4
Ingredients:
For the raw vegan noodles:
500 g zucchini und carrots
toppings of choice like a handful of cherry tomatoes, fresh herbs and some sesame seeds
For the avocado sauce:
2 avocados
1 clove of garlic
1 handful of basil
juice of 2 limes
2-3 tbsp water
salt and pepper to taste
optional 1-2 tbsp nutritional yeast flakes
Instructions:
Wash the zucchinis and carrots and make noodles using your spiral cutter.
Wash the rest of your toppings, cut small and add them to your noodles.
Put your sauce ingredients into a blender and blend until smooth.
Can't wait for you to try this recipe and let me know in the comments how you like it 😊
Please don't forget to follow, upvote, & resteem, if you liked this recipe 💚
Have a lovely day!