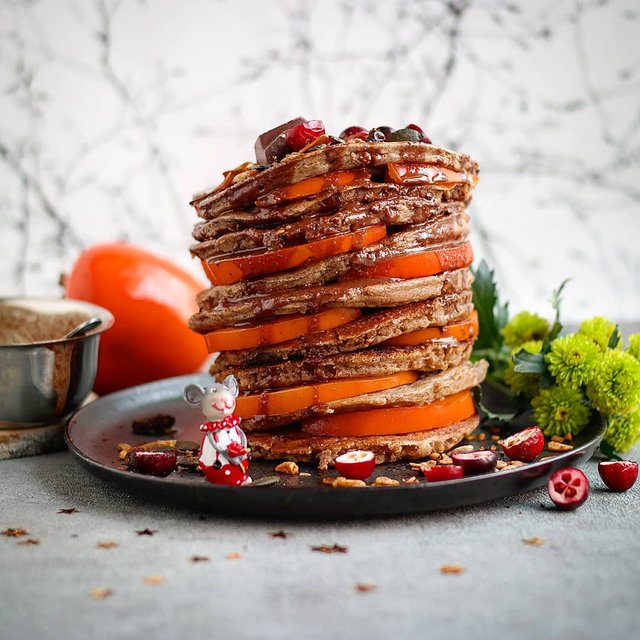 Outside winter again. The signs of spring have been treated by snow and cold temperature. In my kitchen however it is hot. I am back after a week break, where I was hosted by a very good friend close to Manchester UK. Today I made gorgeous cinnamon -vanilla pancakes with khaki slices. They are gluten,- dairy and refined sugar free. I used cranberries as topping on my winter pancake-tower, these are really tasty and suit the season.
RECIPE:
1 cup of buckwheat flour ( all purpose gluten free works great too )
1 tsp of baking powder
1 banana
1 tsp cinnamon
1 teaspoon of vanilla extract
1 1/4 cup of almond milk
1-2 tbsp of coconut sugar (optional)
PREPARATION:
In a medium size bowl mash the banana as much as possible so that it's runny then add the vanilla, almond milk and mix well. Then add the dry ingredients and combine thoroughly until you have a batter. Heat the pan with a little coconut oil and add little dollops of the mixture to the pan. Create round stacks! Wait until little bubbles start to form then flip the pancakes. You can always put the pan under the grill to brown the top if you are a shit flipper. When you have finished add your favorite adds. I my case I use ripped khaki fruit and sauce made from almond +chocolate + coconut oil . ENJOY!