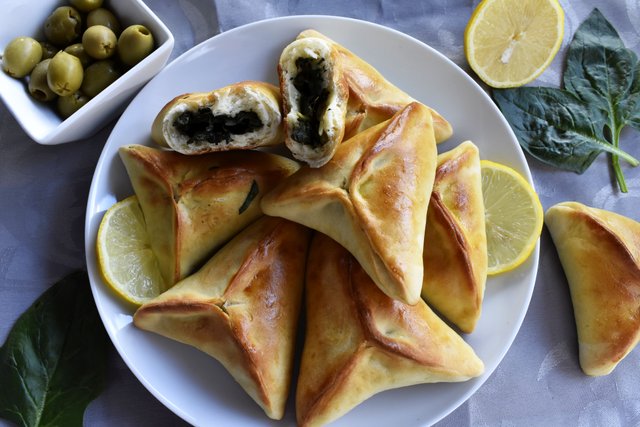 Today i'll share with you the perfect recipe of these vegetarian Spinach pies, it is so easy to make with perfect delicious dough, no need to wait the dough until ferment just make it and it ready to use.
This recipe is perfect for vegetarian friends and also for the vegan just avoid the egg wash step and you'll have a lovely soft and chewy pies or bites stuffed with sour tasty spinach.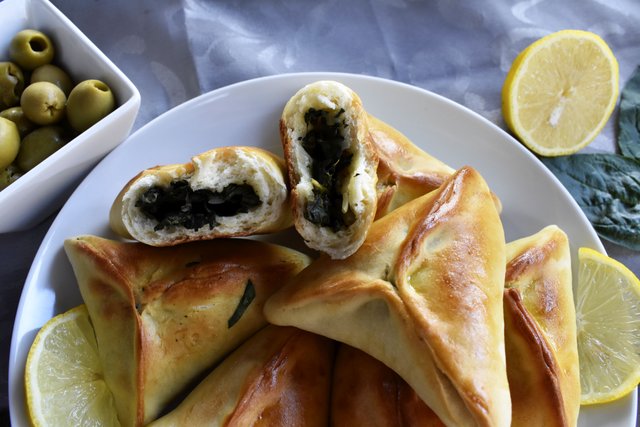 These mini pies are so popular in middle east especially in Lebanon, and some people add tomatoes into the filling and other cooked the filling. But today i'll show you a very simple way to make it without any force and you'll be so satisfied at the end.I also made it for my children they adore it and even my daughter's friend who hated the vegetable love it and enjoy it, try it for your children and i promis you they'll love it.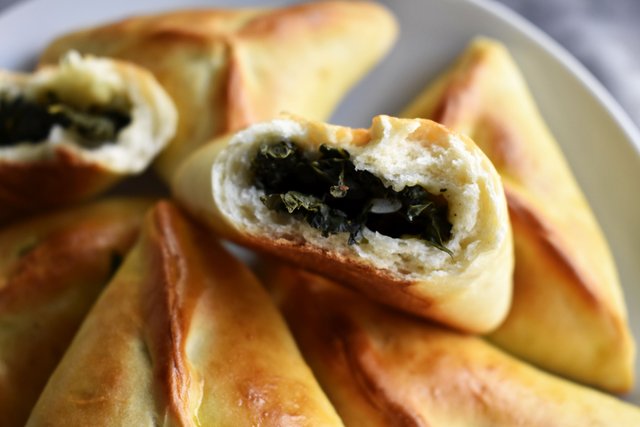 Vegetarian Spinach Bites
Prep time: 30 mins
Baking time: 15 mins
Yield: 20 pieces
Ingredient:
5 cups all purpose flour
2 tbsp yeast
3 tbsp sugar
1 tbsp salt
1/4 cup (3 tbsp) olive oil
1 and 1/2 cup warm water
For filling:
500g Spinach roughly chopped
1 medium onion cut into small dices
2 tbsp lemon juice
1 tsp sumac
pinch black pepper
pinch curry
Salt to taste - i added 1 tsp salt
Egg wash (optional) :
1 egg
1 tsp milk
The way:
Prepare the filling add all the ingredients into spinach and mix all together until all well combined. Set a side until prepare the dough.
Prepare the dough by placing 2 cups of flour, yeast, sugar, salt and water. Knead all together until all well combine.
Let the dough ferment for 10 minutes.
After 10 mins add the remain of flour and 1/4 cup olive oil. Knead until you have a smooth elastic dough.
Dust the surface with flour and spread the ball dough on a clean kitchen table.
Fill with spinach mix and close firmly as a triangle, place the pies in oven tray covered with parchment paper.
Mix egg wash and brush the top of pies.
Bake at 220°C in preheated oven for 15 minutes or until golden color.
Enjoy!
Full VideoTutorial:
Thanks for stopping by..
Angie