Half Moon Dessert - Lebanese Atayef Recipe - Full Video Recipe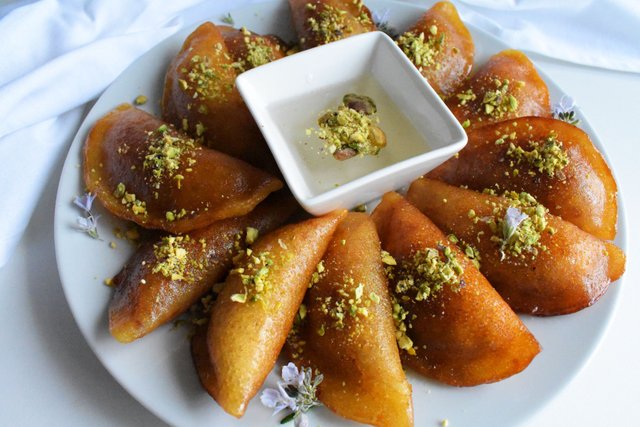 Have you ever tried these lovely stuffed fried pancakes or half moon recipe? it's like churros in spain or the fair food dessert.
It's a famous dessert served on Ramadan and feasts, stuffed with nuts or with cream and pistachio. I filled it with 2 differents filling almonds with coconut and cream with pistachio. My dough is easy no ferment dough, just blend the ingredients and made the pancakes, then stuffed and fry it. i also dipped it in a sugar syrup which gave a delicious taste dessert. This recipe has different names in middle east, Atayef, half moon desserts, Qatayef and stuffed fried pancakes. I called it half moon Atayef dessert :)
Video Recipe:
Half moon dessert
Prep time: 5 mins
Cooking time: 30 mins
Yield: 15 pieces
Ingredients:
1 and 1/2 cup all purpose flour
1/4 cup semolina
1/4 cup milk
1 and 1/4 cup water
1 tablespoon sugar
1 teaspoon yeast
2 teaspoon baking powder
Pinch of salt
For filling:
1/2 cup crushed almond
2 tablespoon grated coconut
1 tablespoon sugar
1/4 teaspoon ground cinnamon
or
1/2 cup thick cream
1/4 cup crushed pistachio
For sugar syrup:
2 cups sugar
1 and 1/2 cup water
1 teaspoon lemon juice
1 tablespoon rose water
The way:
In blender, place the liquid ingredients then the dry ingredients, to ensure nothing stick on the bottom. Blend all together until you have a liquid dough as the crepe dough.

In a hot skillet on medium heat pour about 1/4 cup of the dough as a pancake. Wait until the top of pancake dry and the bottom getting blond. Repeat.

To make the syrup, place sugar and water in a saucepan. Cook on high heat and when it boiled reduce heat to medium. Add lemon juice and stir until the syrup thicken. Then add rose water and remove from heat.

Mix almond with coconut, sugar and ground cinnamon.

Fill the pancakes with the filling, or fill with cream and pistachio. Close the pancakes firmly.

Fry in a hot oil for 10 second on each side. Get rid of extra oil, then dip in a sugar syrup.

Serve it cool.
Enjoy!
Thanks for stopping by..
Love,
Angie