Easy Chocolate Cupcakes with 4 Halloween decorating ideas | Full Video Recipe|
Feeling excited for halloween?
Today i have an easy ways to decorate your cupcakes with simple and scary funny ways, for your party or for your kids. i made a chocolate cupcakes and dipped it with chocolate ganache to ease the decoration. I made a spider net cupcake, devil cupcake, owl cupcake and grave cupcake. My children love it and enjoy it very much i always love to decorate food for them and they were so happy to ate the chocolate scary cupcakes. I have this month a busy days to prepare my girls for halloween and to make them feel happy with these days, anyway i hope you'll enjoy the cupcakes as we did :)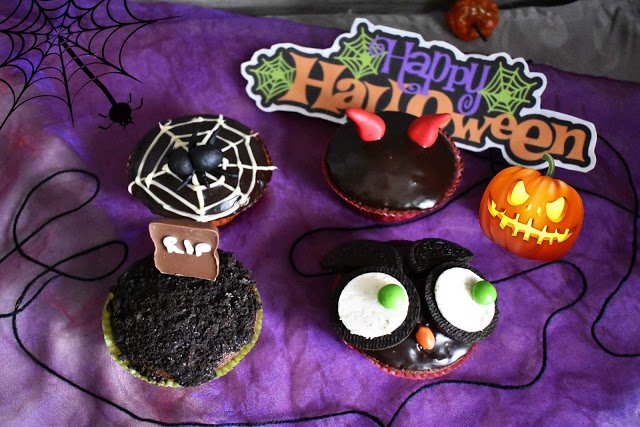 Prep time: 40 mins
Baking time: 25 mins
Yield: 12 cupcakes
Ingredients:
For cupcakes:
100g butter (room temperature)
3/4 cup sugar
2 Eggs
1 tsp vanilla extract
1 cup milk
1 and 1/2 cup all purpose flour
1/4 cup unsweetened cocoa powder
1 tbsp baking powder
For chocolate ganache:
120g dark chocolate
1/4 cup hot cream
For decoration:
Oreo cookies
Candy as M&Ms or skittles
30g White chocolate
Black fondant
Red fondant
Preparation:
Preheat oven at 180°C and prepare the cupcake mold by placing the muffin liner.
In a bowl mix butter with sugar until combine, add eggs one at a time with vanilla extract mix until smooth.
Sift the dry ingredients, then add it to the mixture into two phases with the milk.
Mix all together until you have a smooth cake mixture.
Fill three quarter of muffin liner with the cake mixture.
Bake at 180°C for 25 minutes. When out of oven let it cool on wire rack for 40 minutes before decorate it.
For the chocolate ganache: Cut dark chocolate into small pieces and placing it in a larg bowl then pour the hot cream on it, let it set for one minute then stir until chocolate melted.
Dip the cupcake into the ganache then decorate it(watch the following video for full tutorial).
Thanks for stopping by, and have a great sunday
Angie