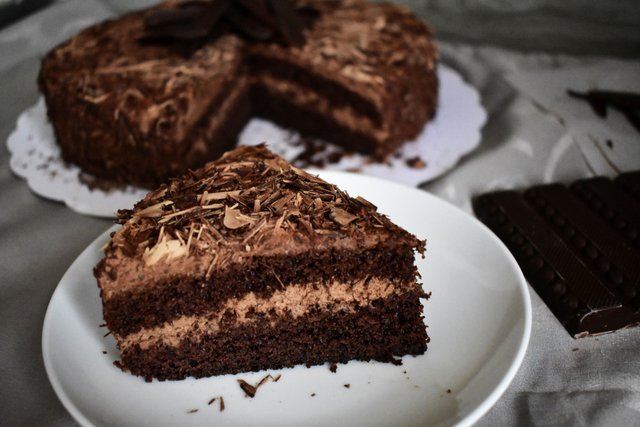 I made this delicious chocolate cake with dark chocolate mousse and covered it with grated dark chocolate which gave me the ultimate chocolate cake taste you'll adore this cake, it is easy and simple to make. The cake is super moist and full of chocolate flavour with loads of chocolate mousse, making it nice and giving it the best flavor and texture. It just about melts in your mouth and believe me the whole combination is out of this world good! I can't wait for you to try it!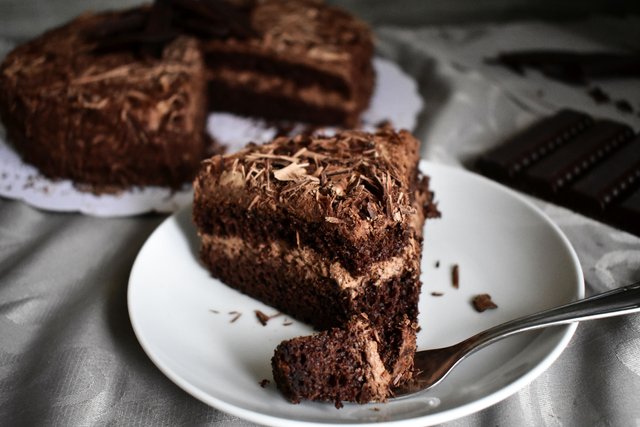 Chocolate Cake
Prep time: 20 mins
Baking time: 25 mins
Total time: 45 mins
Serving: 8
Ingredients:
4 large eggs or 5 small eggs
3/4 cup sugar
1/4 tsp salt (pinch)
1 tsp vanilla extract
1 cup all purpose flour
1/4 cup cacao powder
1 tbsp baking powder
25g melted butter
1/4 cup milk
For chocolate mousse:
160g dark chocolate
2 cups whipped cream (room temperature)
For decoration;
60g dark chocolate
The way:
Preheat oven at 180°c - 360°F. Butter a 22 CM cake pan.
In a bowl sift flour, baking powder and cacao powder.
In a bowl mixer add eggs, sugar, vanilla and salt, Whisk in a medium speed until light in color.
Reduce the speed to slow, to eggs mixture add melted butter, milk and gradually add the dry ingredients. When all well incorporate, give the cake mixture a quick mix and pour it in the prepared cake pan.
Bake in preheated oven 180°c for 25 minutes. When out of oven place cake on a wire rack to cool and remove the parchment paper.
To prepare the chocolate mousse:
melt the chocolate in microwave for 1 minute, mix with a spatula until will melted, let it cool while prepare the whipped cream.
Whisk the whipped cream in a medium speed make sure the cream at room temperature, if it cold the chocolate will shrink. Whip until the cream coherent and the cream a little bit liquidy than usual because it is room temperature, don't over whisk otherwise the cream will fall apart.
Add the cream to chocolate gradually and keep mix all together until you have a smooth chocolate mousse.
Halve cake layer horizontally using a long serrated knife. Layer cake, using a 1/2 cup mousse between layer, then frost top and sides with remaining frosting.
With a peeler grate dark chocolate until cover all the chocolate cake.
Chill 2 hours before serving.
Enjoy!
Full Video Tutorial :
Thanks for stopping by..
Angie