Llegumet con camarones. Sopa. Recetario parte #5/ Llegumet Soup. CookBook #5 Spanish/ English
¡Hola mis queridos Steemers!
El día de hoy vengo de vuelta con las pilas un poco recargadas.
Luego de un largo receso he decidido volver a compartir mis conocimientos acerca del arte culinario, y entrando en materia quiero regalarles una receta de una Sopa exquisita. Es una versión de la Sopa original de Llegumet. Esta llevará como proteínas camarones, que será el sabor más fuerte y pronunciado de la preparación.
Hello my dear Steemers!
Today I come back with the batteries a little charged.
After a long break I have decided to share my knowledge about the culinary art again, and entering the subject I want to give them a recipe for an exquisite Soup. It is a version of the original Soup ** Llegumet **. This will take __camarones as proteins, __ which will be the strongest and most pronounced flavor of the preparation.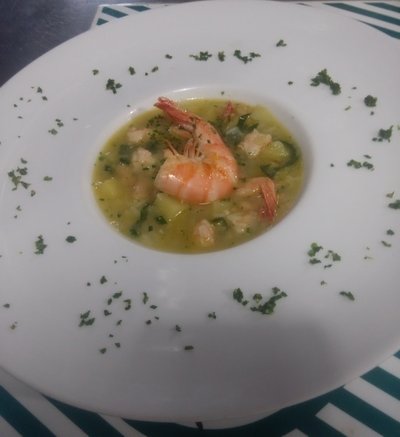 Ingredientes:
1/4 de taza de caraotas blancas
1 cda de mantequilla
1/2 cebolla
2 dientes de ajo
1/2 tallo de ajoporro
c/n de vino blanco
c/n de sal
c/n de pimienta
2 papas
1/2 taza de pasta corta
1/2 taza de arroz
c/n de acelga
c/n de hierbas frescas
c/n Fondo o caldo de ave
Ingredients: 1/4 cup of white beans, 1 tbsp butter, 1/2 onion, 2 cloves of garlic, 1/2 garlic stalk, white wine q/n, q /n salt, q/n pepper, 2 potatoes, 1/2 cup short pasta, 1/2 cup of rice, chard q/n, q /n of fresh herbs, q/n Background or bird broth
Preparación:
Cocer en una olla las caraotas blancas. Aparte cortar la cebolla, el ajo, el ajoporro en cubos muy finos (Brunoise) y saltearlos en mantequilla, añadir un toque de vino blanco y salpimentar. A parte saltear en una sarten con un poco de ajo, sal y pimienta los camarones para sellarlos y que suelten sus jugos, Desglasar con un poco de vino o fondo de ave la olla para aprovechar los sabores de los camarones que quedaron Agregar a la preparación. Añadir el fondo de ave junto con las caraotas ya cocidas y las papas cortadas en cubos grandes, dejar cocinar por unos minutos. Añadimos la pasta corta y el arroz, agregar las acelgas y espolvorear las hiervas frescas finamente picadas
Preparation: Cook the white beans in a pot. Apart cut the onion, garlic, garlic in very thin cubes (Brunoise) and sauté them in butter, add a touch of white wine and salt and pepper. To part sauté in a pan with a little garlic, salt and pepper the shrimp to seal and release their juices, Deglaze with a little wine or bottom of the pot to take advantage of the flavors of the remaining shrimps. Add to the preparation . Add the bird's bottom together with the already cooked beans and the potatoes cut in large cubes, let cook for a few minutes. Add the short pasta and rice, add the chard and sprinkle the finely chopped fresh herbs
Acá les comparto el plato ya terminado. Espero les guste y lo pongan en práctica
Here I share the finished dish. I hope you like it and put it into practice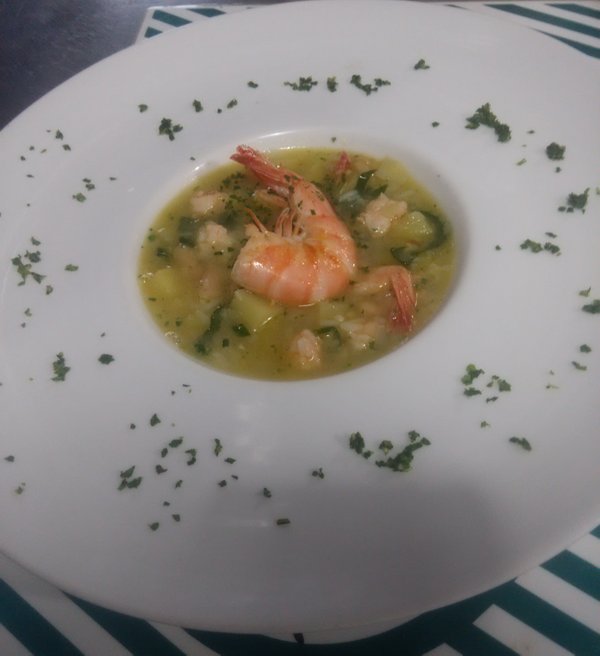 Fotografía tomada desde mi dispositivo móvil ZTE V5/ Picture taken from my ZTE V5 mobile device

Puedes enterarte de más recetas haciendo click aquí: