Hazelnut And Almond Cookies 榛子杏仁饼干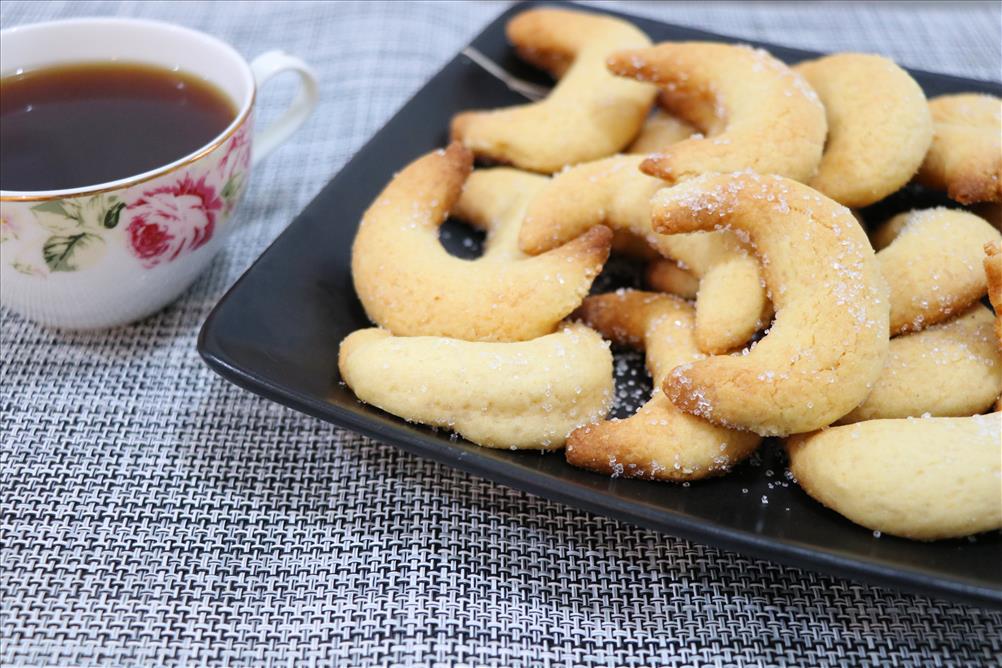 I have to highly recommend the horn-shaped cookies to you, which contains hazelnut powder and almond powder, it is rich in taste, crisp, and has thick aromas of nuts.
And the sweet almond is abundant in unsaturated fatty acids which mean a higher nutritional value. So it is very benefit to your body. If you taste it, you will be obsessed with it.
This was made for my child as a snack a few days ago when he took part in the school sports meeting, took one box and added some energy.
The important thing was that it was not only lovely in shape, but also easy to do (except the horn-shape, it really took me a lot of time to rub it, you can choose a simpler shape), you can try it if you like.
---
Ingredients:
butter 200 g
sugar 100 g
cake flour 300 g
ground hazelnut 50 g
almond powder 50 g
egg 1
Instructions: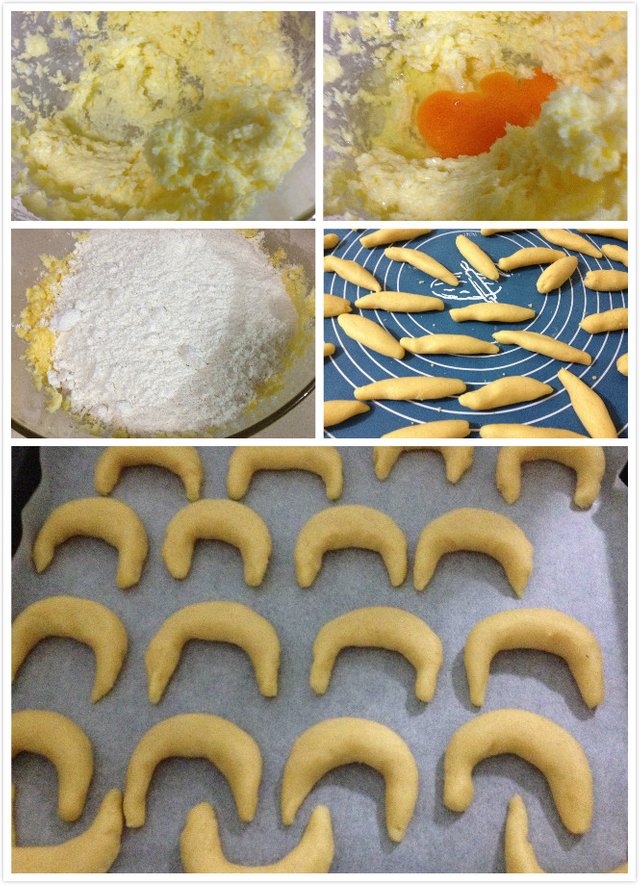 1.Soften the butter at room temperature.
2.Mix sugar and soft butter in a blender,whip to emulsify it.
3.Add egg to blender and mix well.
4.Add all the flour to the blender, whip for a few seconds then stop.
5.Use your hand to knead all the ingredients, and then divided it into many pieces. Each one is about 15 g.
6.Take one and rub it into a long strip which are pointed at both ends.
7.Place these long strip in a baking tray and use your hand to form a horn-shape.
8.Preheat the oven to 200C, bake it for about 10 min.
9.Place these cookies in the sugar and coated them with sugar.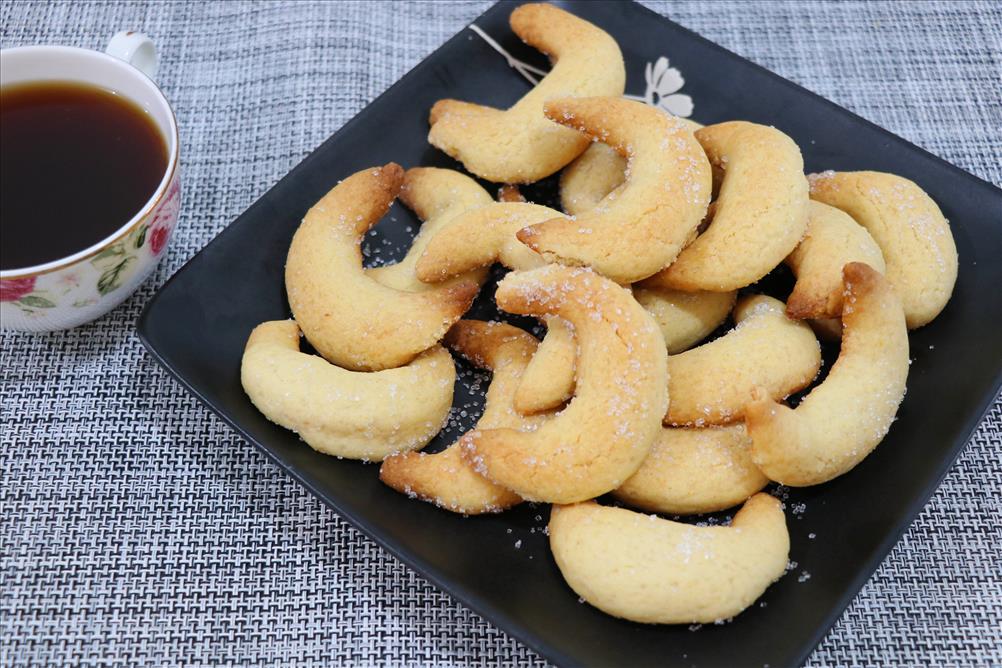 ---
这款牛角饼干,我必须要大力推荐一下。饼干里面含有榛子粉,杏仁粉,口感丰富,酥脆,充满浓浓的坚果香气。而且甜杏仁所含的脂肪是一种高的不饱和脂肪,对人体很有益。
尝一口就会让你念念不忘。。这是前段时间我家小朋友他们开运动会的时候,我做给他们当零食吃的, 随身带上一盒,也能补充一些能量。重要的是不仅外形可爱,操作也不复杂(除了牛角造型,这个的确用手搓了好一会,下次自己吃,可以换个造型简单的),喜欢的你一定要试试哦!
杏仁牛角饼干 (50块)
原料:
黄油 200 g
细砂糖 100 g
鸡蛋 1个
榛子粉 50 g
杏仁粉 50 g
低筋粉 300 g
装饰部分:
细砂糖
做法:
1、黄油提前常温软化,备用。
2、在搅拌机中加入黄油、细砂糖慢速搅拌均匀至细砂糖与黄油充分融合,乳化。
3、加入鸡蛋液慢速搅拌,与黄油细砂糖混合物搅拌均匀后,停止搅拌。
4、加入低筋粉、杏仁粉、榛子粉后开始低速搅拌均匀至混合物呈现絮状即可。
5、用手揉成光滑的面团,然后再分割成15g/个小面团。
6、在分好的小面团上撒上干粉,取一个面团用手搓成两头稍尖,中间略鼓起长条面团。
7、将搓好的长条面团放入铺好油纸的烤盘上,再用手指将两头弯曲,整形成牛角状。
8、烤箱预热200度,烘烤10分钟左右至表面金黄即可。
装饰部分
9、将烤好的饼干,放入细砂糖中,轻轻翻滚,让整个饼干体表面沾上一层薄薄的砂糖,就完成了。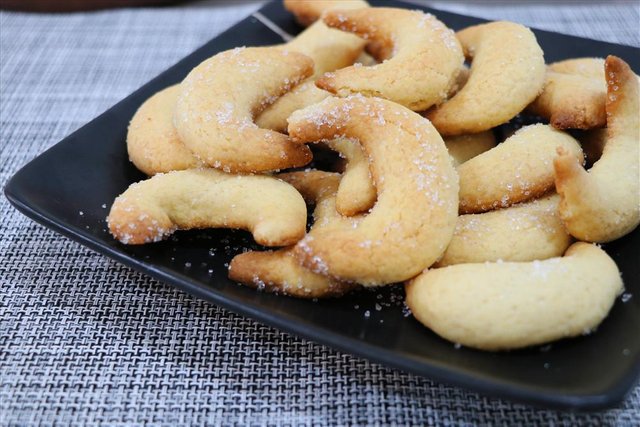 Thank you and I hope you enjoy the post.