Sweet Potato vs White Potato – 10x More Vitamin A and Natural Painkiller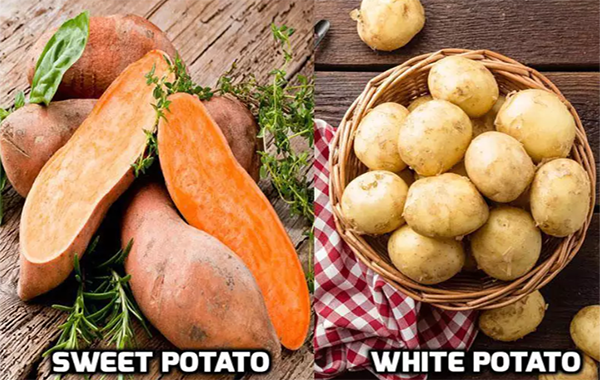 Sweet potatoes are abundant in carotenes, which are precursors of vitamin A, which improves the eyesight. They are also rich in vitamins C, B2, B6, E and biotin (B7), minerals like iron, copper, folate, and manganese, dietary fiber, and pantothenic acid.
Namely, a medium cooked sweet potato has about:
103 calories
2.3 grams protein
0.2 gram fat
3.8 grams dietary fiber
23.6 grams carbohydrates
21,907 international units vitamin A (438 percent DV)
22.3 miligrams vitamin C (37 percent DV)
0.6 milligram manganese (28 percent DV)
0.3 milligram vitamin B6 (16 percent DV)
541 milligrams potassium (15 percent DV)
1 milligram pantothenic acid (10 percent DV)
0.2 milligram copper (9 percent DV)
30.8 milligrams magnesium (8 percent DV)
1.7 milligrams niacin (8 percent DV)
0.1 milligram thiamine (8 percent DV)
Sweet potatoes are full of plant proteins and very low in calories. They contain twice the fiber, twice the calcium and over 1000x more vitamin A (beta-carotene) than white potato.
While many people believe that sweet potatoes and yams are the same, they are in fact two completely different plants. Rachael Link, MS, RD explains the difference:
"First of all, the sweet potato belongs to the morning glory family of plants while yams — not to be confused with Mexican yams or wild yam — are actually related .....
Read more >>> https://teoshealthylifestyle.com/blog/2019/02/sweet-potato-vitamin-a/