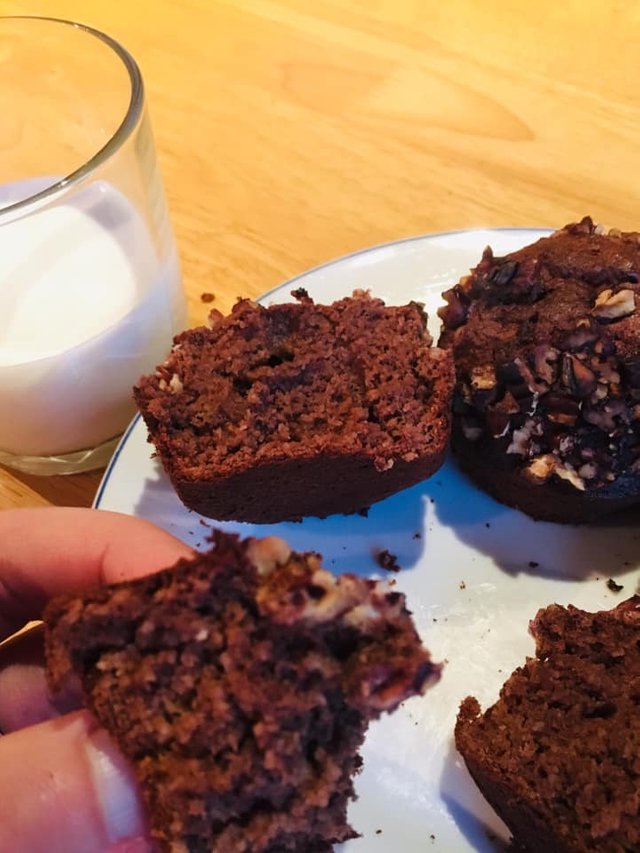 These muffins are so healthy; we can eat them for breakfast!
Almost sugar free and high in fiber!
I often use peanut butter as spread for one muffin but this time I just added to the cake mixture.
*(Polish)
Te babeczki są tak zdrowe,ze możemy je spokojnie jeść na śniadanie!
Prawie bez cukru i bogate w błonnik i witaminy:-)
Często używam masła orzechowego do smarowania babeczek, ale tym razem wolalam dodac do ciasta.
Posypalam orzechami przed pieczeniem poniewaz zachcialo mi sie cos chrupiacego z tymi babeczkami. Mozna ten krok pominac.
Ingredients
1 medium egg (50g)
1small ripe banana (65g)
2tblsp 0cal sweetener
40g oats or oat flour
20g reduced fat cocoa powder
Vanilla extract
10g peanut butter (optional)
20g chopped pecans for crunchy topping ( optional )
Macros for all 3 medium muffins:
Cal 502
Fat 24g
Protein 20
Carbs 47
If you want this low fat, you can skip nuts and peanut butter but the flavour will change slightly.
Calories 340 for 3 muffins
*Składniki
1 średnie jajko (50 g)
1 mały dojrzały banan (65g)
2 lyzki slodzika np.Stevia
40g platkow owsianych blyskawicznych lub mąki owsianej
20 g kakao o nizszej zawartosci tluszczu ( u mnie 11%)
Zapach waniliowy
10 g masła orzechowego (opcjonalnie)
20g posiekanych pekanów na chrupiąca skorke (opcjonalnie)
Makra dla wszystkich 3 średnich babeczek:
Cal 502
Tłuszcz 24g
Białko 20
Węglowodany 47
Jeśli potrzebujesz troszke mniej tluszczu, możesz spokojnie pominąć orzechy i masło orzechowe, ale smak nieco się zmieni i kalorie oczywiscie tez :-)
Kalorie 340 na 3 babeczki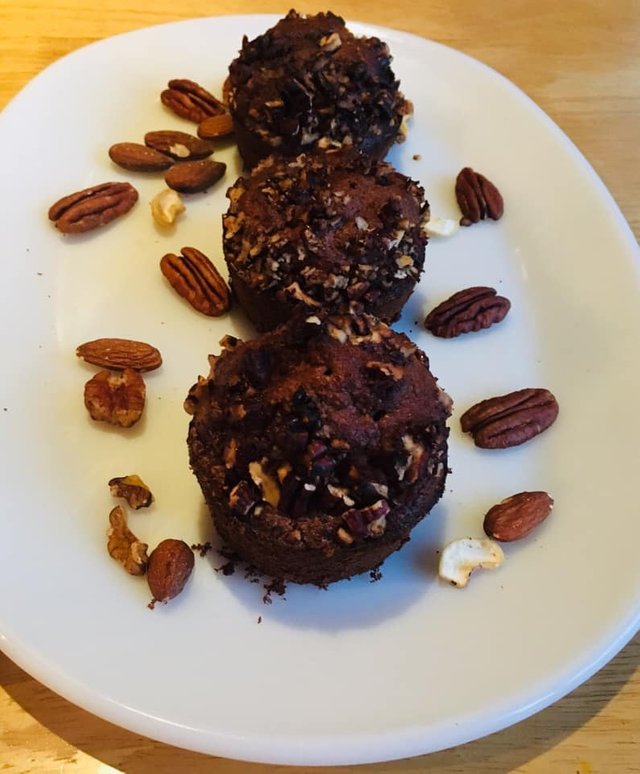 Method
Preheat oven to 180C

Blend all ingredients in food processor ( except pecans). If cake mixture is thin and very runny I often add little more oats or flax meal.

Spray 3 muffin cases with 1cal spray and fill with cake mixture till half full

Sprinkle with nuts (if using), press gently and bake for about 20min or until baked in the middle
Serve with vanilla ice cream or glass of milk❤
*Wykonanie
Rozgrzej piekarnik do 180 ° C
Wymieszaj wszystkie składniki w robocie kuchennym (z wyjątkiem orzechow). Jeśli ciasto jest rzadkie i bardzo rzadkie, często dodaję wiecej platkow owsianych lub zmielonego lnu.
Spryskaj 3 papilotki olejem w sprayu i napełnij ciastem do połowy papilotek.

Posyp orzechami (jeśli używasz) i piecz przez około 20 minut lub do momentu upieczenia w środku
Podawać z lodami waniliowymi lub szklanką mleka❤