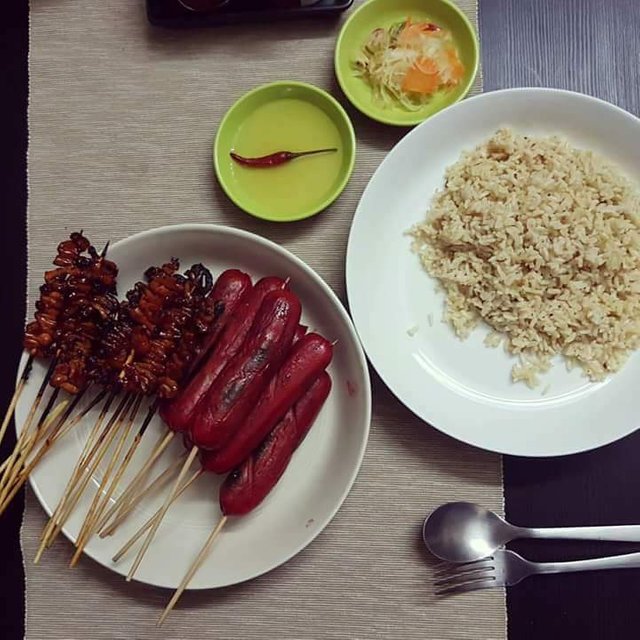 Grilled hotdog + grilled chicken intestine paired with garlic rice with pickles.
=
CRAVINGS SATISFIED 😍😍😍
Hello Steemians! It's dinner time here in the Philippines. As we all know, Filipinos love to eat rice. I just would like to share with you how simple my dinner tonight but really satisfied my stomache.
It's not a healthy menu but it makes me feel heaven especially eating grilled chicken intestine. Usually, these foods can be found in the street, making it known for streetfoods. But because I'm diligent today. I made my own version.
MY ADVICE
Don't punish your self. It is sometimes good to eat what makes you satisfied. Of course, when I mean SOMETIMES, don't make it OFTEN! Alright?! Don't be hardheaded Steemians! I love you and I care for you all even before I know you.
Have a great day ahead.
XOXO,
Hazel
Please like @teardrops on Facebook and Twitter:
https://www.facebook.com/teardropstokens/
https://twitter.com/teardropstokens
Support and Vote "steemgigs" for witness. It will be really helpful. He run a full public RPC 256 GB node as well to balance the steem ecosystem on "wss://steemd.steemgigs.org"
To vote my witness, simply visit https://steemit.com/~witnesses and type in "steemgigs" into the first search box for witnesses.
If you want @surpassinggoogle to make witness voting decisions on your behalf, simply visit https://steemit.com/~witnesses and type in "surpassinggoogle" in the second box for proxy.