With Only 5 Healthy and Clean Food Ingredients (Unprocessed Foods) These Granola Bars will Not Only Crush Your Hunger By Offering Healthy Fats and Slow Digesting Carbs But Also Give you Peace of Mind in Knowing you are Properly Fueling Your Body to Get You Through Your Busy Day!
My Strike Hunger Granola Bars Recipe Makes 24 Bars and the Nutritional Values Per Bar are as Follows:
Calories 204
Fat 13g
Protein 8g
Carbs 15g
Sugar 6g
If These Values are Too High for Your Personal Nutritional Requirements, Cut the Pan into 3x12 Rather Than 2x12 for a Smaller Serving Size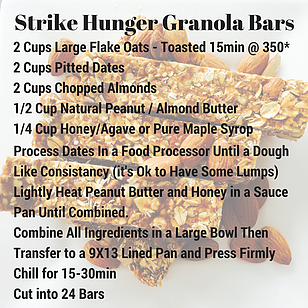 You Can't Go to War Without Any Ammo and Expect to Survive ;)
I Hope You Enjoy Trying My Granola Bars Out For Yourself!!!