I do not know about your rituals and temperament with coffee, but let me tell you about myself. Sometimes I feel that I have been involved in the usual coffee routine. I mean that the requests are repeated, we ask for a low-caffeine coffee, a low-fat snack and sometimes a maciato without a creamy cream. New and strange recipes for the best drink in the world.
But not anymore. Cultures around the world have developed many flavors of coffee making and drinking, including everything from lemon juice to even eggs.
So put the French pressure cooker and the vister (v60) aside for a minute, and you know about our crazy and wonderful coffee drinks. We've prepared a list of strange recipes for coffee from around the world. Are you ready?
Turkish coffee
If you do not try it, you must have heard it. Turkish coffee has been widely consumed around the world but is still the favorite drink in many regions, such as Turkey, the Middle East and Eastern Europe. Turkish coffee drink has its roots striking deep in history, where its origin dates back more than 400 years, with slight changes in the way it is prepared.
Method of preparation is relatively easy, boil water with sugar and then put a few of the mixture of coffee with a luxurious feather Hill and then re-boiled. After boiling, let it stand on until the foam is collected and then pour in a small cup (eg Italian espresso)
Drink your coffee leisurely and enjoy it, leisurely coffee is the basis because if you did not do so you will try the hardest way to drink coffee mixed with cardamom and will not taste the taste.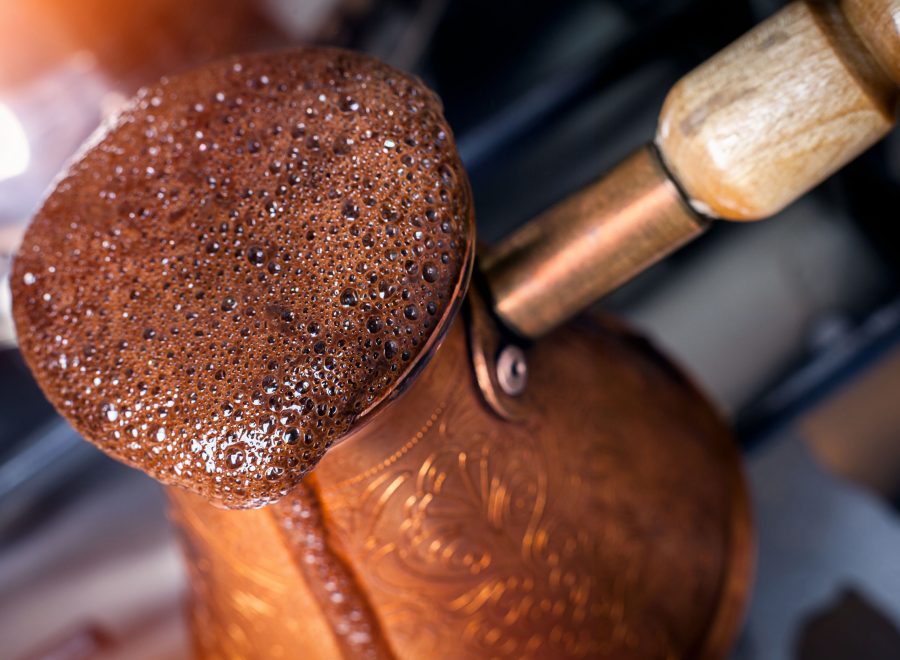 Cozy Vietnamese coffee
Then we go to Asia where hot drinks have been common and widespread since ages. Vietnamese coffee has gained popularity in recent years, so you must have heard of it. It is very popular on the streets of Vietnam and is present in various forms in Southeast Asia.
It is a two-layer ice-cold coffee with a condensed milk base, followed by black coffee to the middle and a foam at the end. They are traditionally served on ice cubes, and are prepared using Ben Robusta (not my favorite kind) but prepared using Arabica and a really hot hot drink.
Thai Coffee (Oliang)
Now we move quickly to Thailand, where we can find Olayanq or corn coffee with soybeans and Thai chilled sesame. Bring the coffee with the ingredients and then put it in a coffee sock. Sprinkle with boiling water and leave for 5-10 minutes before adding sugar to the ice cubes. Add the condensed condensed milk then enjoy the taste. .
If you are opposed to this cloth filter method, you can instead pour the coffee mixture in hot water for the same previous period, and then describe it (but in this way it will not be prepared in the traditional way).
Coffee with tea (Yan Jank)
coffee and tea? Why not mix together? Yan Yang is the favorite drink in Hong Kong, so much so that Starbucks in Hong Kong offer it as a drink of frabchino in limited periods. Bring the ian yang sauce by making a heavy black tea in a bowl and stir with a condensed milk, steamed and coffee, and then taste it as you like, with some biscuits and enjoy the taste of the Asian way of tea .. Oops, I mean coffee.
Portuguese coffee with lemon (Mazarin)
Then we move to Portugal, where they invented their unique coffee by adding lemon to it. You may think that coffee and lemon do not seem harmonious, but this ice-cold drink is incredibly refreshing. Lemon coffee is prepared by mixing strong coffee with lemon juice and sugar for the sake of sweetening, and then pour them all on the ice cubes, now relax and enjoy drinking.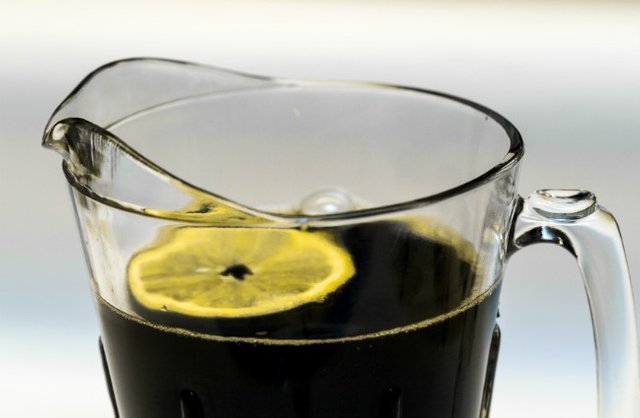 Greek Drink
We are still in Europe with another refreshing drink, the most popular drink in all of Greece. Prepare as follows: Add a little cold water with instant coffee and sugar in a jar or mixer, and reheat well for 10-20 seconds or until the foam appears. Then pour the mixture over the ice cubes and add water and milk, and here you have prepared the bricks.
Swedish coffee in eggs
We go to Scandinavia where they invented a new coffee for breakfast, which is popular in Sweden and Norway, it's egg coffee, yes coffee with eggs. To prepare them, mix the raw eggs with coffee and a little water, continue mixing until you get a harmonious mixture, then pour the mixture into a boiling water bowl, mix it with the recipe and then give it to drink.
This mixture is expected to produce one of the smoothest coffee cups you will ever try, but be sure to use the best eggs.
Irish coffee
He may have heard a lot about Irish coffee unless they have already tried it. Many Irish people use Irish brew (Bayels) with coffee instead of preparing it themselves. Preparation of this coffee requires your favorite coffee, a brown sugar workshop and a little creamy heavy cream (and if you are lazy, use the pre-made creamy desserts). This coffee is suitable as a sweet drink after dinner or at breakfast.
German coffee with risotto
German Coffee An old drink originated in Germany but can be tasted and enjoyed anywhere in the world. Similar in its preparation to Irish coffee, simply add sugar to your favorite coffee and then the cup of cream with sauteed cream and cocoa. Remember, do not move the drink after adding the ingredients, but drink it through the layers of the cream.
Mexican coffee (Caffe de Ile)
It is called the first caffeine or Mexican cinnamon coffee. This coffee does not contain alcohol, such as Irish and German coffee, but it is more like a recipe than a drink. The method of preparation is very easy, all you have to boil water with brown sugar and coarse coffee and promises of cinnamon, then close the fire and leave the mix for 10 minutes before the liquidation and submission, and you can add the cream of the cloak to decorate. Cinnamon meshes well with coffee and adds a deep delicious flavor.
Ethiopian coffee ceremony
The last drink on our wonderful and crazy menu tends to be a kind of ritual rather than a drink, but worth mentioning. Its preparation is similar to the Japanese tea ceremony. The type of jugs and cups used in the coffee ceremony is very important, adding a special atmosphere.
This ceremony is traditionally held to welcome friends, and should never be rejected, because its refusal to insult the host. The women burn incense to expel evil spirits - as they believe - and continue to do so during the ceremony, then put the water in the jibina (like a coffee cup) or a pot of coffee from the pottery and then put it on fire before taking pills Green coffee and cleaned on hot coal.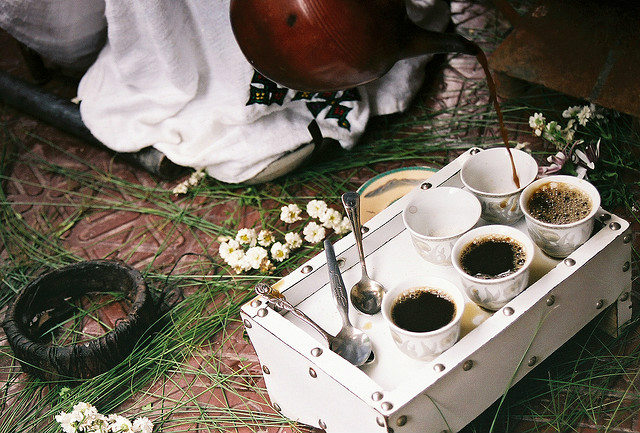 After the heat removes the coffee husk, the host then roasts the grains on hot coals. The host continues roasting until the grain turns brown or medium brown. Grind the grains that have just been heated in the mortar and add to the jibina where the whole mixture is cooked and boiled before serving and poured into the coffee cups.
The whole process can take several hours, and every part of it must be performed with all care and respect. If you have a chance to attend this kind of coffee ceremony, do not waste your chance on the experience.
This is eleven unique and crazy ways to prepare coffee. Now go to your friends and impress them and do not let your coffee seem as boring as usual.