Most of the Chinese food abroad is originally a fake!!-----------国外的中国菜原来大部分都是山寨货!
          Now Chinese delicacy can be said to have been a pillar of the world delicacy, walked into the whole world chowhound heart. But the hot Chinese food in the authentic Chinese restaurant in the eyes of a foreigner can only be regarded as a Shanzhai Chinese dish. Although the practice is similar, but the taste is completely different, but the foreigners are not happy to eat.
          A British netizen in Facebook said he asked a Chinese friend to go to eat Chinese food, but Chinese friend told him directly that this was not a real Chinese dish at all. It was too bad to eat. The British people were ignorant of force, it Chinese authentic dishes, how China friend said too? Let's take a look at the menu in the Chinese restaurant.
          Zuo Zongtang chicken, I haven't heard of it, let alone eat it, but it's really a very hot dish abroad. This dish is widely known in countries such as the United States and Britain, and can be seen in any of the Chinese restaurants. Foreigners regard it as a traditional Chinese dish. Let's take a look at this dish. First, take the chicken to the bone and let it loose. Fry the pan and add a variety of sweet sauce. It's actually chicken meatballs and then made with sugar and vinegar.
          Chinese people like to eat chicken with bones, but foreigners can't understand it at all. They can't stand the bones. Whether it's chicken or other animals. This is why there is no pig's hoof abroad, the pig's hoof is a bone. But China's soft, soft, pure meat will feel bad and the fun of peeling meat from the bone is gone.
          Zuo Zongtang's chicken is just one example to see what "fake" Chinese food is most popular abroad. 1. Li Hongzhang foreigners chop suey, and think this is a traditional dish in China Chinese, but simply not to eat this dish. Chop suey is animal offal and other foods in China. Foreigners do not eat offal, so this is actually a variety of ingredients. Stir fry is similar to our Luandun. 2. Sichuan chili sauce, the hot sauce for some time, in fact, the chili sauce is not in China, is the American invention of the chili sauce. It is said that the bean paste has been improved.
          The Internet users who have been to foreign restaurants are basically slots. Come and see what the netizens say.
          Know friends: been in restaurants are some foreigners cook, Chinese wok are used not agile. There is nothing to do with anything. A foreigner who has not eaten authentic Chinese food to make a fool of it is OK, but the Chinese know it.
          Micro-blog net friend: in the three years in the United States, there have been many Chinese restaurants. In fact, simply not to eat authentic Chinese food, the last point of a China Noodles with Soy Bean Paste, Zhajiang is actually similar to barbecue sauce as sauce, cook did not know China sauce ingredients is fried. And many Chinese restaurants do not offer chopsticks. It's really troublesome to eat noodles with a fork.
          In fact, a lot of Chinese food has changed from abroad. This Chinese dish will be improved for the taste of local people. The Chinese food introduced abroad first removed the capsicum, then removed the head of any of the ingredients, and the hands and feet. Finally, improve your taste. Can be improved after the China root does not fit and Chinese eat. But foreigners think it's the most traditional Chinese dish. These "fake" Chinese dishes that meet the tastes of foreigners are very popular, so when Chinese go to foreign countries, the Chinese food is undesirable.     
@gmn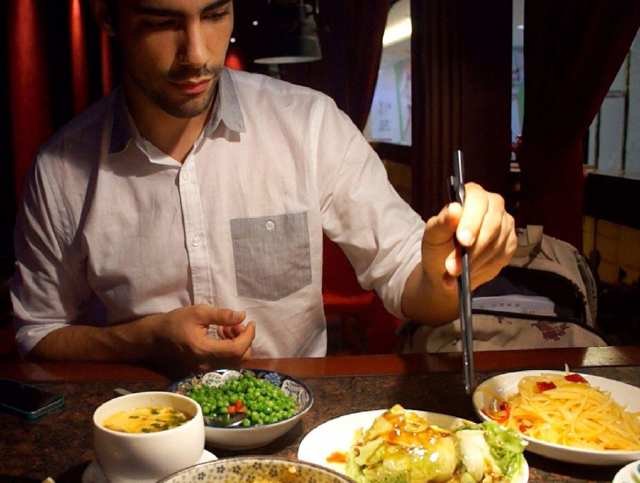 现在中国美食可以说已经是世界美食的支柱了,走进了全世界吃货的心。但是在老外眼中正宗的中餐馆中那些火爆的中国菜只能算是山寨中国菜。虽说做法类似但是味道却全然不同,但老外们却吃的不亦乐乎。
          脸书上一位英国网友说,请一位中国朋友去吃中国菜,但是中国朋友直接告诉他,这根本不是正宗的中国菜,实在太难吃了。英国人就懵逼了,这明明正宗的中国菜,怎么中国朋友却说太难吃了呢?让我们看看中餐厅的菜谱。
         左宗棠鸡,我怎么没听过呢,更别说吃过了,但是在国外确实非常火的一到菜。这道菜在美国英国等国家家喻户晓,在任何一个中餐馆里都能见到它。外国人都把它当做传统的中国菜。来看看这道菜的做法吧,先把鸡肉去骨,然后锤松。下锅油炸,加入各种甜辣酱。其实就是鸡肉丸子然后用糖醋做法制作出来。
          中国人喜欢吃带骨头的鸡肉,但是外国人根本不能理解。他们受不了骨头的存在。不管是鸡还是其他动物。这就是为啥国外没有吃猪蹄的原因了,猪蹄里都是骨头。但是中国吃这种软软的纯肉就会觉得口感不好,从骨头上剥肉的乐趣也荡然无存。
          左宗棠鸡只是一个例子,来看看还有哪些国外最爱吃的"假"中国菜。1.李鸿章杂碎,外国人又认为这是一道传统的中国菜,但是在中国根本吃不到这道菜好吧。杂碎在中国是动物内脏等食物。而外国人不吃内脏,所以这杂碎其实就是各种食材炒一炒类似于我们的乱炖吧。2.四川辣酱,这个辣酱火了一段时间,其实这个辣酱在中国根本没有,是美国人自己发明的辣酱。据说是豆瓣酱改进的。
          去过国外中餐馆的网友基本都是吐槽。来看看网友们说的。
          知乎网友:去过的中餐馆都是些老外厨师,中国炒锅都用不利索。火候什么的更是一窍不通。糊弄糊弄没吃过正宗中国菜的外国人还可以,但是中国人吃一口就知道了。
          微博网友:在美国三年了,去过很多家中餐馆。其实根本吃不到地道的中餐,上次点了一份中国炸酱面,炸酱居然是类似烧烤酱一样的酱料,厨师完全不知道中国的炸酱是各种食材炸出来的。而且很多中餐馆筷子也不提供,用叉子吃面真的很麻烦。
         其实很多中国菜到了国外就变了,这个中国菜为了适合当地人的口味,都会经过改良。传入国外的中国菜首先将辣椒去除,随后去除任何食材的头部内脏,手脚掌。最后再改良一下口味。可以多次改良之后的中国菜根本不合适和中国人吃。但是外国人却认为这是最传统的中国菜。这些符合外国人口味的"假"中国菜确十分流行,所以当中国人去国外时,吃到的中国菜都是不合胃口的。
@gmn