Ripe Banana Cheese Cake Recipe..!!!
Ripe Banana Cheese Cake Recipe..!!!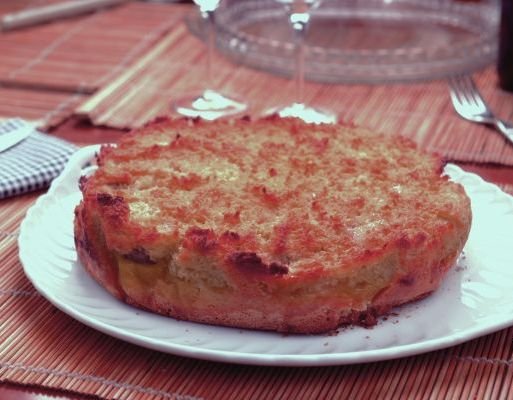 If you want to enjoy some ripe bananas that you have at home and do not know what to do with them, do not miss this delicious cake of ripe banana and cheese.
In this case we are going to use 3 different cheeses to make this homemade ripe banana cake: mozzarella, cotija type Latin cheese and grated cheese for grilling, but you can use others that you like better. The ideal thing is to mix some softer cheese and another more salty one so that they contrast with the sweet flavor of the bananas.
Make a note of the ingredients and encourage yourself to make this delicious baked ripe banana cake for the whole family!
6 diners 1h 30m Snack Low difficulty
Additional Features: Low Cost, Baked
Ingredients:
2 Eggs
2 large ripe bananas
1 teaspoon baking powder or baking powder
40 grams of sugar
2 tablespoons milk
3 tablespoons ointment butter
4 tablespoons wheat flour
100 grams of Latin cheese
100 grams of mozzarella cheese
1 handful of grated cheese to gratin

Steps to follow to make this recipe:
1
To start preparing this ripe banana and cheese cake, the first thing to do is to preheat the oven to 175º C temperature.
2
Next, if we have a food processor we put inside the peeled bananas and the sugar and grind a little bit at low speed so that the ingredients are mixed but are not so crushed and you can see the pieces in the homemade ripe banana cake.
If not, you can do it by hand by kneading the peeled ripe bananas and mixing them well with the sugar.
3
Once crushed, add the rest of the ingredients to the food processor (or in its defect we will do it manually) except the cheeses and beat them well until obtaining a homogeneous mass.
4
Once we have the banana cake dough made, grate the cheeses and mix it all together.
5
On the other hand, grease a baking tin with a little butter or oil and flour it as well. Add the dough of the ripe banana cake evenly.
6
Now sprinkle a little grated cheese on top to grill on top and put the ripe banana cake in the oven for about 45 minutes.
7
To check if the ripe banana and cheese cake is done, we put a knife or a toothpick in the middle and it should come out clean and dry. And that's it!