Grandpa Gotta Cost Analyze
It's Friday, which means I'm in search for something to write about for Food Fight Friday. But, I didn't cook anything new last Saturday, so instead of another cooking adventure, I thought I would take a look at the cost of making something at home, versus buying it at a fast food place. Then, maybe take it a step further and see what costs would be if I opened my own business.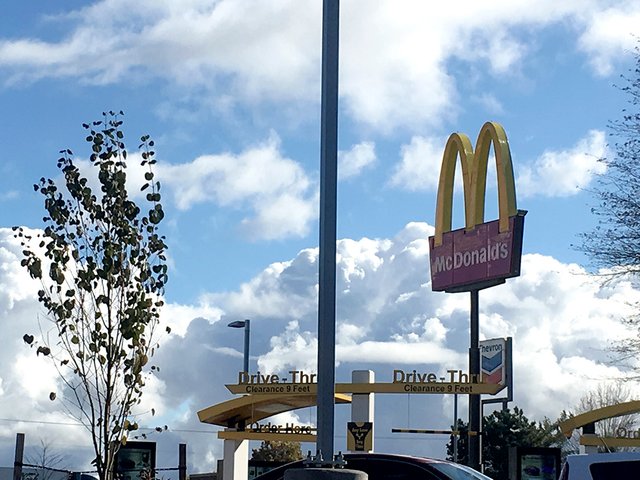 I'm rather fond of McDonald's Egg McMuffins®, but at $3.99 USD a pop, they can get expensive really quick. Currently, the Egg McMuffin® is part of a two for $5 USD special, which means each effectively costs $2.50.
In this early post, I made my version, which I will call an EMBS (English Muffin Breakfast Sandwich, so I can stop typing the ®). Generally, we think of the food we make at home as being cheaper than what we might get the equivalent in a restaurant. I got to wondering recently just how much cheaper a homemade EMBS might be, so I decided to cost things out just for fun (and the sake of this post).
I'll try to keep the numbers to a minimum.
Just The Ingredients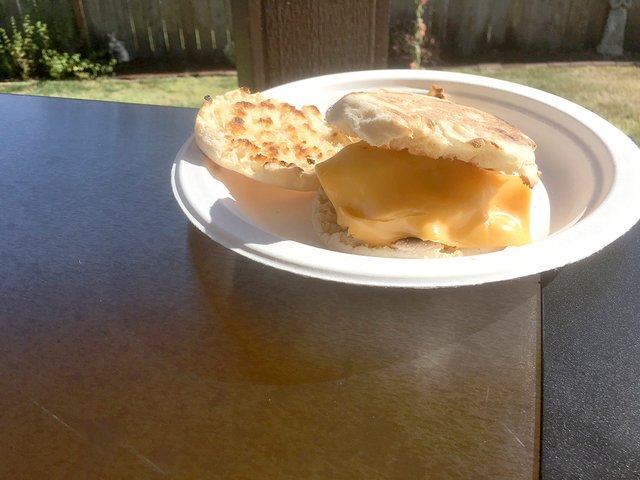 My personal EMBS made at home, on the grill.
A typical EMBS has four ingredients—the English Muffin, an egg, a slice of American cheese and a slice of Canadian bacon.
It's not the case for everything, but since buying in bulk at Costco generally reduces price per item costs, I went there to source all my ingredients, except for the Canadian Bacon, which I could not locate. For that, I went to WinCo.
As you will see in the photos I took, Thomas' English Muffins cost $6.79 USD for a four pack resulting in 24 English Muffins. That equals 28.3¢ per English Muffin.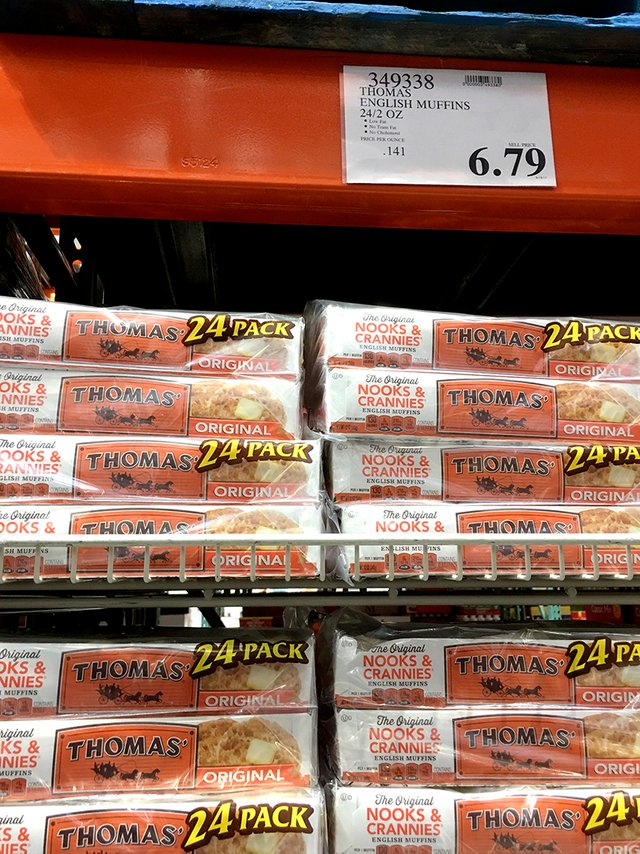 Eggs from a local farm were priced at $1.99 for two dozen, or just over 8.3¢ per egg. So, my cost is at 36.6¢
Kraft American Singles came in at $9.99 for 96 slices, or 10.4¢ per slice, so now I'm above 47¢.
Lastly, the Canadian Bacon at WinCo had 14 pieces for $2.17, or 15.5¢ each. So, that brings the total cost of ingredients for my EMBS to around 62.5¢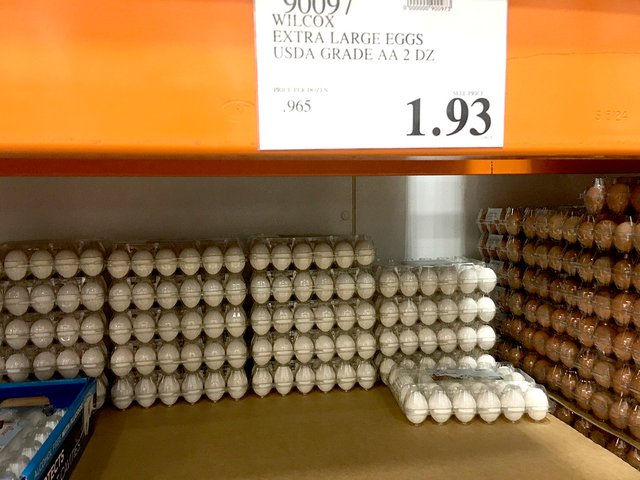 The difference between the on sale Egg McMuffin® and what I can make at home? $1.875. When it's not on sale? The amount is even greater, at $3.365.
That means, if I wanted to go into competition with McDonald's just with my own EMBS, I could sell it at $1.99, make $1.325 per sandwich, and retire early, because who wouldn't want half off on their EMBS?
But Wait, There's More
The takeaway for making the EMBS at home is, it's definitely cheaper. And you can make it however you like, substituting ingredients or adding something else to it if so desired.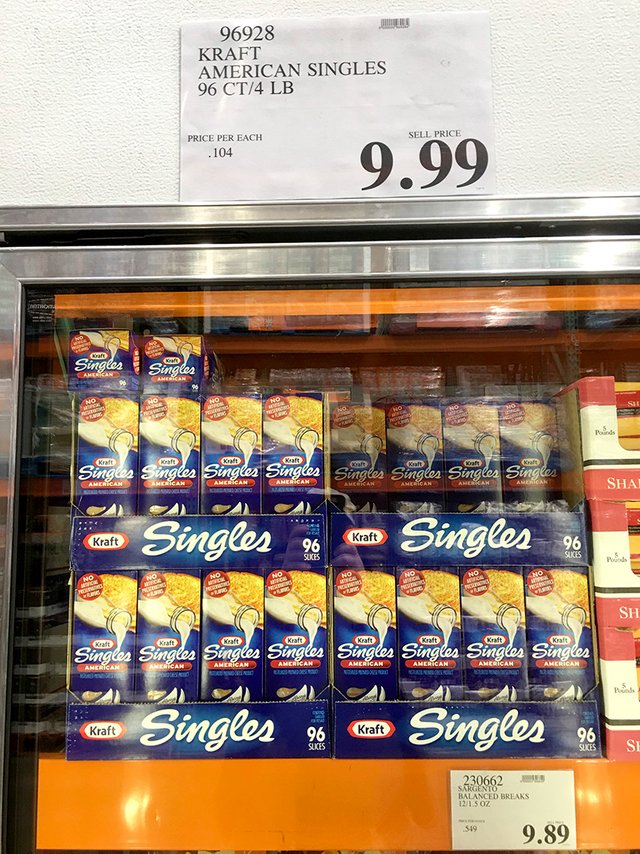 But if I wanted to build a business around my EMBS, it would end up costing me more to create, because when you go to McDonald's, there's more to it then just the sandwich itself.
Each Egg McMuffin® comes individually wrapped. Since it's wrapping is specific to McDonald's products, it was hard to source exactly, but taking a comparable wrapping paper found at many smaller fast food restaurants—the checkered paper—at $51.99 for 5,000 count, the wrapping paper adds just over 1¢ per item.
Okay. That's not that much.
But, there's napkins, too. I usually end up with three, so at $24.49 for a case of 6,000, that's 0.4¢ per napkin, for a total of 1.2¢.
Okay, so now we're basically at a whopping 65¢. No big deal.
Well, we need to add at least one more thing, and that's the bag it comes in. Again, this is usually McDonald's branded, but a comparable sized paper bag would cost 1.5¢ if you bought them in a bundle of 500 for $7.79.
Okay, so now my cost is up to...drum roll... 66.5¢.
I think I'm still okay.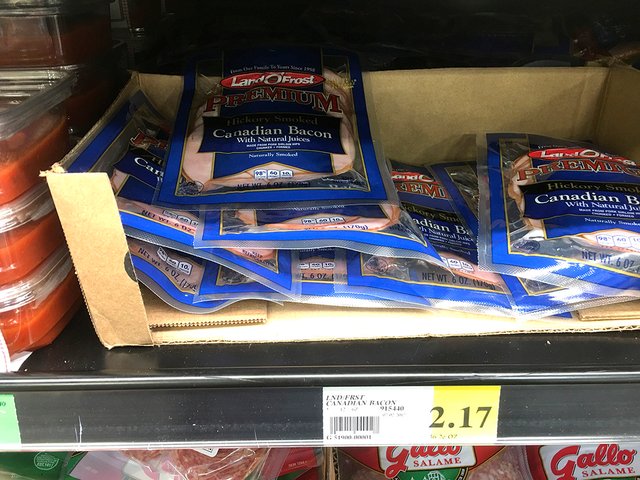 But That's Not All... Is It?
If I'm actually going into business, there's still more to consider. I need a place to sell my EMBSes, which means a monthly lease, along with things like utilities, water, sewer, insurances, including a form of liability, and garbage.
Then, I'm going to need equipment, primarily something that cook an egg in about a minute into that circle roughly the circumference of an English Muffin. Actually, I'm going to need more than one of those gizmos because if I don't, I'm going to take more time to produce multiple EMBSes per order. Not sure how many I will need, but my guess is at least two, and three might not hurt.
I'll need something to toast the English Muffins, to gently melt the cheese and to warm up the Canadian Bacon. I think I can do that in a toaster oven.
If I'm lucky, the place I rent should have a back counter space where I can prepare my EMBSes, some storage space to keep my ingredients, and another front counter to serve the customer. I'm probably going to avoid a seating area to see if I can cut down on the lease and utility expenses, along with cleaning costs.
How much will all that cost? I don't know. Expensed out over time, hopefully, I can keep the cost down, so I can still undersell McDonald's at $1.99. I'm afraid, though, that my margin will be severely cut into just with that.
You Haven't Mentioned Employees Yet
I know. That's because they can be easily the most expensive part of making food. But I doubt I would be able to make all of the EMBSes on my own without someone at least taking food orders. My guess is, though, I would need to have at least three of us working during peak breakfast times, so, like 6-9 AM. But then what would I do the rest of the time to keep from losing money when the shop's not open?
Back To Reality
I'm not going to open up an EMBS shop. If I were seriously going to do this, I would make them to sell in stores. That way, I cut my overhead way back and can operate out of my house for a lot longer. This was just a fun exercise for me to get an idea of where all the cost for the Egg McMuffin® might come from.
Waste Not, Want Not
Something was off in my analysis of just the ingredients, in that, I would probably need to make at least a dozen EMBSes in order to ensure I wasn't wasting food. I say that, because I believe the other 12 English Muffins, eggs, and Canadian Bacon could be consumed by my family in other things, along with the remaining 84 American cheese slices.
I do have a 16-month-old granddaughter after all.

About This Post
All images courtesy of Glen Anthony Albrethsen.