I love pasta and eat it quite often.  I have made my own for many years, adapting and changing the recipe until I achieved perfection.  Soft, yet with structure, so that it keeps its shapes and does not degenerate down to mush.  Cooks in a minute, then drop into a lovely rich sauce of your choice'.... eat and enjoy.
Part 1 of this post will show how to make the Pasta dough; part 2 will show you what to do with the dough you have just made.  Firstly though, something to amuse you..... 
In the 1950's, an English programme made a spoof documentary on how pasta was 'grown'.  It is very funny and short, only just over two minutes long.  Click on this link to be taken straight to the little film.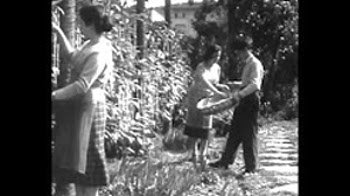 Hundreds of people phoned the BBC after it had been broadcast; they wanted to know where they could get the pasta tree from!
Home made Pasta Recipe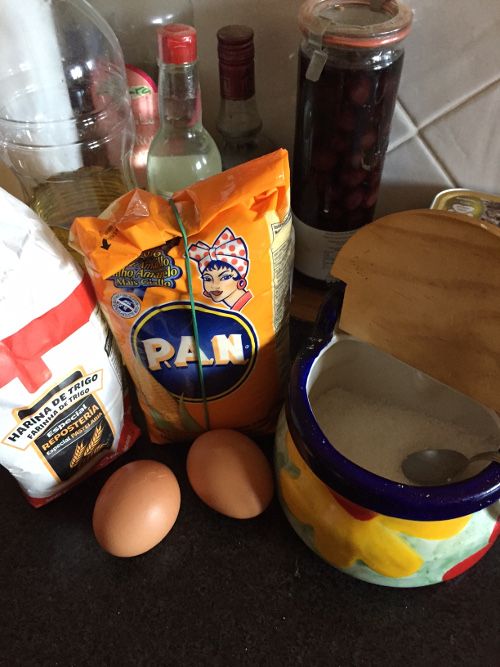 Ingredients Required:
190g (1 1/2 cups/6 3/4 ozs) plain (all purpose) flour
30g (1/4 cup/1 oz) fine corn meal.   (Corn meal adds a lovely yellow colour as well as some structure to the dough.  It does not leave you with the 'gritty' mouth feel of semolina).
2 eggs
1 teaspoon salt
1 tablespoon olive oil
1 tablespoon cold water
Method:
Weigh out the corn meal;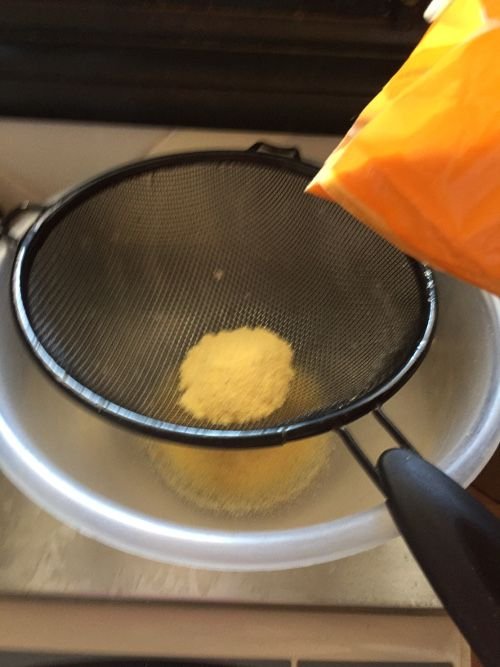 and the flour.  Add the salt,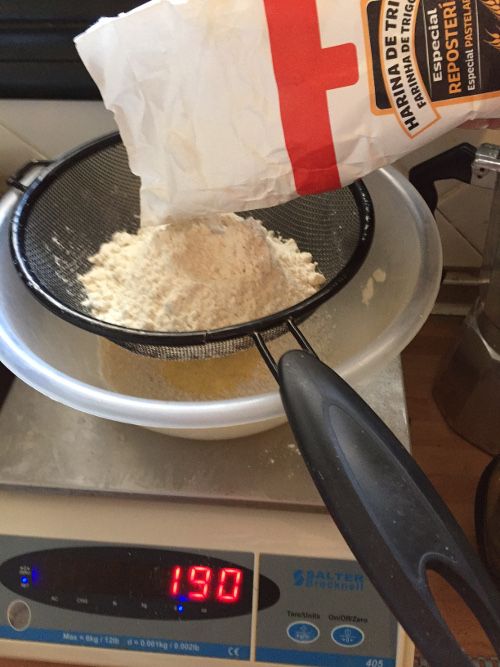 and make a well in the flour.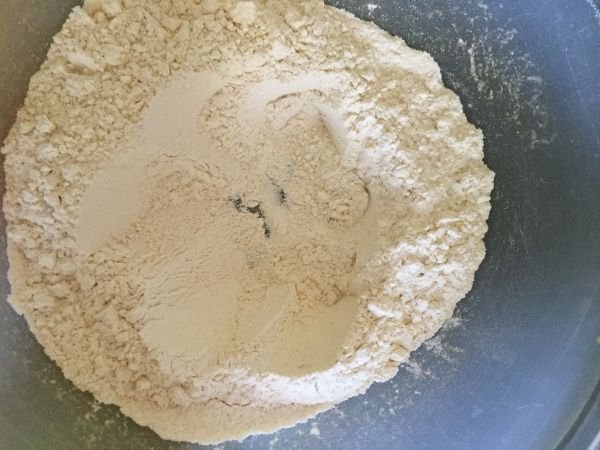 Drop in the eggs.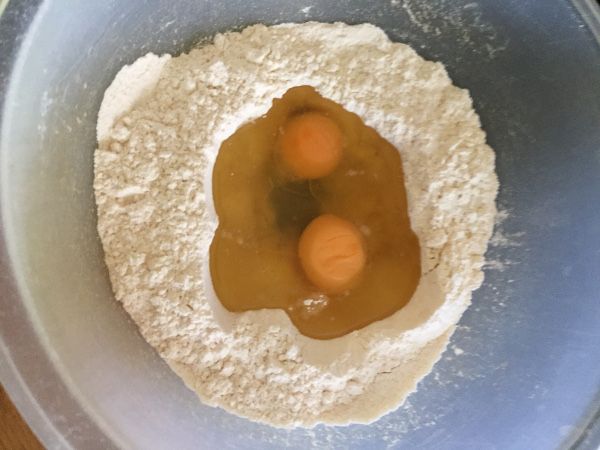 Add the olive oil;
and water.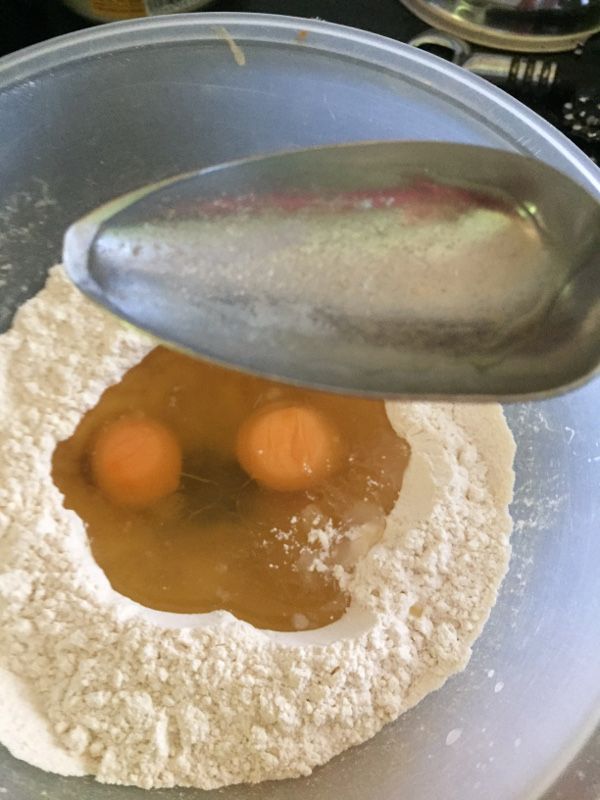 Start using a fork to mix the wet ingredients.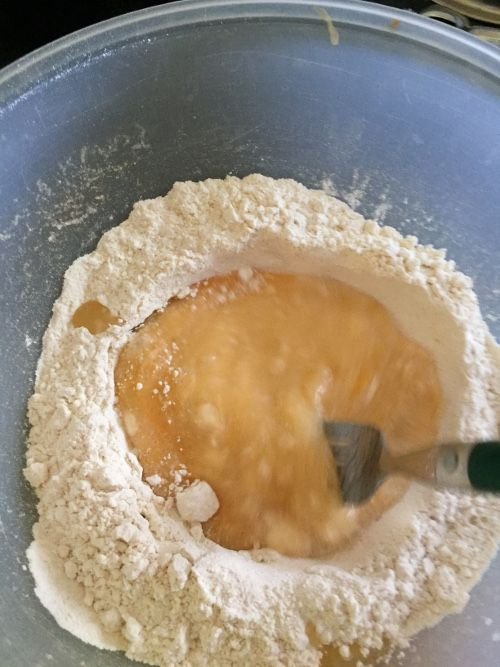 Gradually drawing the flour into the egg mixture.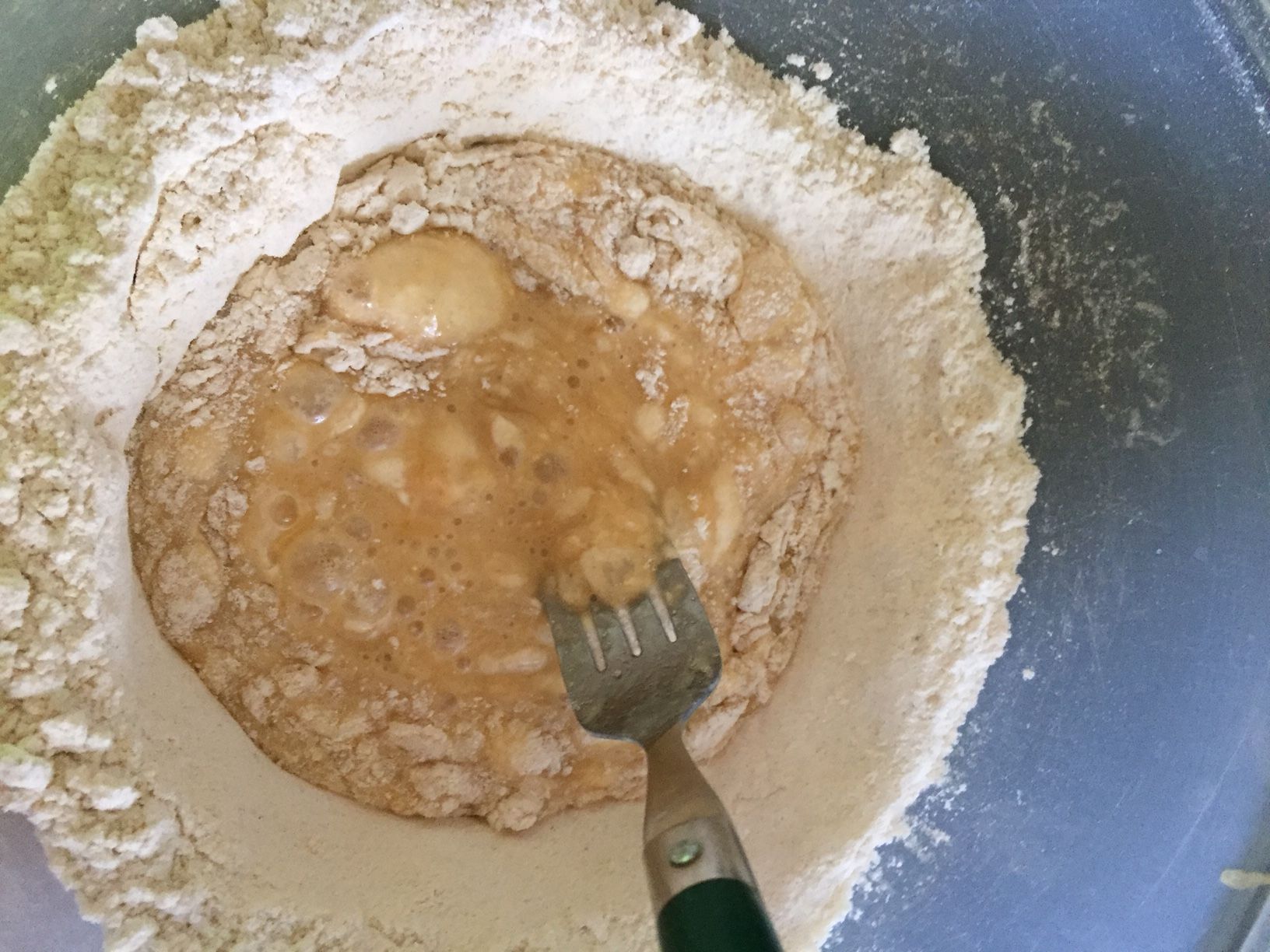 Keep stirring with the fork adding more flour to the egg mixture, and a 'mass' of dough will form.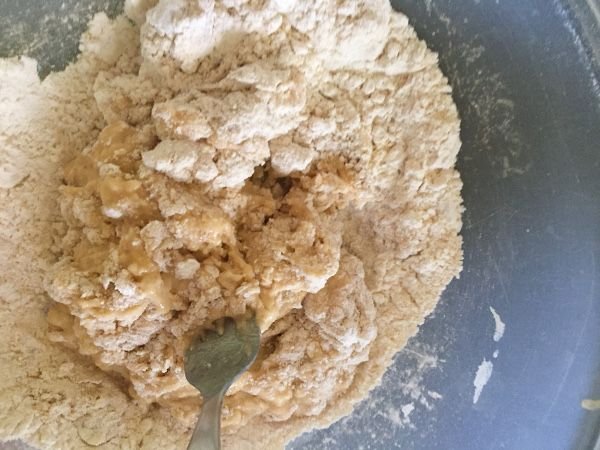 Keep stirring with the fork; the mixture will easily form into a ball of dough.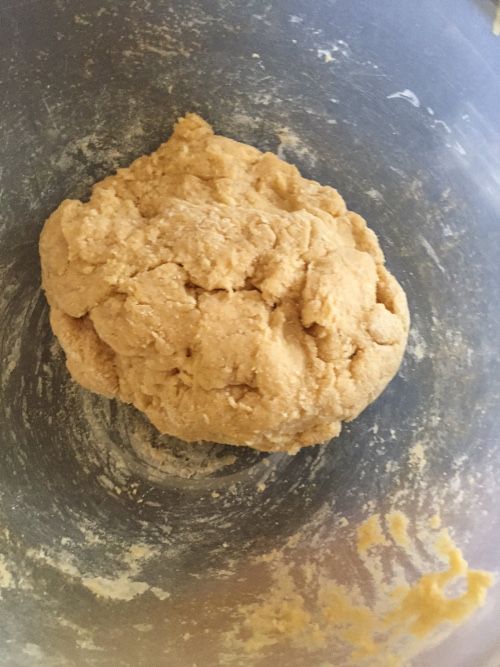 Knead for 5 minutes following this regime: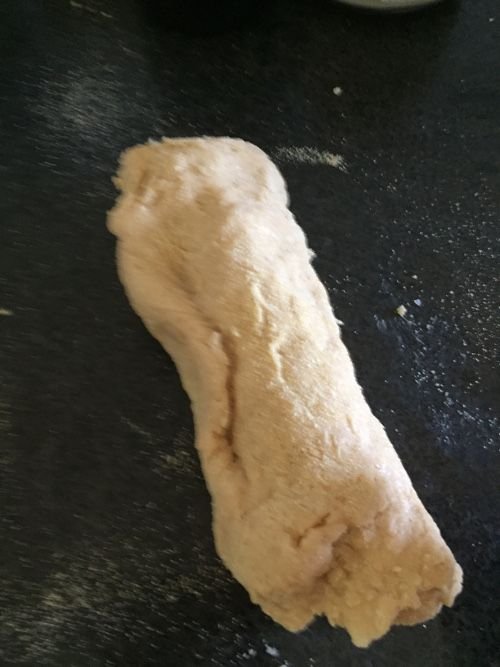 Make a sausage shape.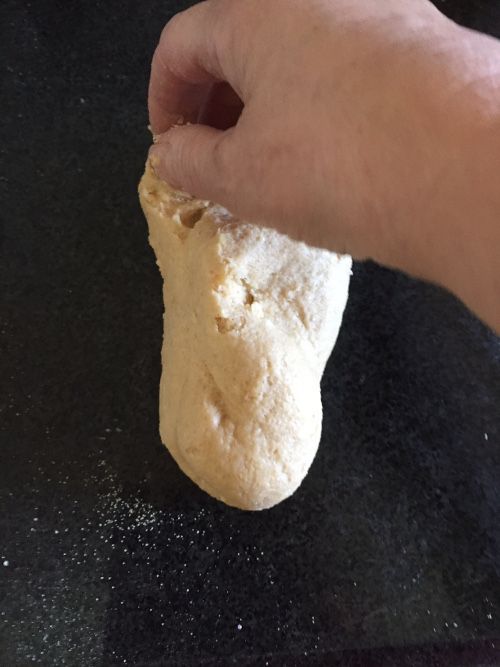 Length ways, pick up the top edge of dough.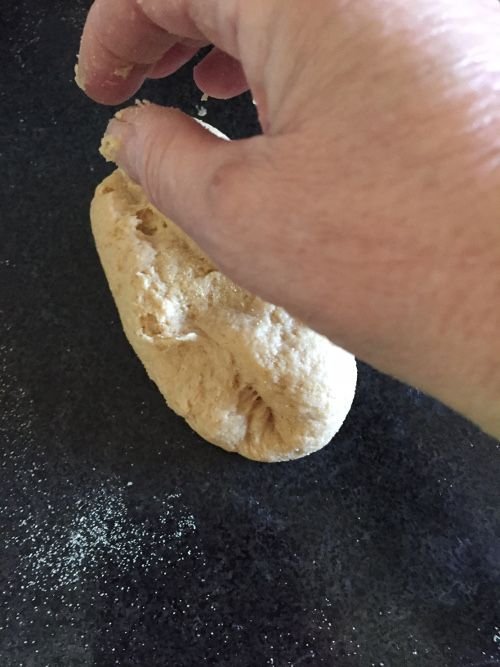 Using the heel of your hand, press down and roll the dough.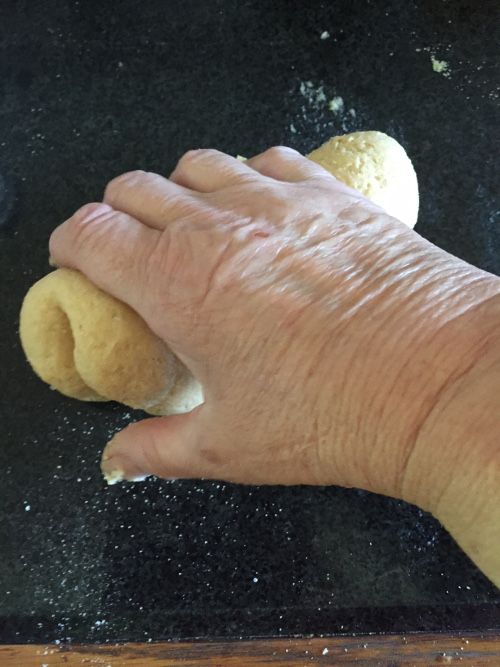 Turn length wise and continue again.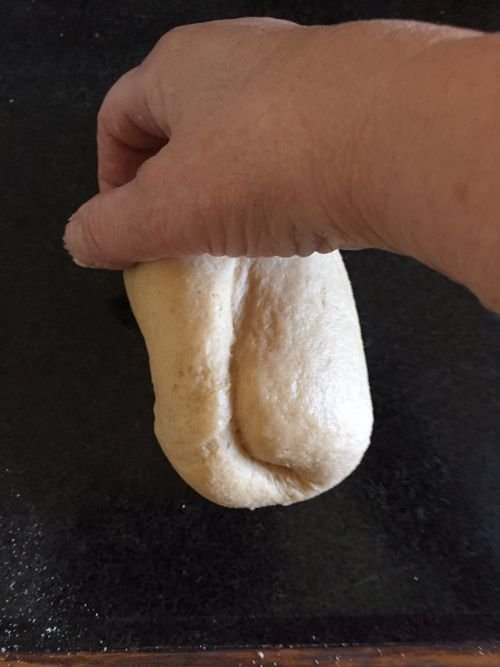 Do this for 5 minutes until the dough becomes silky.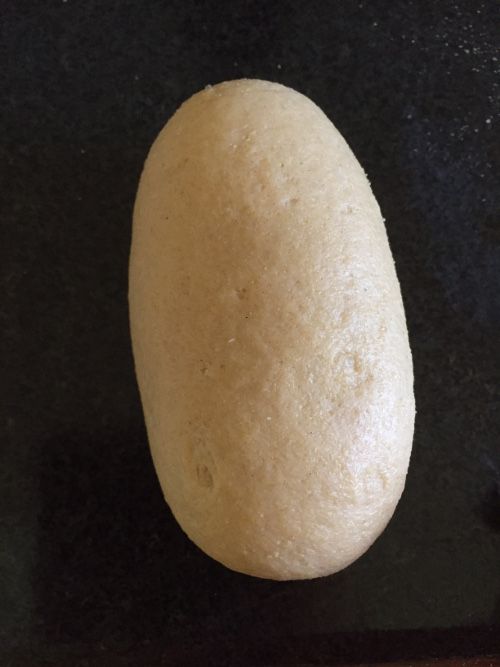 When you press in with your finger the dip will not spring back.
Your dough is now ready, but put it in a bag in the fridge to rest for 30 minutes, before rolling out and using.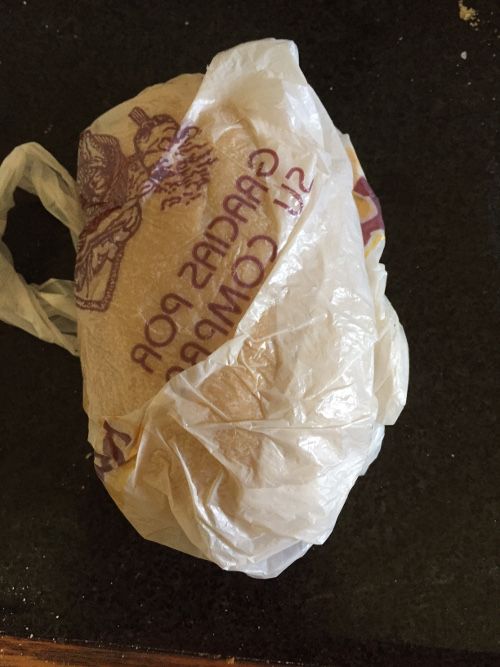 You now have the pasta dough.  Next post I will show you how you can use this dough.  Try it, you will not be sorry; and never go back to shop bought.  A little time and the result is: wonderful pasta.  
Please.......

I would love to hear what you think.  Thank you for viewing.