Hey Steemian,
This is a easy recipe, a quick lunch.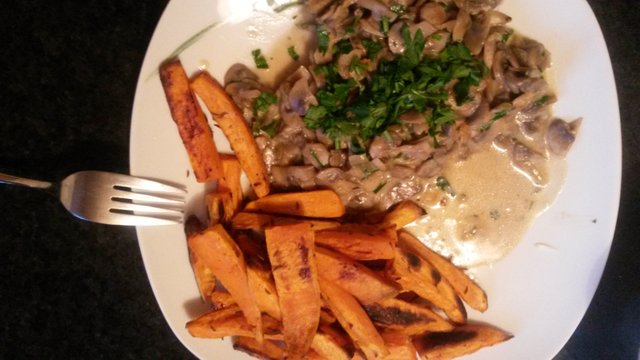 You will need for 2 persons:
500 g mushrooms
1 sweet potato (about 400 g)
cinnamon and nutmeg
chilli powder
1 Greek yogurt
garlic
1 onion
Preheat the oven at 180C. Mix the sweet potato with olive oil, salt and pepper, and cinnamon and nutmeg. Bake for 40 minutes.
In a frying pan, add some olive oil, mushrooms, garlic crushed and onion chopped. Cook for 15 minutes, stirring from time to time. After 15 minutes, add Greek yogurt and turn off the heat.
Sprinkle some parsley or fresh thyme.
Enjoy,
FoxxyCat