Seventy in style!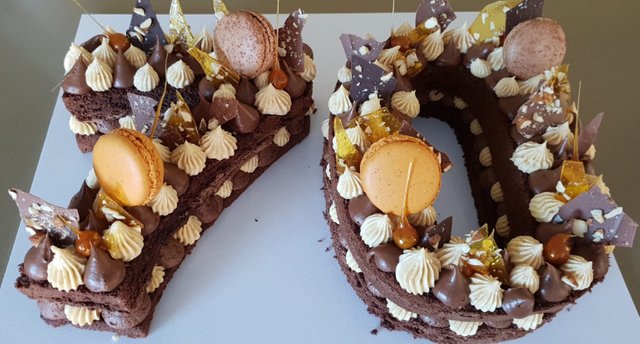 Over the last few weeks I've been tipping that this weekend was going to be crazy. And it was! My father-in-law is turning 70 this Tuesday. We've decided that we going to organise a surprise birthday party for him this week. The idea was to have all family members leaving in Melbourne and the closest friends to participate in his special day. We also needed to distract him along the way so that he had no suspicion of what was happening. I personally was in charge of the cake and desserts on top of planning everything else, from balloons to the menu for the evening. It was a very stressful week and I even took a trip to the doctor as I wasn't feeling very well. Could have been the stress level catching up with me.
Generally I would bake a traditional cake and decorate it accordingly. But this was a 70th birthday and I thought that I needed to surpass myself and create something special. From the very beginning I had in mind to bake a number cake. But I was in two minds whether it would be an actual cake or the number was going to be made out of a chou pastry. Thus the different experimentation I've been doing with the Paris-Brest. Ultimately I was after a flavour that would complement all the traditional Mauritian food that was going to be served during the party. And God we had so much finger food that I thought that I wouldn't be able to have dinner. But I ended up eating something at the end of the night.
While I wanted to share some culinary details and pictures of the party, unfortunately I didn't have time to perform a step-by-step run down of the different dish prepared for night. I baked the cake during the week and froze it. The idea was to make easy to cut through in half and decorate. I think that was a good idea as for whatever reasons everything that could go wrong while decorating the cake went wrong. At what point I even thought that I wouldn't be able to produce something decent. But then I composed myself restarted everything from scratch and did things the right way this time without the stress that was taking over. I even had time to prepare a greek dessert; the famous Galaktoboureko. I will have a second attempt at this dessert next week for a baptism; so it is likely that I would provide a step-by-step method for baking it.
As for the food served for the night; we had a lot of traditional food. We had chicken lollipop as finger food; bhajia with cheese - a traditional street food; calamari; prawns; spring rolls, chilli bread as starters and fish Briyani, beef curry, chicken salmi, fried noodles, dholl purri as well some vegan food. Every thing turned out really well. Every guest had a blast and most importantly the birthday boy was well and truly surprised. We now have a couple of days of left-overs to dwell upon; maybe more considering that we are taking my father-in-law for dinner on the Dandenong mountains for his birthday on Tuesday. I hope you enjoy the pictures. And promise I will try to provide more information about the ingredients and methods the next time I prepare any one of the dish or dessert.