Last week I enjoyed a well deserved winter vacation with my family. Often for me vacation is a time for getting all the work done that I am behind with,(Not my day job work but my self employed projects, such as knives and swords) but this time it was family time.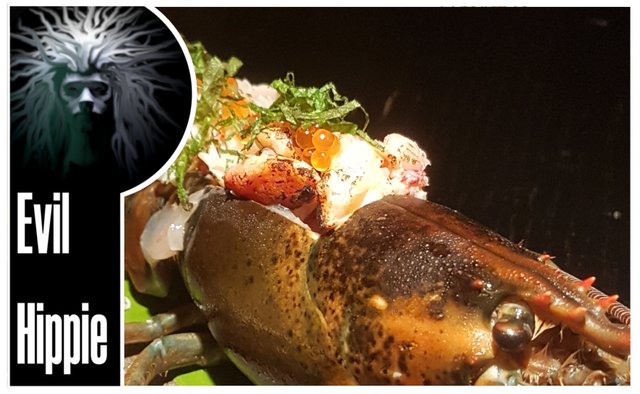 One of the things we enjoy when together, is dining out. A great thing about having big kids is that they start enjoying the same things as us (truth be told , when it comes to food it has been like that for quite a while) and so we haven't been to Mc Donalds for at least 15 years :-)
This post is going to be about our visit at Karma Sushi in kødbyen(the Meat City) in Copenhagen.
We have been there once before and it is a Sushi bar with a rather loose definition of sushi and a focus on really luxury ingredients.
We ordered a menu that would take us through most of their specialties and then we ordered a few complimentary dishes along the way.
The first one I will tell you about is the caviar. You will have to excuse my horrid pictures. I am obviously not a true instagrammer and I tend to enjoy the food far to much to remember to take pictures, but this time My kids asked me if I could document it since it was quite a feast for the eyes.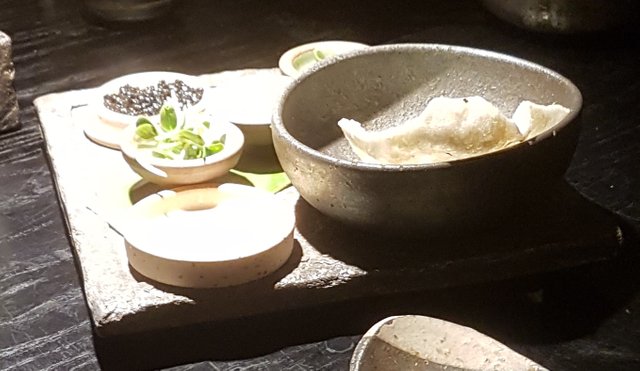 the caviar (I believe it is Italian caviar) is real sturgeon caviar and it actually is very delicious. I know a lot of people think it is overrated and it is definitely not an everyday dish, but I find it very tasty and different from other types of roe. It was served with some kind of rice chips avocado cream , and some kind of green plant that tasted a bit like green peas, which worked rather well with it.
after that we had a truffle and sunroot dish. The truffles was served both as a cream and also finely ground over the top. I find it quite interesting when these classical "European kitchen classics" are combined with a distinctly oriental taste. it worked quite well here at least.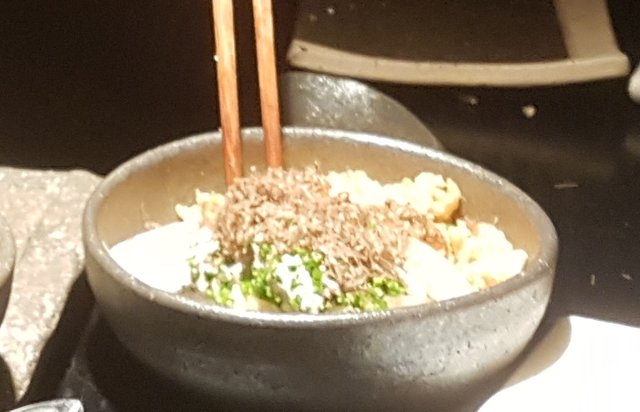 Then came a lobster. This was a main reason for choosing this menu since we saw it on one of the other tables as we entered and it looked awesome. also we all really like al kinds of crustaceans, for my own part both because of the taste and because of the distinctly alien looks they have.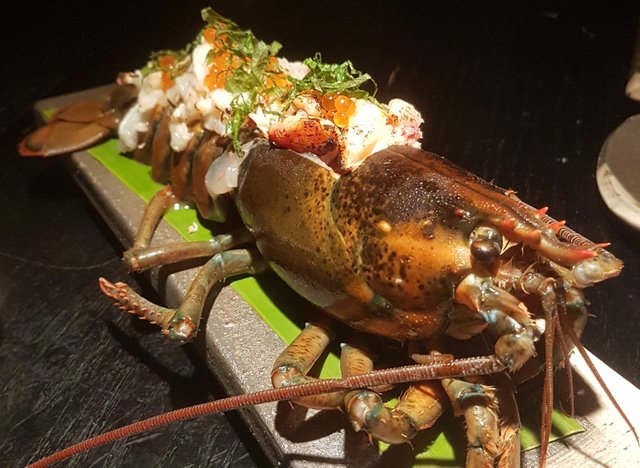 Then came a seaweed salad. I have been interested in seaweed for a long while for its gastronomic qualities and its nutritional value in almost equal measure.
One interesting thing is that apparently all kinds of macro algae(fancy word for seaweed) are edible, and quite a few of them are both very tasty and holds a lot of useful vitamins and nutrition. compared to one of my other interests, mushrooms, the fact that none of them will make you die horribly and painfully is a very nice feature.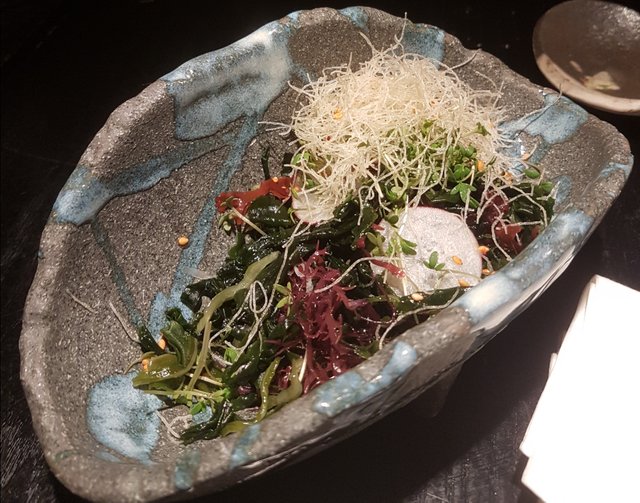 Of course it wouldn't be a sushi place if they did not also have more mundane sushi, although mundane is very wrong in relation with these. I try to avoid the endangered tune variants, but otherwise I thoroughly enjoy all kinds of sushi. there might have been a yellowfin somewhere on this plate but it was a very small sin.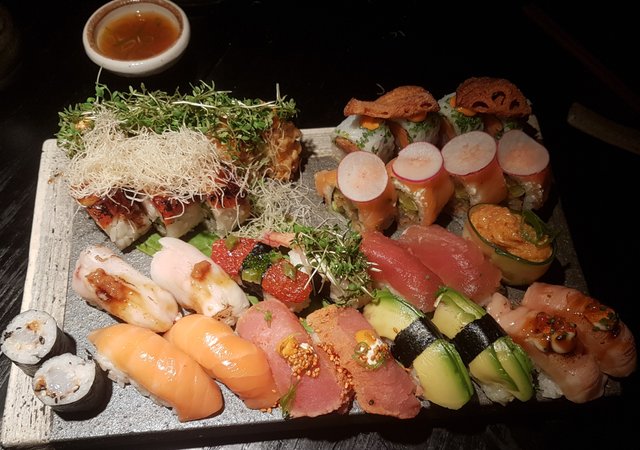 Karma sushi is not a cheap place to eat, neither is Denmark in general, so this dinner(for 5 people) was quite expensive, but it was worth every penny. it was a great evening with the family and the food and the atmosphere was great.
Of course we didn't spend a full week just eating, but I decided that the rest of what we did must be saved for another post.
until then.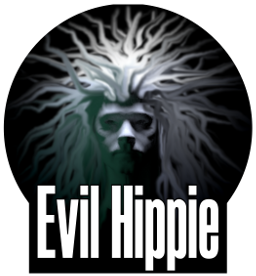 Im EvilHippie, a compulsive creative and jack o' trades. If you want to know more about me, check out my introduction post here
If you like what you see, feel free to upvote, follow and resteem
or you can check out my accounts on these sites:
Youre welcome to like or follow me there as well.