Creating and serving mouthgasmic food is one of our specialties at the @gardenofeden.
I personally take it upon myself to serve up a dose of "WOW!!!!"
with every meal I serve,
layer upon layer of depth that will surprise you
even as you chew!
I'm not too big on  tradition or what is
"supposed" to go into a dish

This day I prepared egg rolls.  
I had a lot of fresh, crunchy veggies on hand
to add flavor and a twist with every roll.

Each roll was a combination of different ingredients,
so there was great incentive to eat more than one.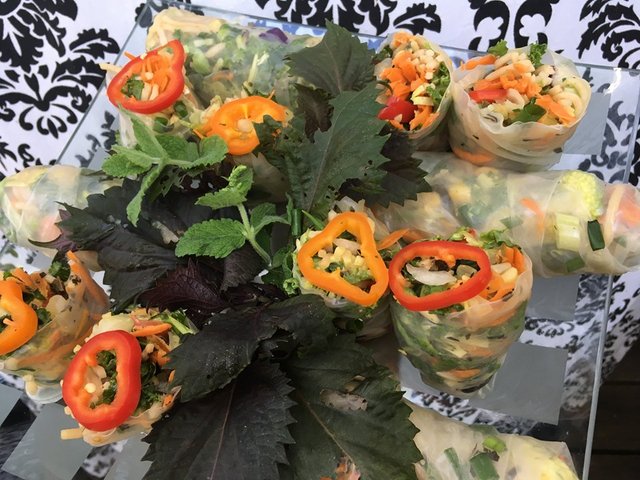 Here are some of the ingredients I put into them:
Chopped kale and other greens
Purple oxalis
Asian noodles
Grated carrots
Diced celery
Garlic tomato salad
Julienned cucumber
Chives
Chopped green onion
Greek olives
Sliced sweet peppers
Shiso
Chopped peanuts
Sesame seeds
Shredded cabbage
Mint and other fresh herbs
Fresh figs
Chopped dill pickle


I also made several sauces to dress them up:

Spicy horseradish sauce
Spicy sesame peanut butter sauce
Herbed tahini sauce
Asian ginger and garlic sauce
Chimichurri sauce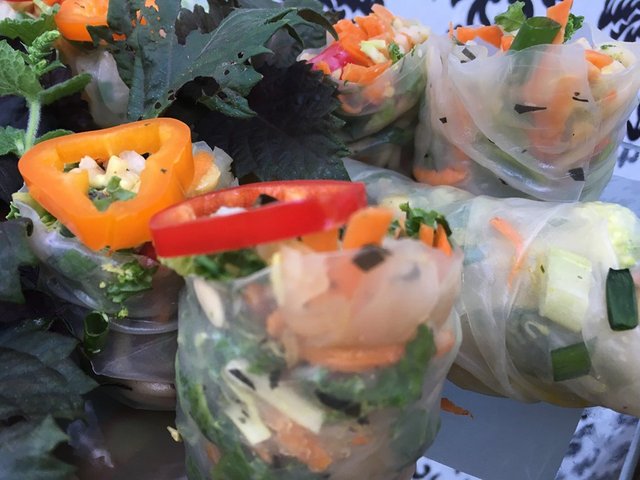 Eating fresh is a great blessing.

I hope you'll be inspired to feed yourself, family and friends
a high vibe diet too with lots of diversity, color and texture.


Enter the @gardenofeden website to to see how we're doing our part to change the world.