Today, it has been exactly two months since I'm living in a guest room. Yeah, guest room due to my husband's job nature, we have to live in a guest room for months occasionally. It has it's own perks like you feel like a guest, lol. On as serious note, there is no burden of house chores, cleaning, laundry, cooking etc. 
With so much less chores at hand, I get time for myself. Like doing my favorite things (reading, movies, pampering myself ) when my son is asleep of course. I spend a lot of quality time with my son too. We go to park daily, where he enjoys his favorite rides. We watch birds together, his favorite activity. He loves to play football, so we take him to the play-court every now and then. Mind you, he is just one year old, so he just rolls with the ball all around. 
To cut the story short, despite of all the fun and outings, we miss home-cooked meal. It's been two months we are eating from mess or cafes or restaurants. So last night, I just didn't want to eat that mess-cooked mutton curry nor did I want to dine at any restaurant. I was craving for home-cooked meal. Since I couldn't do that living far from home. I got up and went straight to the nearby store and bought what I could get my hands on because tt was late and most of the shops were closed
I forgot to tell you that I have a mini electric oven which I keep with myself in such situations usually. Before my son was born, I baked every now and then during guest-room times along with my husband. But since he has come into our lives, I can't cook with him in a single room, where he just keeps throwing veggies, spoons, touches knives. So cooking just becomes a pain. 
But last night I made up my mind that I will cook something at any cost. So I did, with few spilled items, scattered veggies and snatched back the knife from my son just in time. I finally managed to save the plate from my son and took pictures whenever I got a chance. So this venture made me write a post and here it is: 
So the plan was to prepare something which doesn't require a stove or large kitchen equipment.
One thing I made was my all time favorite Caesar Salad.  It was not like the classic Caesar Salad due to so much constraints on ingredients and lack of kitchen. But it sure was delicious to satisfy my craving. So here's the recipe:
---
Improvised Caesar Salad Recipe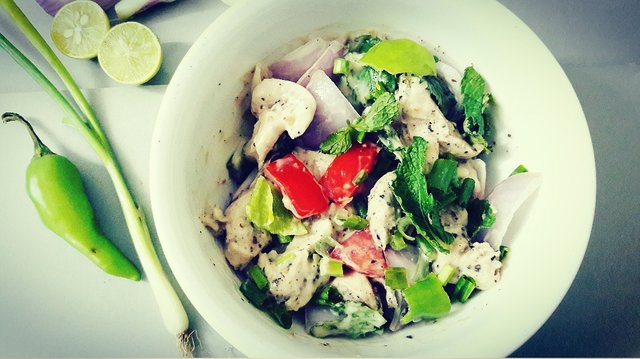 Ingredients
Onions - 1 large
Tomatoes - 1 small
Green pepper - 2 medium sized with removed seeds
Boneless Chicken cubes - 250 grams
Mint leaves 
Green Onions - 2 bunches
Garlic Cloves - 3
Cottage Cheese - to taste 
Baby Lemons - 2 
Olive Oil - 1 tbsp
          Spices
Salt 
Black Pepper 
White Pepper
Dried Oregano
Dried Thyme
Dried Basil
          ( Quantity of spices depend on your taste )
          Caesar Dressing
Mayonnaise - half cup
Garlic cloves - 3 cloves
White vinegar - 1 tsp
Mustard Powder - t tsp
Black Pepper - to taste
Olive Oil - 1 tbsp
Lemon Juice - half tsp
Cottage Cheese - to taste ( for me it's never enough )
Salt - to taste  
Preparation
 (Pre-heat the oven at 325 degrees which is number 3 on gas marking )
Marinate chicken cubes with lemon juice and all the spices mention in spice section and coat with a little bit of olive oil too. Since I had no stove, so I put the chicken in oven-proof glass-bowl and let it sit in the baking oven for 15 minutes.
Meanwhile, cut the onion, pepper, tomatoes, green onions in whatever shape you like. I prefer small wedges usually. Add these veggies in a bowl and chop the garlic finely, that too will go into the bowl.
Now the chicken should be ready. It should be moist and tender. Mix it with the veggies. ( I couldn't dry the water that chicken left, you can do it on the stove, but if you are in the same situation like me save this broth for later. )





Now for the dressing, mix together all the mentioned ingredients and you can add that chicken broth in too for some additional flavor. 
Pour the dressing over the chicken and veggies and mix thoroughly.
Garnish with mint leaves and shred a lot of cottage cheese over it and Enjoy !
---
 Improvised Loaded Baked Potatoes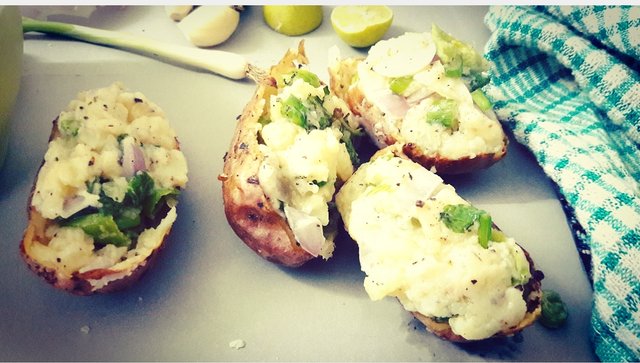 Ingredients
Potatoes - 2 
Onions - 1 medium sized
Green Onion - 2 bunches
Cheese  - to taste ( again it's never enough, you can use mozzarella, cheddar or Parmesan, I had only cottage )
Mayonnaise - 2 tbsp
Garlic Cloves - 3 
Green Pepper - 2 medium sized and seedless
Mint leaves 
Olive Oil - 1/2 tbsp
Butter - half stick or 50 grams
Spices
Salt
Black Pepper
Dried Oregano
Dried Basil
          ( All spices to taste )
Preparation
        (Pre-heat the oven at 350 degrees which is number 4 on gas markings )
Poke the potatoes with a fork to make tiny holes and then mix all the spices in the olive oil and coat the mixture to the potatoes. Make the potatoes sit in the oven for about 45 minutes.
Chop the veggies roughly.
When potatoes are ready, the skin will be crisp from outside and inside will be soft. Cut them into four halves and scoop all the potato from the skin with a spoon.





---

Put butter slices in the skins.
Add all the spices to taste and veggies in the scooped potato. 
Now incorporate butter and cheese too in the potato mix.
Now fill the potato skins with the potato mix and you can top them up with extra cheese and butter too.
Put it in the oven for extra 5 minutes so that it will re-heat and butter and cheese will melt into it.
---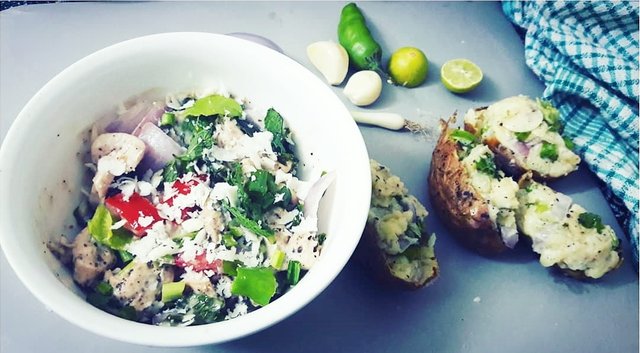 Now relish the delish !
Hope you liked my recipes. It may look simple but it took a lot of effort to arrange all the utensils and I used a small iron table as a makeshift counter top to prepare the meal (*sigh).  In the end it was all worth it.
---
Upvote, if you like my effort.
Follow, to keep track of my future posts.
Thank you for your time.
---