Yum Yum who doesn't love Cake? 😍
Hi Steemians, hope everyone is doing well! I have been absent for a few months from writing because I have been busy with my work and life. Now that it's a bit flexible, I'm coming back to steem to write. Thanks to my sister keep updating me what has been happening on steem that I still manage to catch up or else I must be lost. There are many new things especially Steem-Engine, a lot of new token. Need some time to understand all these.
I'm presenting you CAKE, took the photo awhile ago! Living in a small town, didn't expect to see so many cake design. Usually, the cake we had here is just a normal, classy and plain. However, the past few years, there are many new bakery open and the cake design just evolve.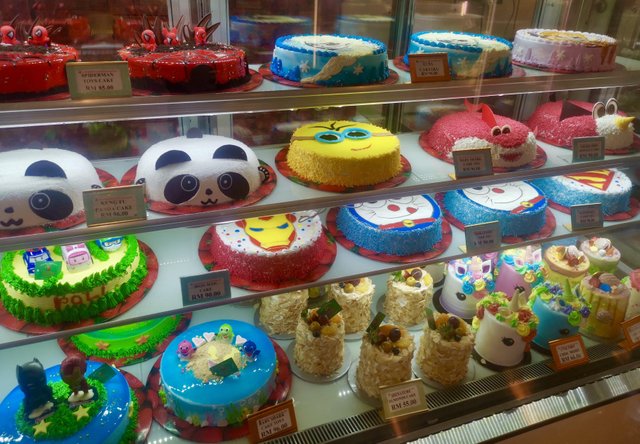 The cake design is so cute
Seeing all these design, I have been thinking to myself that behind the scene, that must been a lot of effort that has to be done before the cake can sell at the bakery shop. Nowadays, there are plenty of design to choose from to celebrate birthday, anniversary and etc. These are the cakes available to purchase from the bakery shop, pay and go.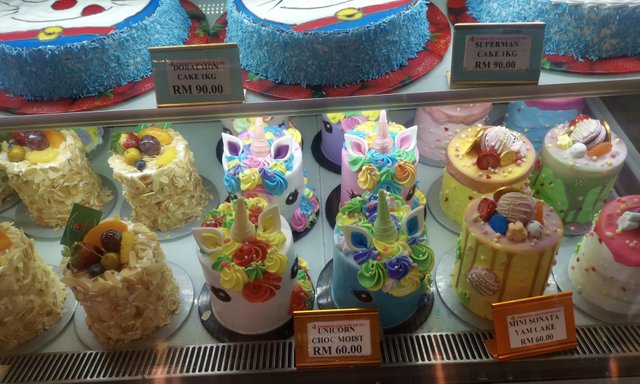 Unicorn, look at the cake price and imagine the effort of making the cake
If you have your own design and would like to make a cake, many bakery or homemade cake maker is available to accept custom made cakes. This is fantastic, at least no more plain and boring cakes.