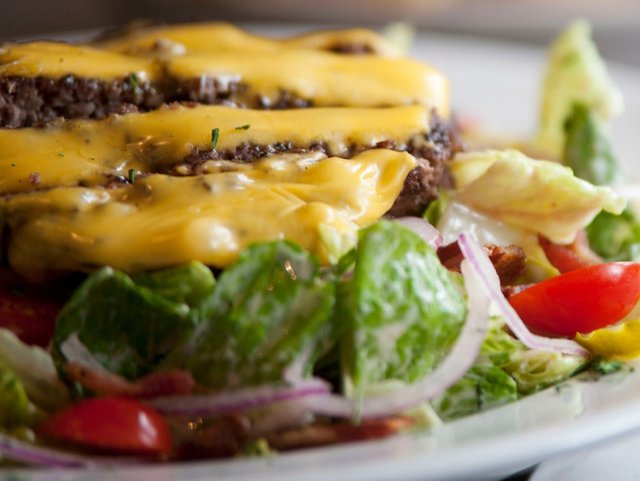 I've been going NSNG (No Sugar, No Grains) since December of 2016. So far I have lost over 100 pounds and 15 inches off my waist. Giving up the two things that make up southern, and more specifically Cajun cooking was easy yet hard. Easy because the diet is simple, just don't eat anything with sugar and grains. It is difficult, because EVERYTHING seems to have sugar and grains in it.
After doing this for over a year, I've compiled a list of recipes that are my favorites. Most of these are easy to do and can be done in about 30-45 minutes.
Cheeseburger Salad is so easy you would think you were cheating. Take a 1/3 lbs burger patty, season with Slap Ya Mama or salt and pepper, slap a slice of cheese on it (Cheddar, Swiss, Provolone, or Mozzarella if your nasty) Stick that burger on top of a handful of greens and dress with mustard or salsa.
Bacon Broccoli is hands down my favorite side dish. Broccoli florets coated with olive oil, a little lemon oil, salt pepper,
and garlic powder. Cut up a couple of strips of bacon, and toss the broccoli and pine nuts and roast in the oven for 45 minutes. Sprinkle with Parmesan cheese (NOT KRAFT). Goes great with a pork chop or a steak!
Speaking of pork chops and steak, butter salt, pepper, or Slap Ya Mama seared to perfection and serve!
Monterrey Chicken is another easy one. Chicken breast or chicken thighs covered in bacon, cojita cheese, and dressed with pico de gallo.
"Spaghetti" and meatballs. I grew up in a Sicilian household, and if I didn't have a good meatball recipe I would be disowned. The spaghetti in this case is zucchini ran through a spiralizer, honestly way better than pasta. The meatballs are made with a little almond meal and parmesan cheese as the binder instead of bread crumbs. Again, really easy to do, and can last a few days if you make a big batch.
Eggs and Bacon, yup sometimes I have eggs and bacon for lunch. It can't get easier than that.
Are there desserts? Not really, but sometimes I'll take some cherries and nuke them in the microwave for 45 seconds.